Tamiya's 1/48 scale
Mitsubishi G4M1 "Betty"
by Ian Robertson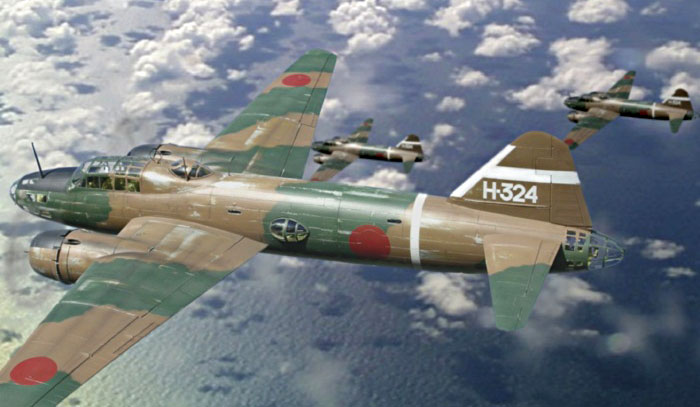 Mitsubishi G4M1 "Betty"


Tamiya's 1/48 scale Betty is available online from Squadron.com
During WWII the Japanese were in desperate need of a bomber with extremely long range that could support naval operations in the Pacific. Enter the Mitsubishi G4M1 "Betty", a cigar-shaped twin-engine bomber that traded off defensive armor and self-sealing fuel tanks for extended fuel capacity and a propensity to burn when hit by enemy fire.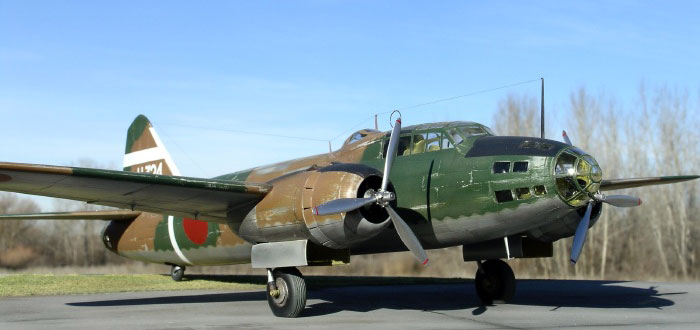 At the hands of US gunners the Betty soon earned the nickname "one-shot lighter" owing to its incendiary qualities. Nevertheless, the G4M1 was a mainstay of the Imperial Japanese Navy Air Force throughout much of the war.
Tamiya's 1/48 scale Betty kit
Tamiya's 1/48 scale Betty is a real monster, with a wingspan of 52cm (~20 inches) and a length of 42cm (~17 inches). But don't let the large size deter you. This model is a fantastic build and makes a very impressive display when complete, especially next to those diminutive single engine fighters.

The kit features finely recessed panel lines in light grey plastic, excellent clear parts, and a wealth of detail. The only additions I made were hollow metal exhausts from Moskit, True Details weighted resin tires, and a loop antenna made from wire. My particular model represents H-324, a G4M1 that flew from Saipan in July 1942. A color profile of this aircraft is featured in Osprey's "Mitsubishi Type 1 Rikko "Betty" Units of World War 2", an excellent reference for the Betty.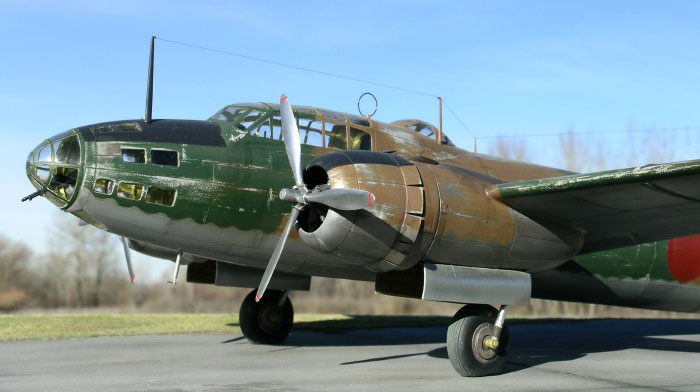 I built this model several years ago so the details of construction are a bit foggy. Suffice it to say I encountered no major difficulties. The addition of hollow metal exhausts was a great enhancement to the kit since these exhausts are very prominent.
I painted the interior yellowish green using Polly Scale's Weyerhaeuser green as a substitute for Tamiya's odd suggestion of RLM02 grey in their instructions.

My particular aircraft featured a worn two-tone camouflage scheme of brown and green over natural metal. I began by priming the model with Tamiya light grey surface primer and then polishing it to a smooth sheen using Micromesh cloths. The white bands on the fuselage and tail were painted and masked until all other painting was complete. I then painted the entire aircraft with various shades of Alclad II metalizers. The fabric control surfaces on the underside were painted Japanese Army Grey using Tamiya acrylic (XF-14).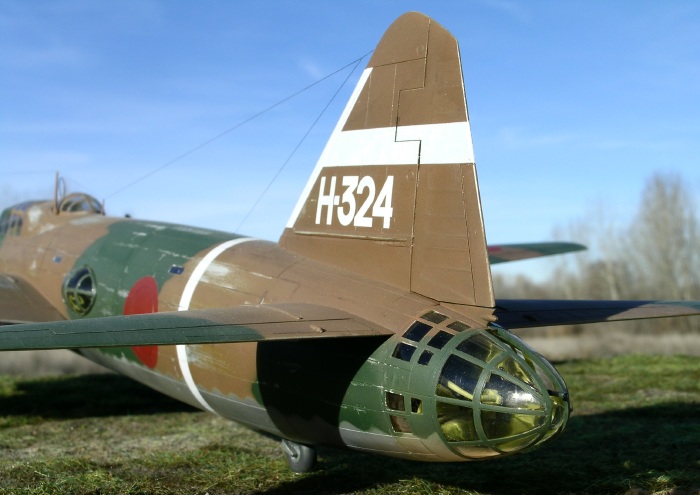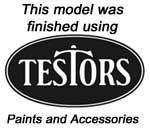 The upper surfaces of the model were painted with Polly Scale acrylics. The brown, if I recall correctly, was a mixture of Dark Earth and Japanese red-brown, while the green was a lightened version of IJNAF green. Paper masks were used to create a hard edge between the colors.

Once the basic camouflage was applied I used fine grain sandpaper to wear away areas of the finish, particularly on the nose, engine cowls, wing roots and upper fuselage. I used photographs in the Osprey book to determine an appropriate amount of wear for my model.
Washes of dark reddish brown were also used to create variation in the surface colors.

Once the camouflage had been weathered, I used circular masks to paint the hinomarus on the wings and fuselage. I wanted the hinomarus to be in relatively good condition, albeit slightly faded, since these symbols were factory applied and typically suffered less weathering that the camouflage. A coat of light grey was sprayed as an undercoat of the red to ensure even coverage.

The only decals used on the model were the tail codes.
This model is one of the largest in my collection, and as such stands out among all the single engine fighters. For fans of WWII Japanese aircraft, this model should not be passed up.
---

Photographs
Images were taken outdoors with a Nikon Coolpix 5400 digital camera. The "unsharp mask" tool of Adobe Photoshop was used to restore some of the clarity and crispness lost during image compression. The composite image was designed in layers in Photoshop.
Click on the thumbnails below to view larger images:
Mitsubishi Type 1 Rikko Betty Units of World War 2


Combat Aircraft 22

Author: Osamu Tagaya
Illustrator: Mark Styling
US Price: $19.95
UK Price: £12.99
Publisher: Osprey Publishing
Publish Date:

April 25, 2001


Details: 112 pages; ISBN: 184176082X
Model, Images and Text Copyright © 2005 by Ian Robertson
Page Created 01 February, 2005
Last Updated 01 February, 2005
Back to HyperScale Main Page