Signifier's 1/48 scale
Grumman Goose
by Laurent Soldati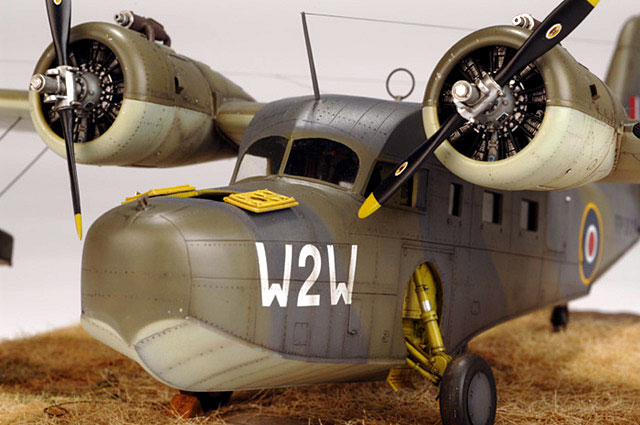 Grumman Goose Mk.Ia
RNOTS, Piarco, Port of Spain, Trinidad, 1944
HyperScale is proudly supported by Squadron

This is my 1/48 scale Signifer GRUMMAN « GOOSE » Mk. IA seaplane in British Fleet Air Arm markings.

General assembly is not really easy and plenty of dry fitting is highly recommended. There are a total of 74 very nice resin parts perfectly cast. Nevertheless, a little attention is required when cutting them from their supports. I used a combination of CA and two-parts epoxy glues.

However that may be, the result is worth the effort and, in the end, one can obtain a very nicely detailed kit.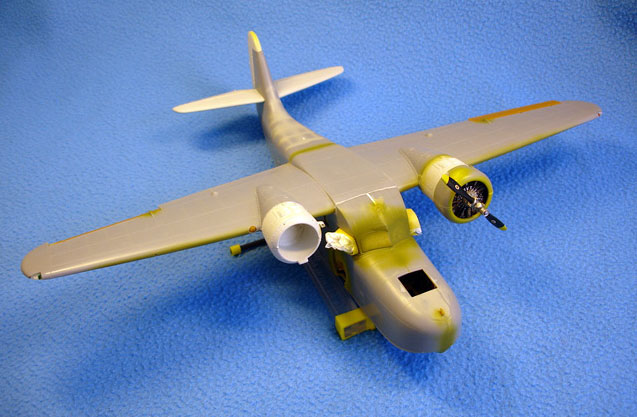 Click on the thumbnails below to view larger images:
---

Some extra work was done during construction:
Each instrument of the instrument panel was punched out from spare decals.

Plastic windscreen was replaced by the clear acetate one. A lot time is needed to obtain a satisfying result, but transparency is far superior.

The shape of the fuselage windows is incorrect, so I sanded the corners with a small file.

Engines are detailed with sections of copper wire to represent the cylinders wiring harness. A small Pratt & Whitney logo was scanned, touched up with Photoshop ® and laser-printed on a very thin polyester film before being punched out and glued in place.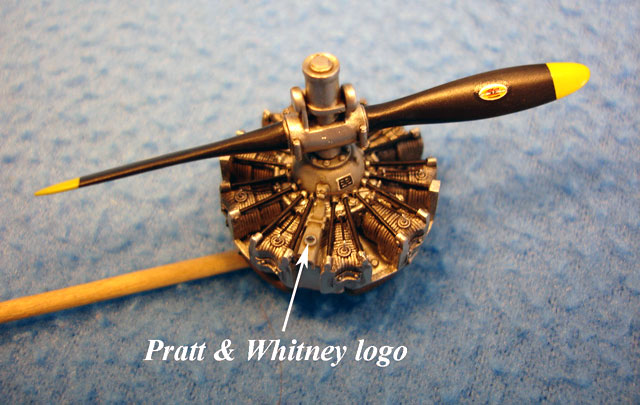 The typical British "cranked" pitot tube, the stowage rings and the small antennae masts on the wings were scratch-built. Other small details on the fuselage, mainly on the underside are re-built, too.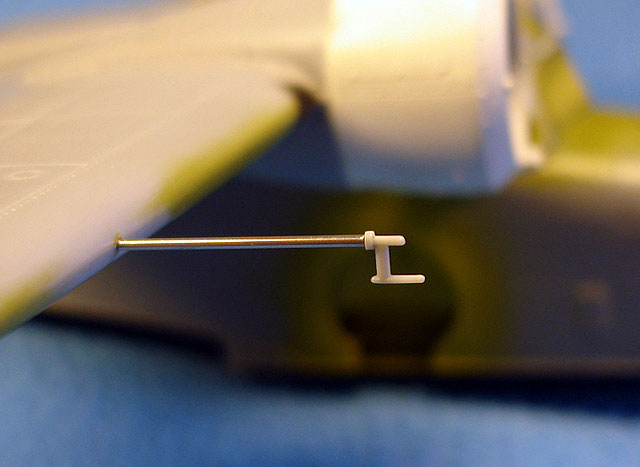 The kit offers four decals-options among which I chose the English one, a Goose Mk I A (FP503) from the N° 749 Squadron based at Piarco, Trinidad, in 1944. N° 749 Squadron trained radio-observers.

I used GUNZE, XTRACRYLIX and TAMIYA acrylics: (H 58 interior green) for the cabin (suggested colour is "light fawn"). Forward compartment and wheel wells are painted zinc chromate yellow (60 % H413 + 40 % XF-4).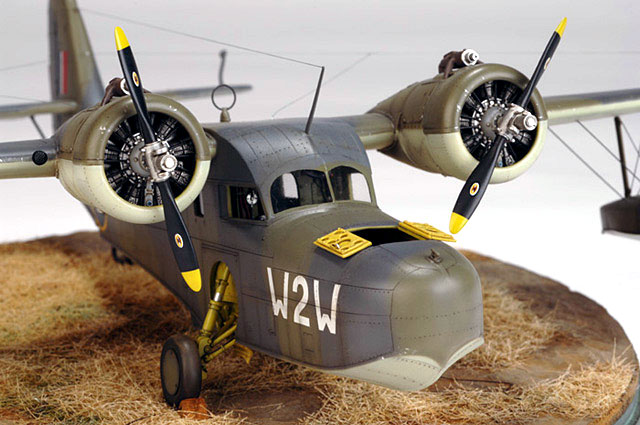 Under surfaces are painted sky (H 74 + 20 % white), upper surface camouflage extra dark sea grey (50 % H 333 + 50 % H 75) and dark slate grey (XA1025). I put a few dollops of cream, pale grey, light green or red to modulate each tint. Delimitation between the two shades of the camouflage was made free hand, except the shadowed zone under the wings where "floating" masks were used, to simulate sun fading.

The model was painted using a Focus Harder & Steinbeck airbrush fitted with the fine 0,15 mm tip.

Decals are of a very high standard, thin and printed in a perfect register.

Details were highlighted with oil paints: natural burnt umber, Payne's grey, black, Naples yellow.
This model is not easy to build, but the final result is really nice and the subject itself, original. I enjoyed building SIGNIFER's kit because it is highly detailed with a great number of beautiful resin parts. Decals are very nice and easy to work with.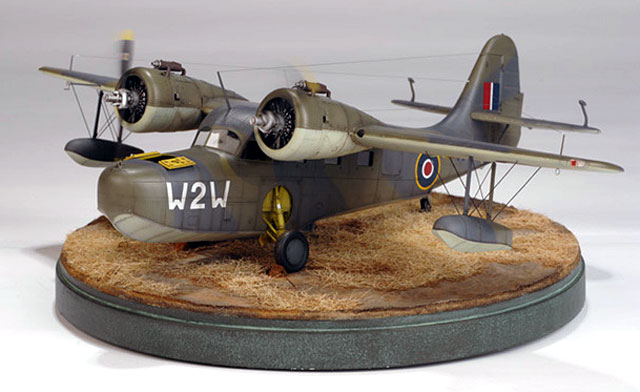 You can order directly from SIGNIFER, on their website: ( http://signifer.chez-alice.fr ). There is a special 5th anniversary offer, now.

Click on the thumbnails below to view larger images:
---
Model, Images and Text Copyright © 2006 by Laurent Soldati
Page Created 15 March, 2006
Last Updated 14 March, 2006
Back to HyperScale Main Page