Tamiya's 1/48 scale
Heinkel He 162 A-2
by Chris Wauchop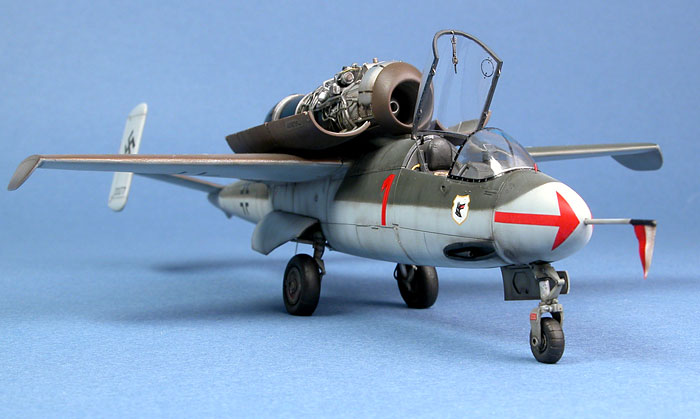 Heinkel He 162 A-2
images by Brett Green

Tamiya's 1/48 scale Heinkel He 162A-2 is available online from Squadron.com
Here is my Tamiya 1/48 scale Heinkel He 162.
This is the second Volksjager that I have finished in the last year or so. During 2005 I built Revell's 1/32 scale He 162, but I must say that I prefer the shape, detail and parts breakdown of the smaller scale Tamiya kit.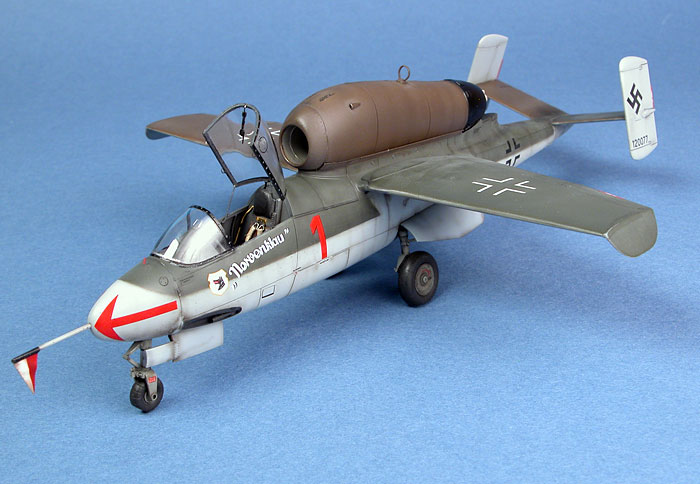 In the Box
Tamiya's 1/48 scale Heinkel He 162A-2 comprises 113 parts in grey plastic; 4 parts in clear; poly caps; metal nose weight and markings for four aircraft.
The parts are beautifully moulded in classic Tamiya style. Panel lines are crisply recessed on the fuselage and on control surface hinge lines. These may be a little heavy for some tastes, but Tamiya has correctly avoided panel detail on the wooden surfaces of the airframe. There are no moulding flaws on my sample, but ejector pin circles are visible in a number of areas that will be on display when the model is finished (albeit not on prominent display) such as the interior of the gear doors, the fuselage sidewalls and inside the engine cowls.
The cockpit and wheel wells are nicely detailed while enjoying a small parts count.
Click the thumbnails below to view larger images:
---
Engineering of the kit is geared towards ease of assembly, and features some welcome aids to the modeller including a metal nose weight behind the cockpit and a central wing spar installed between the fuselage halves. This spar also mounts the engine via two metal rivets.
Tamiya supplies a simple but quite effective BMW 003 turbojet engine. This may be displayed inside the open engine nacelle on the aircraft, or separately on an engine dolly. A third option is also possible, although it is not specifically mentioned in the instructions. Enough parts are supplied to build both an open engine nacelle and a closed engine nacelle, each complete with engine cowls. As the engine nacelle is mounted using poly caps, the open and closed nacelles can be swapped out after construction depending on whether you want to display the engine or not.
The main undercarriage doors are moulded shut on a single lower fuselage centre section that will have to be sliced into three separate parts. This is not difficult surgery by any means, but it is peculiarly uncharacteristic for a Tamiya kit.
Canopy parts are perfectly clear. The opening section is moulded separately so that the canopy can be displayed open. The windscreen is moulded to a section of fuselage to reduce the chances of smudging that nice shiny plastic.
I was asked to build this model with the engine cowl closed, and not to worry about the kit-supplied BMW 003 engine. However, I couldn't resist when Brett pointed out that I could interchange closed and open cowls to display the engine in both configurations on the one model. I therefore added most of the plumbing detail using various gauges of fine wire, with the help of reference photos in Issue 175 of the French model magazine, Replic.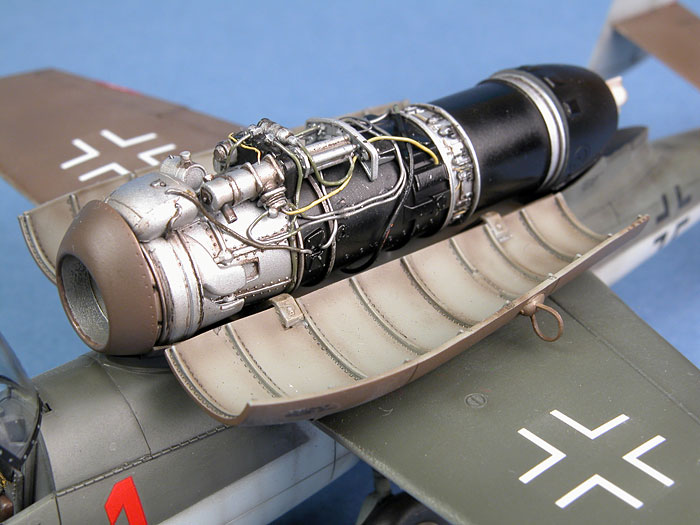 Otherwise, construction was very fast and straightforward, but I did make a few minor changes and additions. These included:
Brake lines on the main undercarriage legs from fine soldering wire.

Tyres slightly flattened.

FuG 25a antenna added using fine brass wire.

Pitot tube warning flag from Tamiya masking tape.

Rudder pedal straps from lead foil.

Seat belts made from lead foil. Buckles from fine wire.

Wiring in cockpit from fine unravelled picture hanging cable.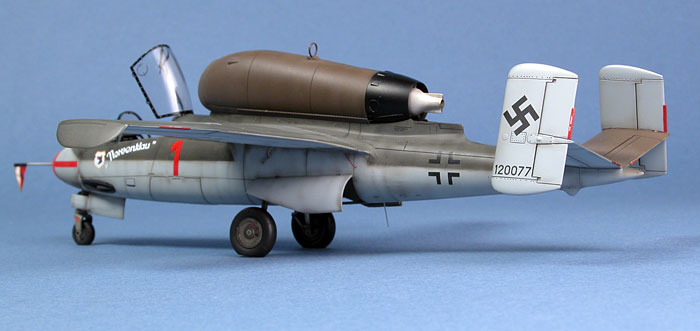 Ejector seat handles (strangely missing from the kit seat) added from 24 gauge copper wire.

Rear canopy locking loops from fine wire.

Open canopy support rod from fine brass wire.

Small scoop opened on engine cowl.

Landing gear added from fine brass wire.

Canopy locking handle was sourced from left-over photo-etched parts combined with fine wire.
The model was painted using my metal-bodied Aztek A470 airbrush fitted with the "Fine" tan-coloured tip.
The cockpit interior was painted Tamiya XF-24 Dark Grey. The canopy frame was painted using Tamiya XF-63 German Grey, with light grey spots representing rivets. The round ventilation hatch in the canopy was painted using a fine brush.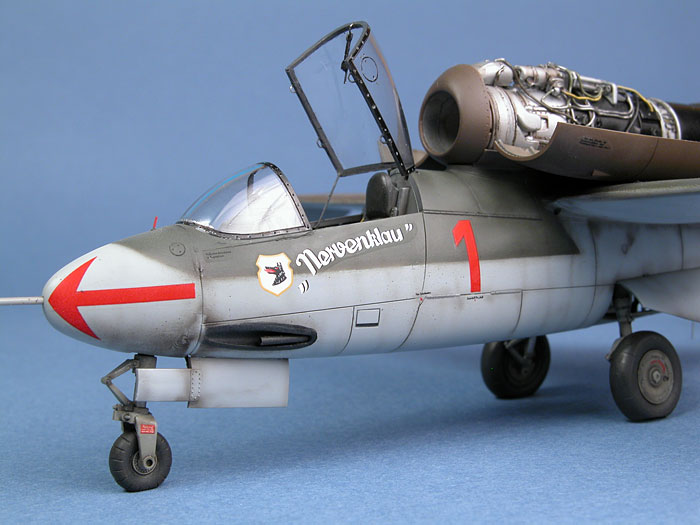 The undercarriage and wheel wells were painted Gunze-Sangyo H70 RLM 02 Grey.
Lower surfaces were painted with Gunze H417 RLM 76 Light Blue.
Upper surfaces were painted with Gunze H421 Brown Violet with a drop or two of Tamiya XF-64 Red Brown, and H423 RLM 83 Dark Green.
Weathering was applied using my usual method, spraying a thin mix of Black and Red Brown along panel lines and in the occasional random streak, with a thin wash completing this post-shading.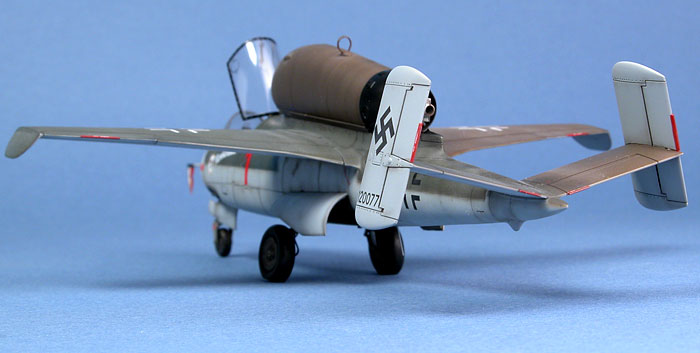 References
Monogram Close-Up No.11 "Volksjager"

Replic No. 175

Kookaburra's Luftwaffe Camouflage and Markings Vol. 3.
Click the thumbnails below to view larger images:
---
Model by Chris Wauchop
Text Copyright © 2006 by Chris Wauchop & Brett Green
Images Copyright © 2006 by Brett Green
Page Created 14 August, 2006
Last Updated 21 February, 2007
Back to HyperScale Main Page