Revell's 1/72 scale
Heinkel He 177 Greif
model and text by John Maher
images by Tony Bell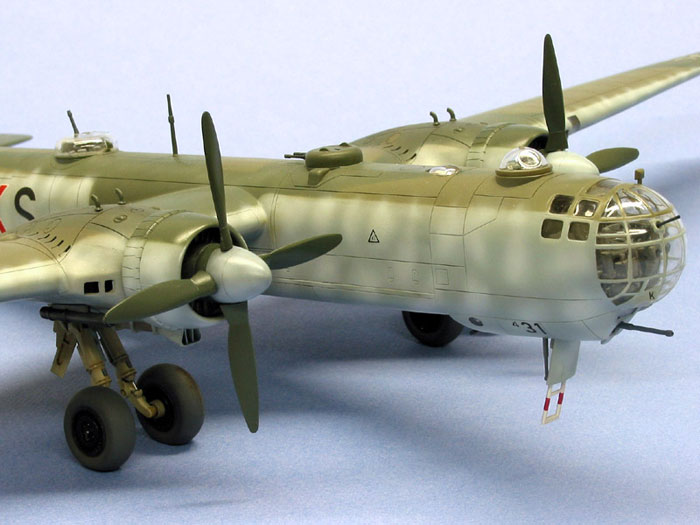 Heinke He 177 Greif
Revell's 1/72 scale Heinkel He 177 is available online from Squadron
Here is my vignette featuring the Greif and entitled "Fatal Flaw," an allusion to the less than successful idea of trying to make a four-engined aircraft into one with two engines.

I chose the 1/72 Revell Heinkel He 177A-5 because I wanted something other than my usual 1/48 scale aircraft so I wouldn't be tempted to do anything except build out-of-the-box and could therefore concentrate on the overall finish. While not quite up to the standard of Hasegawa or Tamiya, the Revell kit is very good in must respects except for the clear parts.
The main nose sections in particular required a lot of hours to remove imperfections from both the inside and outside with Micro Mesh, after which they were dipped in Future. These parts were then attached with five-minute epoxy because it dries clear and gives a strong bond. Seams were filled first with super glue and then Mr. Surfacer to ensure a perfectly smooth join. To protect the glass areas while sanding the joins, I simply put strips of Tamiya tape over the areas needing protection.

For the various cabin windows I first bevelled their inside edges so that when the clear part was inserted, it would stand proud of the fuselage. I then filled any gaps with Cyano and smoothed over the whole thing with Micro Mesh. This results in a perfect transition between the glass and the surrounding fuselage.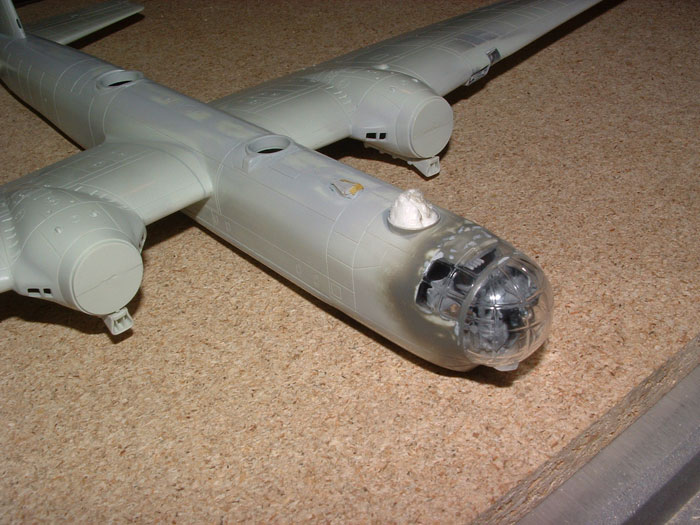 To create the landing light, I used my pin vice without drilling all the way through the plastic. This results in a concave depression that was filled with Model Master chrome silver. The bulb was masked using a disk of Tamiya tape punched out with the Waldron sub-miniature punch set and then the surrounding area was over sprayed with RLM 66 from Model Master. The kit-provided clear cover was attached with five-minute epoxy and blended in with Cyano and Micro Mesh. As with the cabin windows, the result is a prefect transition with the surrounding plastic.

I masked off all the clear parts using a combination of Eduard masks and Tamiya tape. The Eduard set was in the old style and they were very tricky to work with. Any that were to go on flat areas such as the cabin windows gave no problems but on the compound curves of the main windscreen, it was hard to get them to stay down. In fact, I ended up having to repair a couple of frames by removing overspray with Goo Gone and then re-masking them with Tamiya tape. However, this was less work than trying to mask the whole canopy with individually cut strips of tape. Eduard has since reissued their masks using the same material as Tamiya tape.
Once everything was together, I set about painting the airframe with Gunze acrylics. I began by laying down a pre-shade of dark grey. I sprayed it on indiscriminately along panel lines, heavier here, hardly at all there. I used about a fifty-fifty paint/alcohol mix with a high pressure setting on my compressor.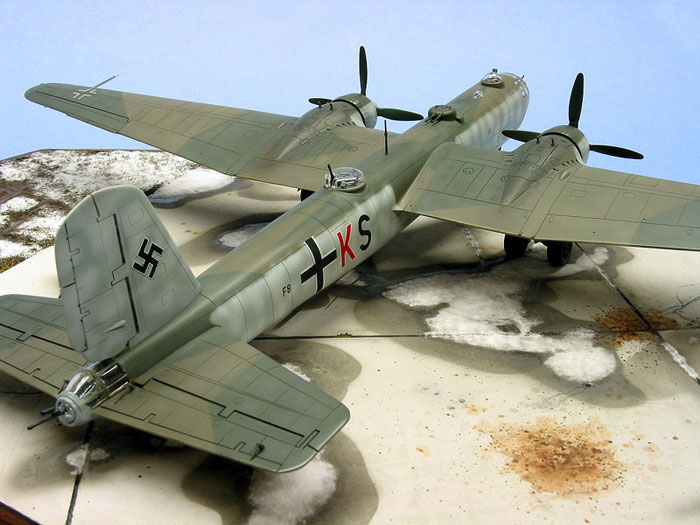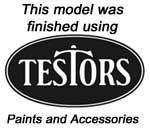 I then started adding the camouflage with a mix of about 5-10% paint to 90-95% thinner. I also ratcheted the pressure way down to 12lbs/psi. And rather than using a broad spray pattern, I actually painted each panel individually. The main colours were RLM 65 (Gunze H67), 76 (fifty-fifty mix of Gunze's H67 and white), 70 (Gunze H65) and 71 (Gunze H64). I mixed three shades of each colour: the base colour was a mix of out-of-the bottle with about 25% white added; I then mixed another shade with 20% or so white added to the first shade with the final shade made by mixing equal parts of the first two shades. Each time a created I new shade, I added more thinner. This gave me the result I was looking for: panel lines that are subtly accented plus the uneven fading typical of an old veteran.
I used paper masks for the separation of the main colours of 65, 70 and 71. The mask was attached with Tamiya tape doubled-over so that the paper was slightly raised from the surface of the model. This results in a soft edge on the colour separation. The cloud patterns in 76 were done free hand.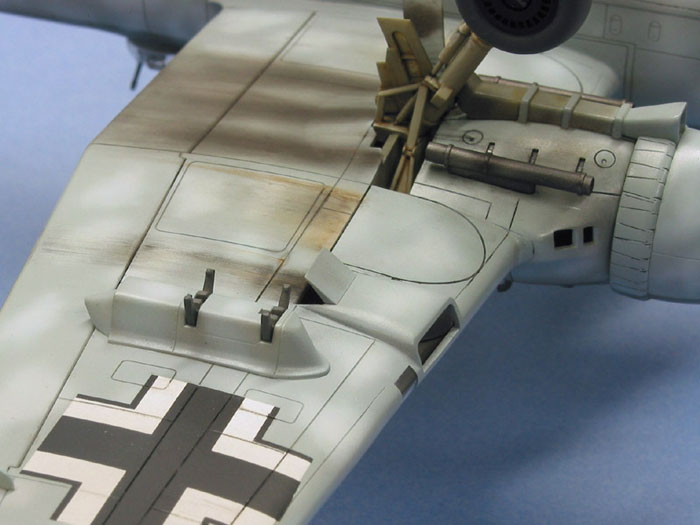 The decals are a combination of Microscale, Aeromaster, Third Group and kit-supplied. They were applied over a Polly Scale gloss base with Micro Set and Solvaset used to get them to settle down into the panel lines. Once dry, I then applied several coats of gloss followed each time by a gentle rub down using Micro Mesh 6000, 8000 and 12000 grades. This removes any ridges along the decal edges and therefore gives a true painted on look.

Once I was satisfied that everything was properly blended in, I over coated the model with Polly Scale flat. The weathering is a combination of artist acrylics, artist oils and Mig Pigments.
I always like to place my models on a base with a figure to give them a sense of scale. The Heinkel I was modelling operated from the coast of the Bay of Biscay on long-range reconnaissance missions over the Atlantic (hence the cloud pattern camouflage on its belly). So I chose to give a sense of inclement weather by having melting snow on the ground.


The base itself was cut to exactly fit the model, which meant its shape was not four-sided. This gets you out of the problem of dead space around the aircraft and therefore needing to add things like support equipment. I wanted to entry this model in the aircraft category in competitions and the rules for most shows allow aircraft to be displayed on bases with only crew figures along side and no other models. Doing differently usually means having to enter the diorama category.

To create the hardstand with expansion slots, I laid out the framing for the concrete sections using plastic strip into which I poured CGC drywall compound. I then levelled this with a metal straight edge. Once dry, I removed the plastic strips and then filled the remaining crevices by injecting matt black acrylic paint with a syringe to keep the flow of paint even. I then painted the various sections different Humbrol greys to represent the repaired sections typically seen on any concrete surface.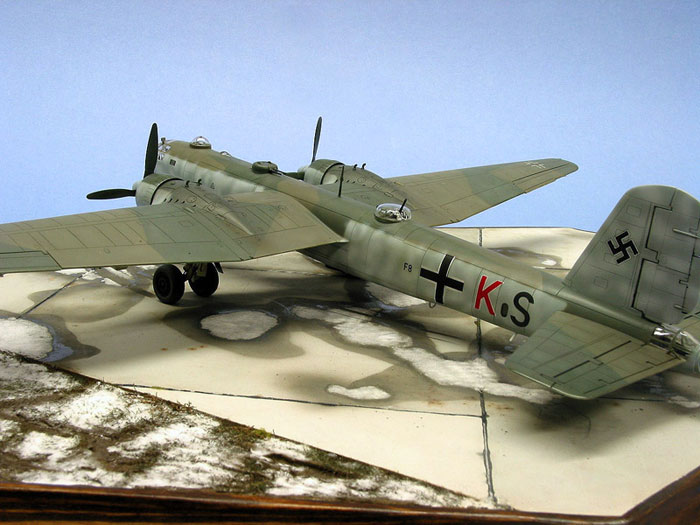 The melting snow has certainly attracted a lot of attention whenever I've displayed the model and here's how I did it: I first cut an amoebae-like shape into a piece of paper. I then used this as a mask to spray the wet areas on the base. I used this one mask by simply flipping it around and overlapping it at random so that the viewer can't see a pattern. I used a dark panzer grey to create this effect, all the while being mindful of how water dries on concrete. I also masked off a pattern to suggest the aircraft's tyres had gone through the melting snow, again paying attention to how this happens in the world around me.

I then created the wet spots around the edges of the dark grey by outlining them first with airbrushed Polly Scale clear gloss and then following up with hand brushed Future. I've actually found that you have to touch-up the Future once and while to maintain that so-glossy-it-must-be-wet look. The snow was added last and it is made with baking soda affixed with hair spray.

The figure is from CMK and has had his arms slightly modified to make him look like he's posing for a picture. His face was painted with Winsor Newton oils and his clothing was done with Humbrol. I also added a fine piece of stretched-sprue to one hand to represent a cigarette. But I couldn't attach a piece small enough to suggest just the cigarette, so I ended up painting it to look like a cigarette holder with a smoke in it.

The finished scene represents a He 177 of KG 40 based in France in January 1944.
Click the thumbnails below to view larger images:
---
Model and Text Copyright © 2006 by John Maher
Images Copyright © 2006 by Tony Bell
Page Created 25 April, 2006
Last Updated 25 April, 2006
Back to HyperScale Main Page