Improving Lee's 1/300 scale
FFG-02 HMAS Canberra
by Don Jamieson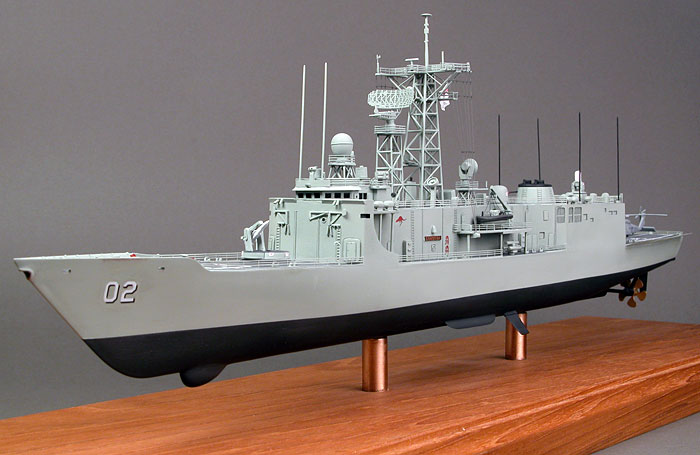 FFG-02 HMAS Canberra
images by Brett Green

HyperScale is proudly supported by
Squadron
Just when I thought that I could go onto building the Revell 1/72 U-Boat my next door neighbour, "The wizard of wood", asked if I would build this ship for him. He had served on CANBERRA and was keen to have a momento of his time onboard that could be displayed.
The kit is from LEE and it is supposed to be in 1/300 scale. Odd, I know but in reality it appears closer to 1/350 scale. It is billed as an Adelaide Class Frigate, which is an Australian modification of the Oliver Hazard Perry class, used by the US.
I would describe Lee's offering as "The kit from hell". Parts are crudely formed in some areas (sinkholes) and there are no decals. However, there are some good points . The masts are quite acceptable and the fit overall was not too bad. It has the basics to make a good model but requires a lot of attention.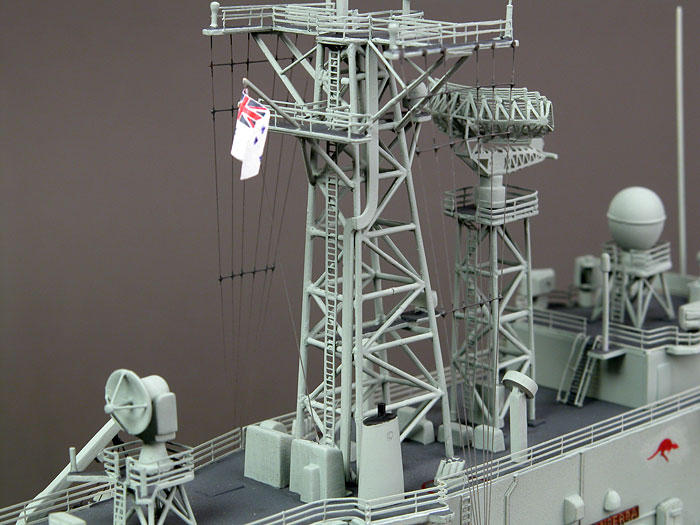 With trepidation, I began this project with the determination not to let this kit beat me. Armed with lots of reference, being in the NAVY is helpful, my plan was to build as close as possible without going overboard so that people in general will recognise the ship and its basic configuration. Sailors being sailors especially those who served on the ship will always find something wrong but after a few beers, "Hey, looks good on the mantle piece mate".
---
Modifications
There were many little modifications to this kit to make it look presentable.
The main area of concern was getting the superstructure to blend in with the hull. This required filling and sanding to eliminate the seams at those joints. This latter complicated painting but was necessary to give that sleek look.
The hull had stabilising fins added as well as the flattened extension on the stern at the waterline. This mod apparently stops the ship from dipping at speed and reduces the "Rooster tail" much the same as the S Boote had.
The bow required a hawser hole to be made, as it is a prominent feature as well as the fitting for the towed array at the stern.
The boat deck was modified to the Australian pattern. A Hiab crane was scratch built and the Rigid Hull Inflatable Boat (RHIB) was made up from rolled epoxy putty and plasticard.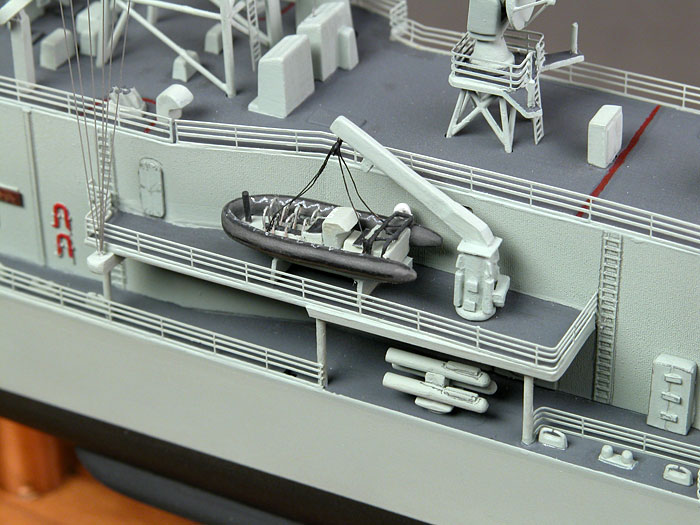 The etched brass railings, helo nets and radar was from spare Gold Medal products set. It is in 1/350 scale but was close enough to my eye.
Rigging was smoke coloured invisible mending thread and fine copper wire.
The anchor chain was from a model railroad supply shop, which I had left over from another model.
Painting, Weathering, Markings & Base
Paint
The paint I chose to represent the "Storm Grey " used on our ships was Tamiya XF-12 IJN Grey. It has a greenish tinge, which seems perfect for this scale. The decks were painted Tamiya XF-24 Dark Grey. Below the waterline is a dirty black.
Weathering was kept to a minimum.
---

Markings
All markings to the flight deck and forward VERTREP area were applied using white decal paper, which was cut to the various patterns required.
The red Kangaroos, a prominent feature on Australian ships were hand painted and the red warning stripes, warning notices and the 02 on the flight deck were also hand painted.
The name plaques on each side of the superstructure were made from Plasticard and once painted brown to represent varnished wood, had the name "CANBERRA" hand painted in gold paint.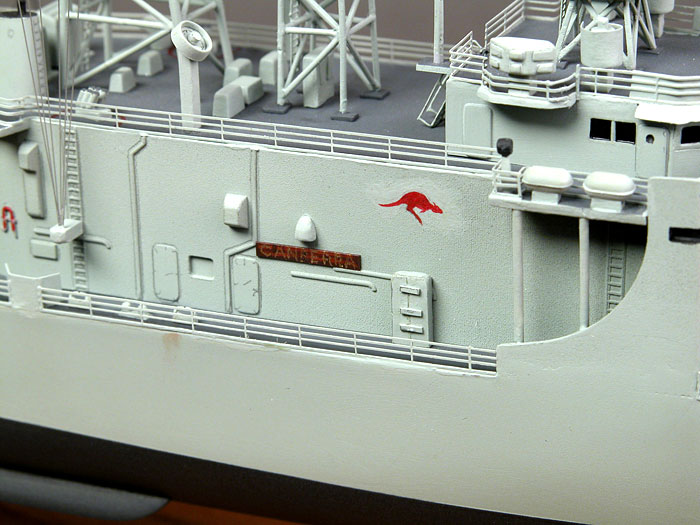 I know it must sound like I am too cheap to use decals but I did not have much time to build this as Lennard, AKA "The wizard of wood" had a crash posting back to the West. I wanted him to see as much as possible prior to completion before he left. I would latter send it to him by courier mail.
The one concession I made was the hull numbers. I placed an order with Shane Jenkins at Sandle Hobbies and they were perfect for the job.
---

Base
The base is solid teak with turned brass pintles. It has a 3mm routed edge to take an Acrylic cover.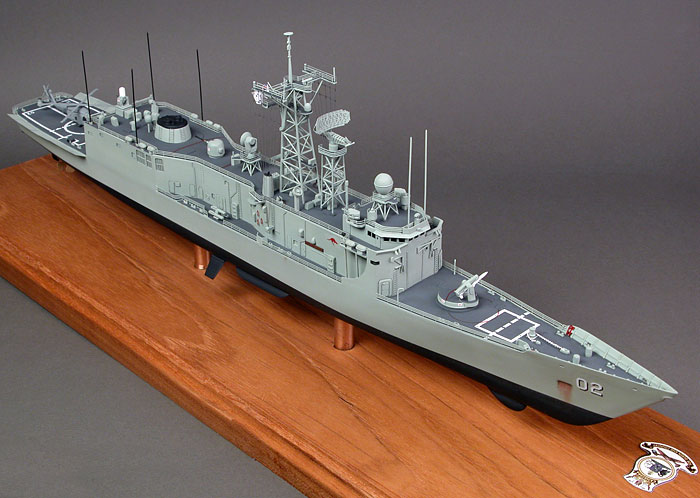 I am glad I finished Lee's HMAS Canberra. It really wasn't that bad, but perhaps that is my masochistic streak. Valium and lots of beer helped along the way (just joking).
Click the thumbnails below to view larger images:
---
Model and Text by Copyright © 2004 Don Jamieson
Images Copyright © 2004 by Brett Green
Page Created 09 October, 2004
Last Updated 12 October, 2004
Back to HyperScale Main Page