"Oh,Those Monogram Days"
A Hornet Retrospect
by Bob Aikens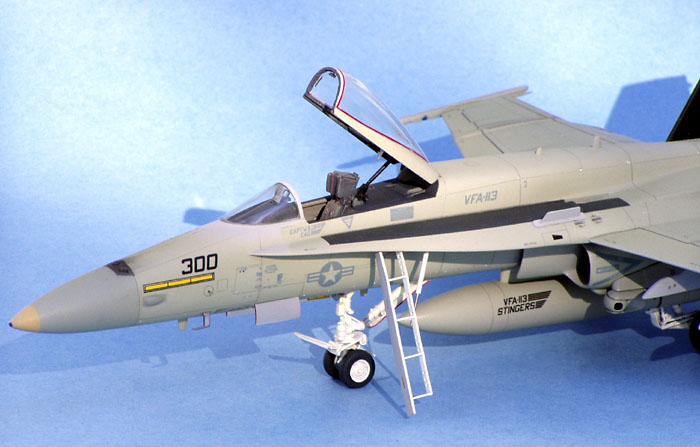 CAG F-18C VF-113

Revell/Monogram's 1/48 scale F-18 Hornet is available online from Squadron
These four Monogram Hornets were built between 1989 & 1993. Before I had finished the last of the series [CF-188], the Hasegawa F-18 arrived on the scene-it just doesn't seem like that was 15 years ago-but it was! I built the fine new Hasegawa offering for a friend-Canada's CF-188s had just seen their first full-blooded action in 'Desert Storm' and had become a hot modeling item.The then new Arrowgraphics Cdn. Hornet sheet was used for this build so I had the whole Hasegawa sheet left, and used a section of it for the VF-113 CAG aircraft.

These four models are really a suite. They share similar construction, experiment work and creative momentum. It was sort of like riding the wave of a learning curve- and having fun doing it!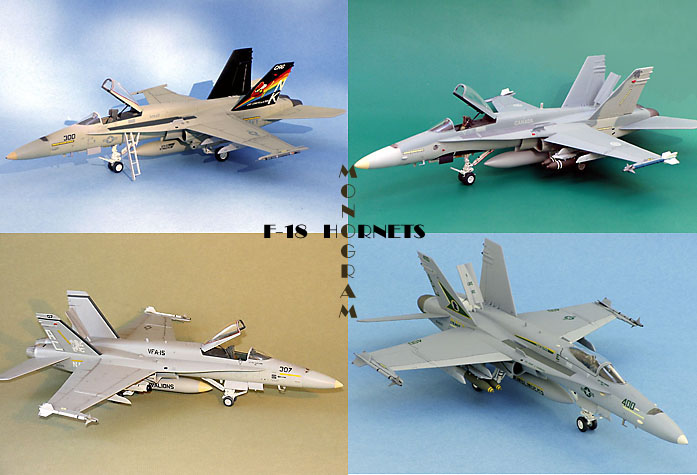 The four Monogram models featured here are:

CF-188 (F-18A)-SuperScale decals

CAG F-18C VF-113 [A 'high-tech' (photo-etch)kit] Hasegawa decals

"Valions' VFA-15 F-18A- SuperScale decals

VFA-105 '400' F-18C- kit decals
Construction, Painting and Weathering
Anyone who has ever done (or attempted) this kit will probably testify as to the ill-fitting nature of the clamshell fuselage construct, viz. the nose and rear sections.Only basic modeling skills are required [filling, sanding, smoothing, priming], but patience is the thing as it takes numerous applications to get things smoothed out and the contours right. And if you've done your work properly, you have of course eliminated 90% of the raised panel lines on the model's upper surfaces. And that really is not such a bad thing.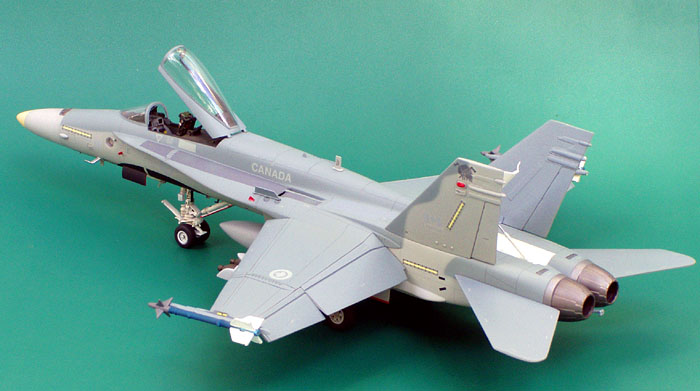 On all these models the panel lines were literally 'redrawn' with a hard [7H] art pencil.ModelMaster paints [ Light Ghost Grey, Dark Ghost Grey, and Medium Grey] were used. The panel lines were drawn while the surfaces were still in a rather matt condition (a touch of thinned semi-gloss clear was used to give the surfaces a bit of protection for handling).

Needless to say it helps to have some good line drawings and pictures to re-install the representative panel lines. Having a Verlinden 1/48 scribing/drawing template was also quite useful. I found that the best way to re-install the lines over the compound fuselage curves was to cut overlapped masking tape(2-3 layers) into long 1/8"-1/16" strips and use them as sturdy, but flexible guides for the penciling.Treat the model's surface as a 3-dimensional line drawing. It takes some time, but if you like drawing, like I do, it's really a bit of fun!

As I became more familiar with the trouble spots and more assured of my construction techniques, I began to try my hand a various 'surgeries' on the leading edge slats, the 'flaperons' and the 'stabilators'. I realize that to some, doing the same model over and over seems a bit whacky-but to me it was like practising something until you got it right.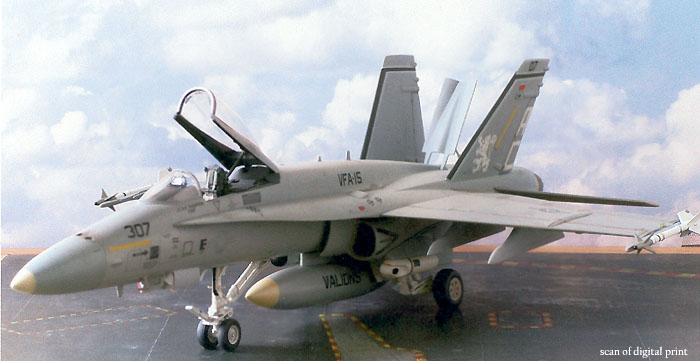 Well, I wouldn't blame you if your're thinking a modeler might well OD on Hornets-after all, the final build of the series [CF-188] was the 6th Monogram Hornet that I had done-along with several Italeri examples in between! But once having built the Hasegawa kit [which, although fine, I found to be much like their F-14, i.e. somewhat unnecessarily complicated], I found myself wishing for Academy to step in with a nice,moderately-priced offering. But it was not to be!- and with new Super Hornets now the rage, we may never see another early Hornet.
To close this chapter on the Monogram Hornet I should say that I believe that a firm governor ought to be kept on all forms of 'nostalgia'-so I'm not longing for the 'good old days'- but I think ther's still a lot of modeling fun in those old molds.*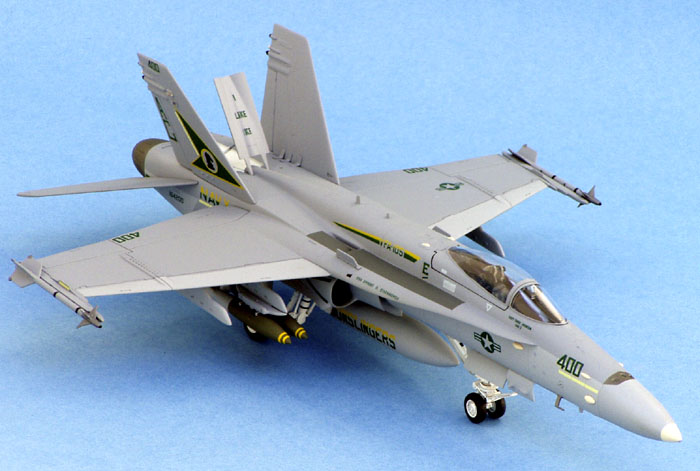 * This modeler hasn't done a Hornet since, but....

Click the thumbnails below to view larger images:
---
Model, Images and Text Copyright © 2006 by Bob Aikens
Page Created 31 May, 2006
Last Updated 21 February, 2007
Back to HyperScale Main Page