Azur's new 1/32 scale
Polikarpov I-16 Type 10
by Steve Palffy
Polikarpov I-16
images and text by Brett Green




Azur's 1/32 scale Polikarpov I-16 is available online from Squadron.com

Azur is one of MPM's family of model brands. Azur continues the trend that it started with its Dewoitine D.520, and has now released a 1/32 scale Super Mosca, which has been unrepresented in this large scale until now.
---

In the box
Azur's 1/32 scale Polikarpov I-16 Type 10 comprises 51 parts in grey styrene, 1 part in clear injection moulded styrene, 13 parts in cream-coloured resin, a photo-etched fret and decals for three aircraft.

The plastic is smooth and free from any moulding imperfections. The surface features crisp and consistently recessed panel lines with convincingly subtle fabric texture on control surfaces.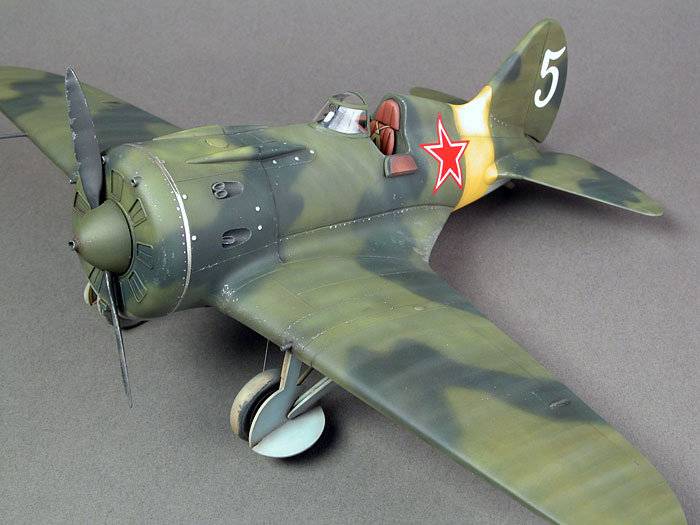 The big ejector pins that often plague the inner surfaces of many limited-run kits are rare, and none will interfere with fit or be visible when the kit is assembled.
The windscreen is supplied in high-quality, thin injection-moulded plastic.

Resin parts are provided for the separate exhaust stubs and some smaller (indeed, tiny) details for the cockpit.

A photo-etched fret with a full harness and the gunsight ring and bead is also provided.

Kit options include alternate spinners and a positionable rudder. The cooling vents in the front of the engine cowling have been moulded closed, which means that Azur did not need to supply an engine.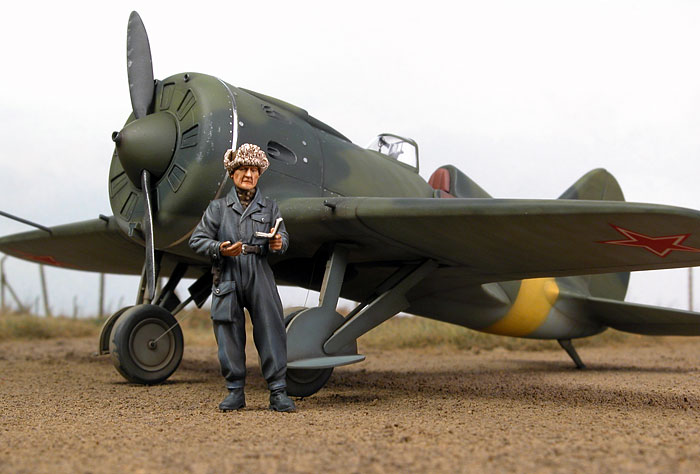 Markings are supplied for three machines from the Spanish Civil War era. There are two Republican machines, and one Nationalist scheme. The decals are in perfect register and the colour looks good.

The cockpit on the real aircraft did not have a floor as such, but Azur has simplified this area by supplying a full floor in plastic. The only other issue is that the prominent wing root fairing panel seen on each fuselage side of some I-16s is missing. It will be a simple matter to scribe these lines using the box art as a guide, however, keep in mind that not all I-16s has this structural feature.
Steve Palffy was looking forward to this model being released, so he got started straight away. Basic onstruction to this stage took around six hours.
Only the kit parts were used. These include a very nice photo-etched harness and separate resin exhaust stacks. Steve was especially impressed with the resin and photo-etched gunsight, which he maintains is one of the best he has ever seen.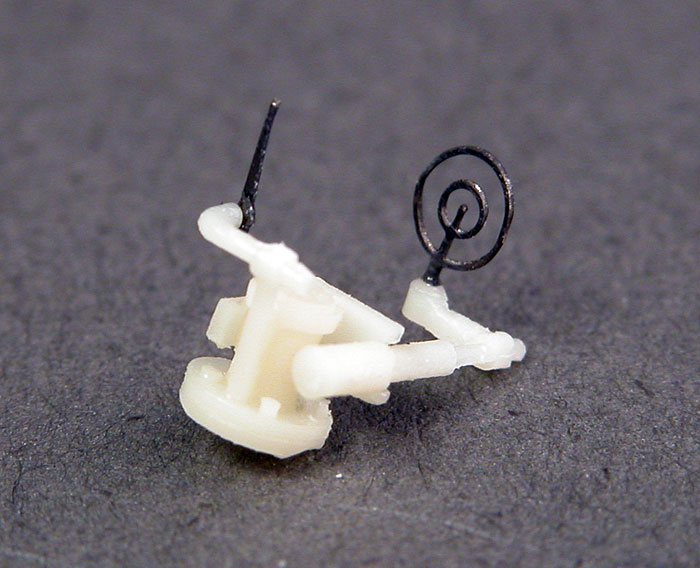 Steve noted that there were some fit challenges, especially around the wing and fuselage joins. However, as can be seen, the result is looking very impressive and captures the stubby lines of this 1930s Soviet fighter.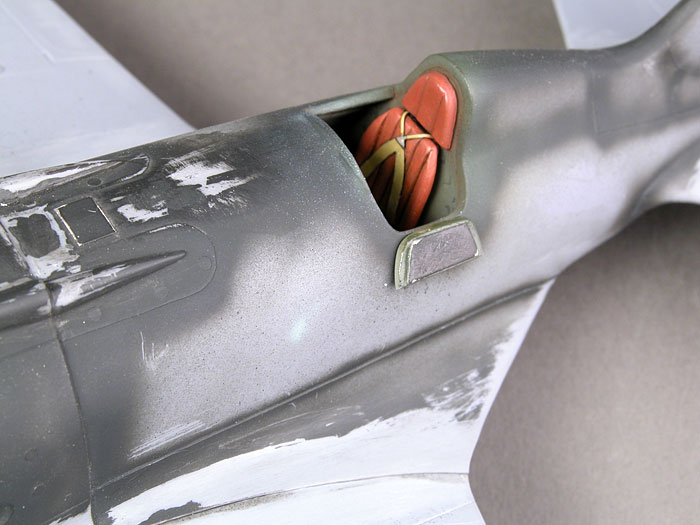 Painting, Markings and Figure
Painting
Steve wanted the model to represent an old hack in service with a training unit toward the end of the Great Patriotic War. This provided the opportunity to finish the model in an interesting combination of late war colours and markings.
The model was painted with Tamiya Dark acrylics applied with the Tamiya HG airbrush. The upper colours are Olive Green and a mix of Dark Green and Black. The underside colour is Tamiya Light Blue.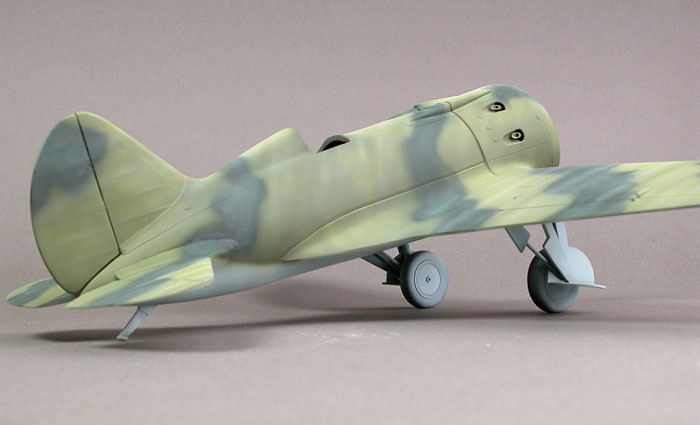 Streaking was applied with several progressively paler shades of the base colours.

An oil wash of Raw Umber and Sienna using odorless solvent as a thinner was applied to the finished paint work. This has the effect of blending and softening the airbrushed streaking, in addition to leaving a layer of grime in recessed surface detail.
Minor random scratching on the wing roots was added using a silver pencil. A fine brush and silver paint were employed to represent the cowl fasteners, which have had the paint removed through constant contact with tools.
---

Decals
Decals were sourced from a Data Decals sheet for the 1/32 scale Trumpeter MiG-3.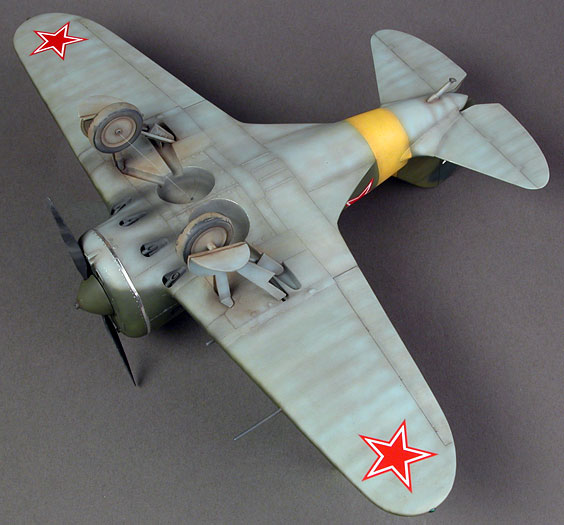 These decals were used over Polly Scale Gloss, followed by Micro Set and Micro Sol. Once the decals were dry and settled down, an final coat of Polly Scale Flat was applied.


---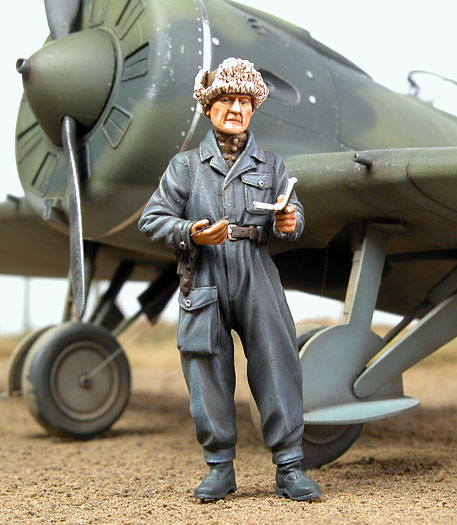 The Figure
Steve also created a figure to help tell a story. In keeping with the finish of the model as a late-war trainer/hack, this senior pilot is holding a clip board and pencil, undertaking a final inspection - or perhaps conducting a lecture - before sending a student pilot into the wild blue yonder.