1/35 scale Warriors + Trumpeter diorama
"Is it clear?"
by Andrew Judson

images by Brett Green


Trumpeter's Hotchkiss, 7.5cm auf Geschutzwagen 39H will be available online from
Squadron
Here is my 1/35 scale Trumpeter Hotchkiss again, as featured by itself a few weeks ago, only this time on its dioramic base that I mentioned when first shown.
I tried to make this diorama as simple as possible while still telling a story of a brief but deadly contact some where in Normandy 1944.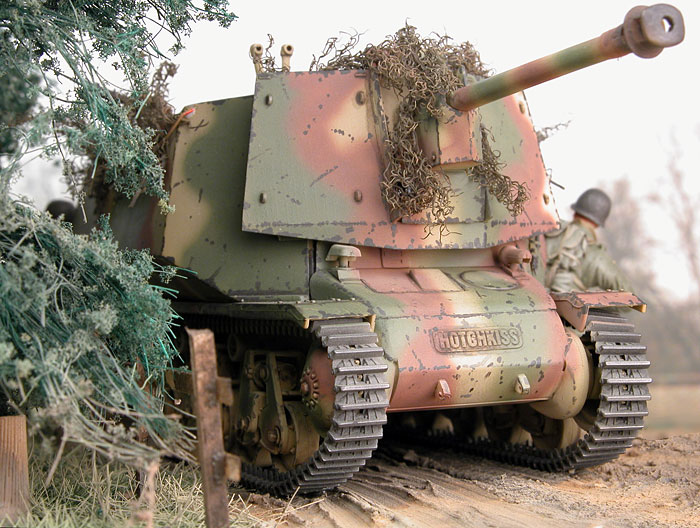 A description of the Trumpeter Hotchkiss and its construction may be seen in the first article here on HyperScale.
The American soldiers are from Warriors, and are both excellent. They were both built straight from the box, with only the Carbine with the folding stock being the only add on.
The Germans are from Verlinden and these to are straight from the box, except that I painted the uniforms a fraction different from the box art.
All the figures were painted using the excellent Vallejio acrylic paints and then toned down using Mig production powders, especially the the Germans , as I didn't want them to look to bloody and grisly. I don't think that is called for in this kind of setting.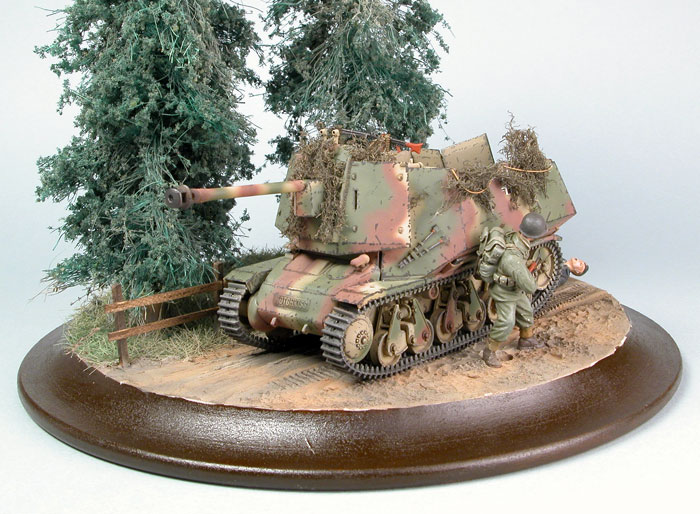 The base consists of an MDF board purchased from the local hardware store. The board was covered with Balsa filler and then textured to represent the ground work you see here. Static grass was then applied by wetting the surface with watered down white glue and allowed to dry. Next I put the trees in by drilling into the base and superglueing into place. The trees are hand made by a very good friend, but I then painted them in different tones of green and then randomly sprayed Tamiya Buff over them to blend everything together.
Lastly , I added the fence up using Artesania timber, painted it with a dirty oil wash, and then glued the tank and figures in place, before a final light dusting of some more Mig pigments.
I really enjoyed making this Diorama and hope that you enjoy looking at it.
Click the thumbnails below to view larger images:
---
Model and Text Copyright © 2005 by Andrew Judson
Images Copyright © 2005 by Brett Green
Page Created 04 April, 2005
Last Updated 06 April, 2005
Back to HyperScale Main Page