Tamiya's 1/35 scale
Jagdpanther Late
by Chris Wauchop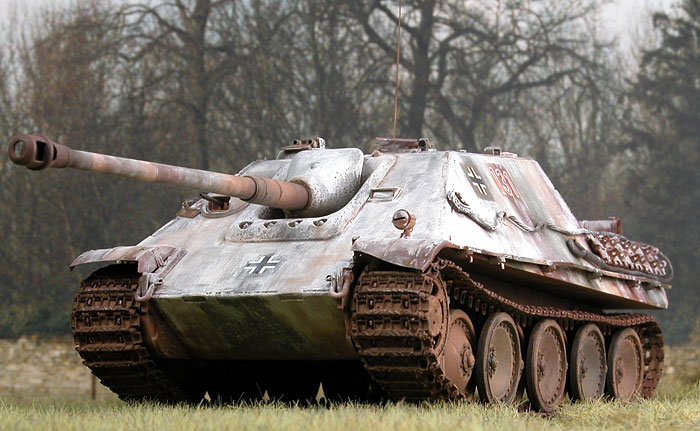 Jagdpanther
images by Brett Green

Tamiya's 1/35 scale Jagdpanther
Late Version
is available online from Squadron
Chris Wauchop was recently commissioned to build a 1/35 scale late production Jagdpanther of 1./Schwere Panzerjager-Abteilung 654 (Alsace, February 1945), commanded by Unteroffizier Danisch.
The reference used was "The Combat History of Schwere Panzerjager-Abteilung 654" by Karlheinz Munch. Chris recommends this as a fantastic book.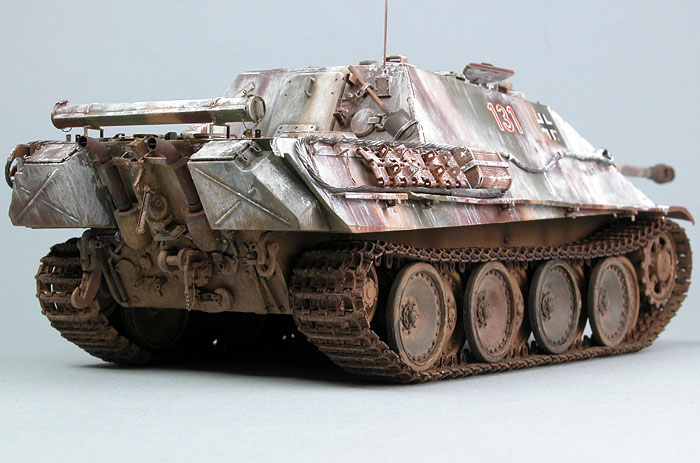 The vehicle was photographed long after it was abandoned, with much of its whitewash winter camouflage having already worn off. Chris was intrigued with the idea of depicting this vehicle while it was still in service, when it still would have had greater evidence of the temporary winter coat.
This is Tamiya's 1/35 scale Jagdpanther Late Version, kit no. 35203. Chris made a number of modifications and additions to this superdetailed model.
Additions included:
Aber 35028 - Jagdpanther photo-etched set

Aber 35A24 - Front fenders and side supports for Panther and Jagdpanther

Unique Technology 35-03 - Hollow metal exhaust pipes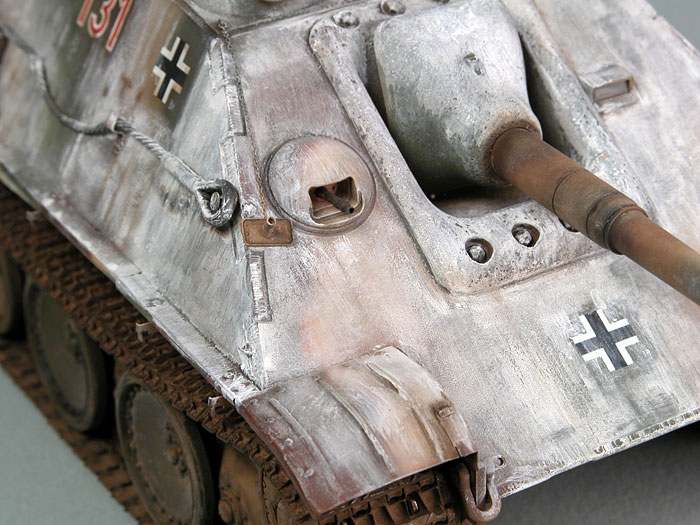 Elefant 35.390 - Metal 88mm PaK 43/3 L/71 gun barrel for Jagdpanther Late

WWII Productions 35001 - Panther six chevron tracks (resin)
The radio antenna was brass wired, tapered at the end with a grinding attachment fitted to a motor tool
Tow cables are six-strand brass picture hanging wire glued into the kit cable loop ends.
The UV rear tail light is a piece of clear stretched sprue painted clear purple, while the headlight cable was added using 0.355 solder
The gun cleaning equipment tube was cut from 5mm aluminium tube, with photo-etched latches, handles and chains from the Aber set. The method of mounting this piece of equipment seems to have varied quite a bit. The mounting brackets were made to match photographs of this vehicle.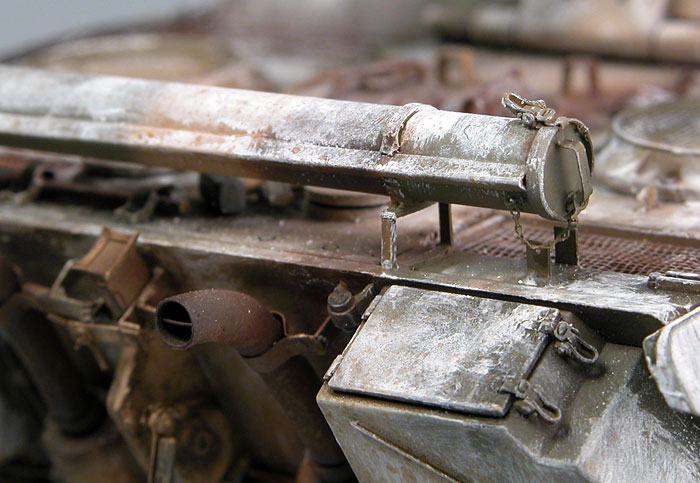 The Aber photo-etched sets provided a mind boggling selection of tiny parts, some of which were not necessarily best represented by flat or folded metal parts. Even so, the Aber set offered a noticeable improvement to the kit, especially the "woven" effect of the mesh covers on the rear deck, and the workable latches on the stowage bins! Although using many of the Aber photo-etched parts was tricky and time consuming due to their delicate nature, the Tamiya's plastic kit parts were almost completely trouble free.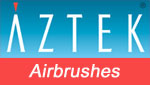 All camouflage colours were applied with the Testor Aztek A470 airbrush.
Tamiya paints were used:
Dark Yelllow - XF-59 Desert Yellow mixed with XF-2 Flat White 50:50

Dark Green - XF-13 J.A. Green mixed with XF-59 Desert Yellow 50:50, and

XF-64 Red Brown
The model was treated to a coat of Tamiya X-22 Acrylic Clear as a gloss coat before further weathering.
The distemper wash was white pastel chalks mixed with Mineral Turpentine and applied with a small flat brush.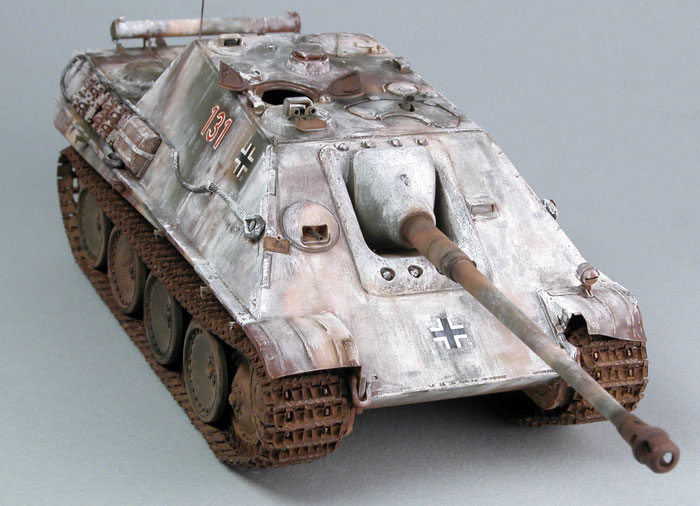 The mud on the wheels and tracks was Faber-Castell pastel chalk No. 179 Brown, powdered and mixed with Turps into a paste, then applied thickly with a flat brush. The mix was then dry-scrubbed off with a stiff brush.
Additional staining and weathering was also added using a thin wash of dark oil paints, but these selective washes were mostly soaked up by the pastels!
Click the thumbnails below to view larger images:
T-34/76 & T-34/85


Modelling Manuals 16


US Price: $17.95
UK Price: £12.99
Publisher: Osprey Publishing
Publish Date:

June 27, 2001


Details: 64 pages; ISBN: 1841762091
Model by Chris Wauchop
Text Copyright © 2005 by Chris Wauchop and Brett Green
Images Copyright © 2005 by Brett Green
Page Created 04 September, 2005
Last Updated 04 September, 2005
Back to HyperScale Main Page