Czech Master Resin's 1/144 scale
Martin Mars JRM-1
by Angus McDonald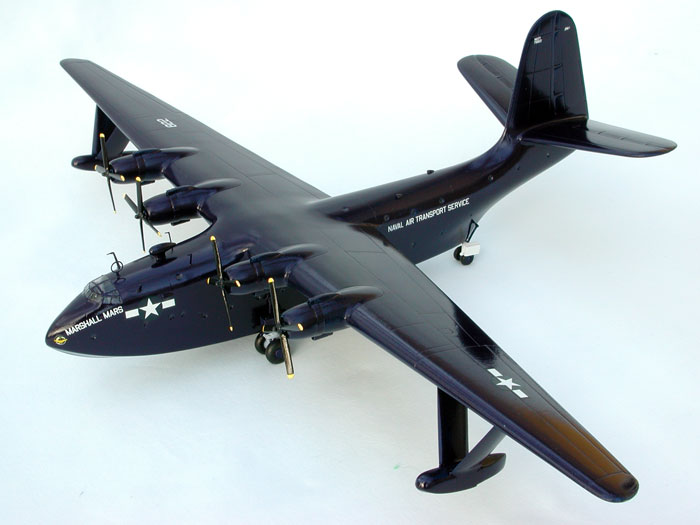 Martin Mars JRM-1

HyperScale is proudly supported by
Squadron
The Martin Mars JRM-1 is Czech Master Resinís latest foray into the world of 1/144 scale models, and a truly incredible subject it is to.
I have a soft spot for flying boats. They are typically a wonderful combination of curves, hulls, high wing and sheer brooding massiveness. The Martin Mars satisfies all these categories. Its 200 foot wingspan exceeds that of the B-52 and Boeing 747, resulting in a model whose span in 1/144th scale is virtually that of a 1/72nd scale B-17! And itís full of gorgeous curves, and thick wing sections, and a stunningly elegant wing plan form.

Right, enough of that drooling, what about the kit? Well, itís resin, all of it!

Yes, all of it.

There are no metal parts (the beaching dollies are all resin), and no vacu-formed transparencies. The latter are now moulded out of clear epoxy resin.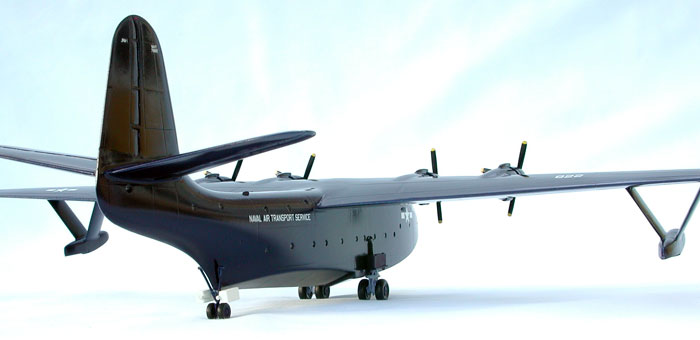 As usual, the parts are beautifully engineered, smooth, virtually bubble free, with finely engraved panel lines. Each wing half is a massive single cast of resin. I spent ages fondling them. Tail and tailplanes are separate solid castings. There are some very fine, delicate, thin casting for parts like the beaching dolly. All is not sweetness and light, Iím afraid. Due to the record high temperatures Europe endured in the summer of 2004, CMR experienced tremendous problems with casting resin. Thus, some of the parts suffered minor amounts of damage. The trailing edges of the wings came in for a particular beating, looking in some places like mice had been nibbling on them. One of the tailplanes had deep gouges, and there was evidence of resin splatter and flakes being caught up in the parts. While the cowl flaps are so delicately thin, Iím amazed so few got damaged. All of these faults were trifling to rectify with a bit of super glue, wet-n-dry and elbow grease.
Construction proceeded relatively quickly, partly due the small number of parts which typically make up a CMR kit, and partly due to their good fit. You need to dry fit parts, trim them, and square them up. No big deal.

It was when I glued the hollow fuselage halves together that I really began to admire the sheer skill of the pattern maker. The fit was extraordinary, miles better than many mainstream manufacturers are capable of. And this is a kit made out of resin, of a subject full of compound curves forever changing direction. This feeling continued when fitting those huge wings to the fuselage. With a minor bit of trimming you can end up with a tight fitting wing, butting right up against their roots on the fuselage. There are gaps between the top of the wing and the fuselage which need filling and sanding, however it was no great effort.

Oh, Iím a bit dubious of the ability of the thin resin walls to take the weight of the wing, especially when the weather gets warmer. So I braced the fuselage with rectangular strips cut from old credit cards.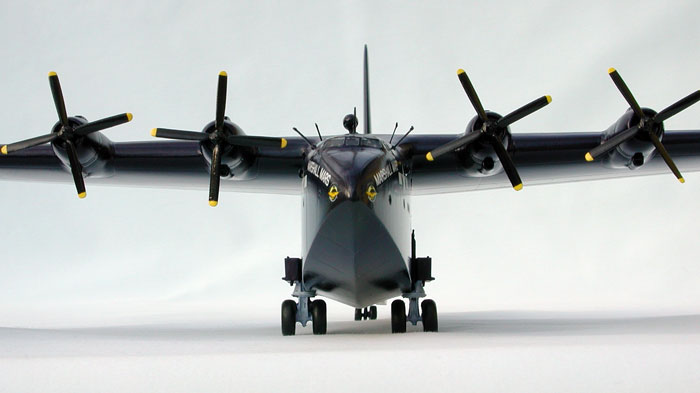 Fair sized gaps occurred at joins of the tailplanes and tail to the fuselage, necessitating copious quantities of super glue and vigorous sanding. Again, no great shakes.

While the epoxy resin transparencies have suffered some loss of clarity (though it is improving as CMR get to grips with this new technology) this is greatly offset by the ease with which they can be trimmed and glued to the fuselage. I think the whole process of trimming them from their moulding stubs and blending them into the fuselage took about half an hour (note I built both the JRM-1 and JRM-3). Compare this against the half an hour it typically takes me just to cut and trim a vacu-formed transparency from its backing sheet.

The beaching dolly did not fair well in the casting process. They required much trimming to get even part way respectable, and even then I gave up trying to extract the resin from between the wheels and frame. However, once painted you canít really notice.

Various bumps, chutes and vents were made from scratch, and glued into appropriate places on the fuselage. I did miss out on one set. They occur on the wing leading edge, just over the fuselage. It was late in the construction process when I noticed them, but just couldnít bring myself to produce them. It was getting really close to Christmas, and I wanted these models finished.
Painting, ha!
This followed the usual McDonald tradition of Ďfoul up and cock upí. As usual, I didnít have any official colour to match the gloss Sea Blue of the JRM-1ís. I did notice, however, that Citidalís Midnight Blue seemed to come fairly close. So, thinning it with Halfords screenwash I began my adventure in spraying.

Do you know how difficult it is to spray a dark colour and get a consistent finish, especially when the paint wouldnít flow properly (due to my not mixing it properly) or when it did flow I got drips. Needless to say there was a considerable iteration of paint, swear, sand away flaws, cuss, paint, etc. I think about four coats of paint saw me reach my temper limit, and call it a day. Only now came the gloss coats.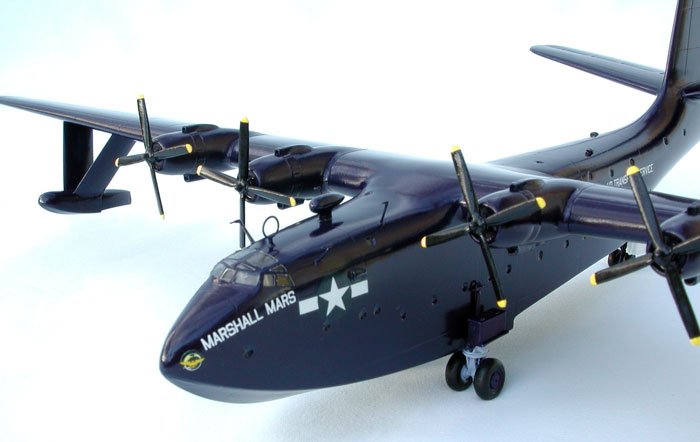 A coat of Future/Klear was sprayed on. The wonderful CMR decals applied. Then another coat of Future/Klear. Loud blaspheming as I notice the severe drips. Then a repeat iteration of careful sanding, cussing, spraying, swearing, over sanding so cutting down to the primer, painting of Midnight blue, spraying of Future/Klear, more blaspheming, etc, etc, etc. I think I must have used about a quarter of a bottle of Future/Klear on this model. But it boiled down to me determined to get a really smooth glossy finish, and nothing was going to stop me.

Finally satisfied, I stopped. Granted it is rare, if not impossible, to find a photo of the real aircraft sporting such a glossy finish, but trust me it looks really, really drop dead gorgeous on this aircraft.
---

Photography
Photographs were taken with my trusty 3.4 MP Nikon 880. F-Stop set to something between 9.2 and 11.4, depending on the vagaries of the Nikon and the prevailing gloom of the British weather. Even though set to fully manual operation, the Nikon still sets the F-stop to approximately what it thinks it should be. I canít remember, but the exposure times varied from 1/30th second through to 1/8th second, depending on the thickness of cloud passing over the house.
As with any resin kit, you are going to need a reasonable amount of skill to build CMRís Martin Mars JRM-1. This is no shake and bake kit. If you can build an Airfix, Heller or older Revell/Tamiya/Hasegawa, etc kit, you can build this.

But the result is truly stunning. The Martin Mars is just full of wonderful curves, with a wing plan form of jaw dropping elegance. And CMR have captured these features in their beautiful kit.

Angus McDonald

Click on the thumbnails below to view larger images:
---
Model, Images and Text Copyright © 2005 by Angus McDonald
Page Created 18 February, 2005
Last Updated 18 February, 2005
Back to HyperScale Main Page