Hasegawa 1/32 Conversion
Junkers Ju 87D-3 Stuka
by Alan Roffey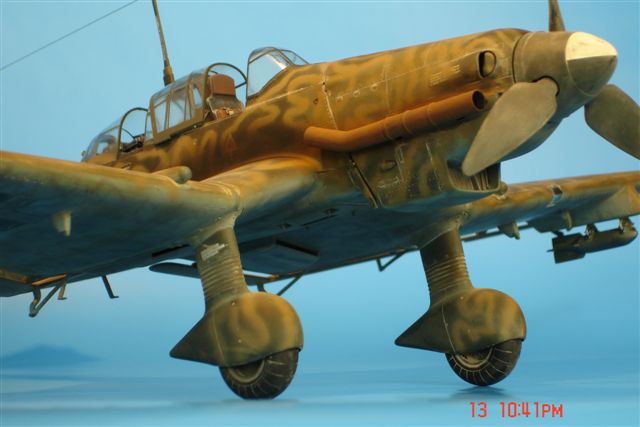 Junkers Ju 87D-3 Stuka

Hasegawa's 1/32 scale Junkers Ju 87G Stuka is available online from Squadron.com

It is not that I have to be different just to be awkward, but it is that I cannot wait to buy the first version of a new kit release, but then discover, after a bit of research, that I would actually like to do a different version that will probably be released a few months down the line! So it was with the Hasegawa 1/32 Stuka.

I realised I didn`t really like those big cannon on the G. So, since the G is a D with big guns on it, I decided I would do a D.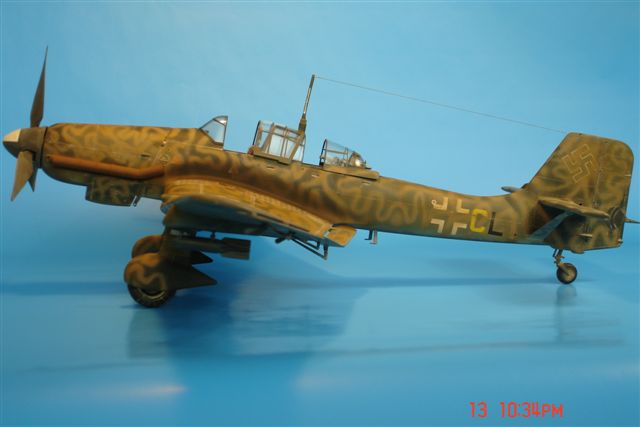 My first thought was to do a desert scheme, but from looking at books, discovered there were not many D`s sent to Africa, and those that were, all seemed to be in the dark greens; Boring! As usual, I was seeking something different. I found what I was looking for in a book called `Ghost Bombers: The moonlight war of Nachtschlachtgruppe 9 in Italy`. One of the colour profiles in this book shows a D3 with the usual greens and RLM 65 modified by brown wave pattern on the upper services and a medium grey wave pattern (RLM 75?) on the undersides: Wunderlich!!

However, there were a few problems to overcome. My Nachtschlacht D3 would need bombs, which you get with the kit, but no bomb racks or shackles to go with them. Also, I needed to source some huge flame dampers for the exhausts. More of this later. I know, I`m such a tease.



I slapped the cockpit together in short order and washed it with black/brown artists oils. Before doing this, I checked the fit of it in the fuselage halves. It was very tight. In other words, very good.

Whilst waiting for the wash to dry, I started assembling the wings, in my case the shorter G1 variant wings to represent a D3. After fitting the trailing edge flaps/ailerons, I jumped ahead to stage 13 of the instructions to attach the connecting rods between wing and flap/aileron with super glue to secure them in the right position before the polystyrene cement dried that I had used to attach the flaps/ailerons to the wings.

Earlier, I had assembled the nose, which fits extremely well. I decided I could paint the radiator grills after camouflage painting.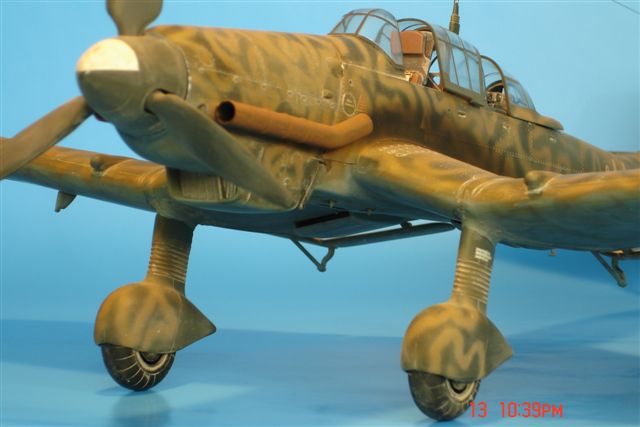 The design and fit of the inner wing is a masterpiece of plastic mould engineering. I love the way it goes together and ensures the correct anhedral and dihedral. The join lines of the outer to inner wings was not quite so good, but nothing too much to worry about.

Back to the cockpit: I dry brushed with Aeromaster medium sea grey and then brushed on some Rub `n` Buff, to simulate wear, in appropriate places. The seat belts are Eduard pre-painted. Lazy I know, but who cares. I used the kit transfers for the radio dials and instrument panel. I`m not a modelling snob when it comes to these. I think they look good if they are printed correctly.

Before I knew it the fuselage was together complete with the nose section, and the wings were test fitted to it. The fit was incredibly tight. Believe it or not, no glue was required. Precision engineering!! However, the real test is if the undercarriage goes on at the correct, vertical, angel. After making good all join lines on fuselage and wings, I rejoined them without using glue.

The tailplane was not quite as good a fit, but did not present any real problems. I used polystyrene cement to affix the horizontal stabilisers and then super glue for the support struts.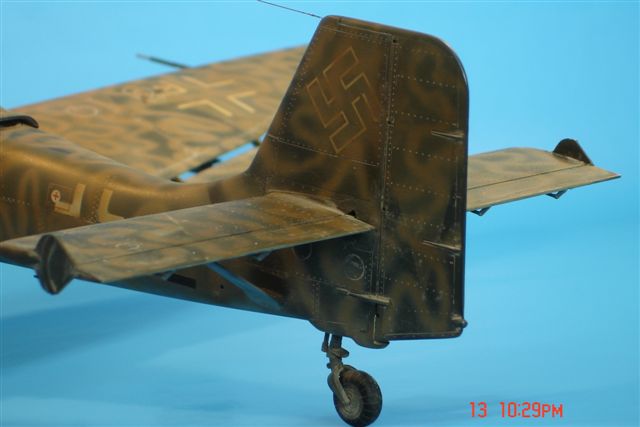 It is at this point that I like to take hold of the airframe and `fly` it around whilst making an engine noise. On this occasion, this puerile activity included a Stuka dive toward the carpet.

What to do about the undercarriage? I decided to put it on now, wheels and all. I would hand paint the wheels after spraying.

Now that almost the whole thing was together, I noticed it has a considerable weight to it. Not surprising I suppose, since it is about the same size as 1/24 Spitfire.

At this stage, I would normally mask the canopy and fix it on ready for spraying. However, I was still waiting for the Eduard mask to arrive from Czeska. Therefore, I started checking out the bomb racks I plundered from my spares box. I have no idea what kit they came from and they were probably in there for years. But I did know they fitted the contour of the wing very well and were quite a reasonable match to photos in the afore mentioned book.
I also started work on the flame dampers for the exhausts. Where did I get them from? Well, I looked around my display shelves for old kits that I would not worry about taking bits off, and there was the ideal candidate: a Tamiya 1/48 Heinkel 219 with those massive flame dampers. So big in fact, they are the right size for 1/32! Of course some modifications would be required, but luckily there was enough material to work with.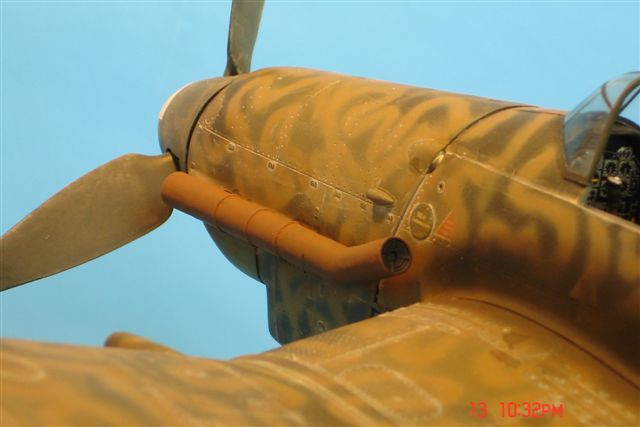 Meanwhile, I was doing the final necessaries prior to spraying: there are some annoying injection pin marks on the undersides of the flaps/ailerons. The embossed ones were quickly sanded flat, but the engraved ones had to be filled. They were quite shallow, so I was able to use one of my old favourites: Snopake. This is no good in its new state, as its too thin, but leaving it open exposed to the air, thickens it up.

Fitting the landing light is a very risky business, as you can easily lose it inside the wing, perhaps never to come out! This is an example of when you should not follow the instructions. Had I spotted the problem, I would have glued the light to the upper wing prior to cementing the wing halves together. I got around the problem by attaching the light to the end of a paint brush with Play Doe, so it would not fall off whilst I fixed it in place with gel super glue.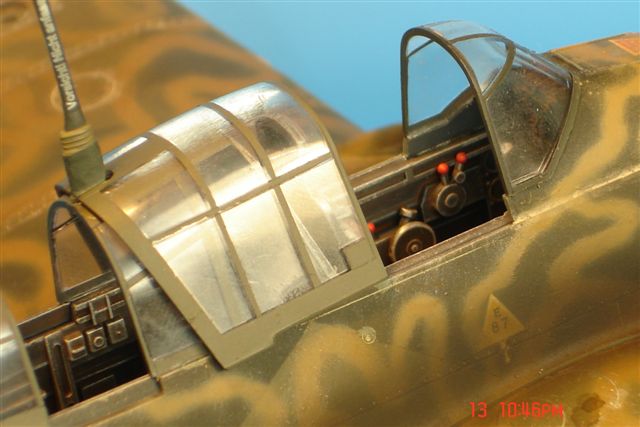 Whilst masking the canopy with Eduard masks, I realised Hasegawa had not made an opening in the pilot`s sliding canopy to accommodate the aerial mast. Since I wanted the canopy fully open, I cut this out with a mini hacksaw. Due to the risk of damaging this clear part, this is not for modellers of a nervous disposition. However, as long as it`s taken steady, it should be OK, especially if you cover the canopy in masking tape.

As my Stuka has no forward firing armament, or any use in the dive bombing role, I did not fit the gun sight. Come to think of it, my model should not really be called Stuka, it being an abbreviation of Sturzkampfflugzeug, the German for Dive Bomber.
And so to the spraying. As my model would be covered in wave pattern camouflage over the original Eastern Front colours, I saw no benefit in pre-shading, as this affect would be obliterated by the wave pattern. Instead I would post fade and/or post shade over the wave pattern. Therefore, I started with a quick and simple blanket spraying of the underside with PolyScale RLM65. These paints seem to have gone out of fashion, but I still have quite a large stock left, and I think they are very good. Next came the similarly quick and simple spray of the lighter of the two greens. I`m one of those who does not like the lack of contrast between RLM 70 & 71, even though it may be historically accurate, so I lightened my 71 with dirty white. Now came the intricate masking for the splinter scheme. One at a time, I cut out the paper masks supplied in the instructions, covered each with strips of Tamiya tape with a lot of overlap, then cut around the outline of the template to dispose of the excess tape. Then I was able to peel off the tape in one piece and apply to the model. This took much longer than I thought: two hours! About four times longer than it took me to do the spraying of the RLM 70, which I darkened with black.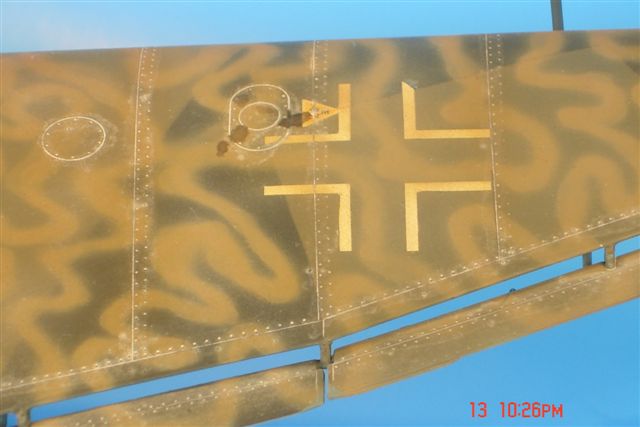 I applied transfers now, as these would have been on the airframe prior to NSG9`s application of the wave pattern, except the Gruppe codes. After spraying the required areas with gloss varnish, I had no problems with the transfers. I don`t believe in using Micro Sol if it is not necessary, and I only needed it on the underwing balkenkreuze.

Now came the difficult part! For spraying the wave pattern RLM75 on the undersides, I removed the front nozzle from my Iwata to give a finer line. This was something of a risk as this was the first time I had tried this trick. It went reasonably well, but with frequent stoppages. After completion, I misted over with the same colour to blend it in a bit. For the upper surface wave pattern I mixed RLM79 with RAF Dark Earth.
At this stage, I pondered for a couple of days on how to do the weathering. I wanted to represent an aircraft in an Italian summer with plenty of dust around. I had recently weathered a Tamiya 1/48 Panzer III with Mig Pigments `light dust` heavily thinned with distilled water, and found it very effective. So, I tried it, mixed with `Europe dust`. It brought out the panel lines and rivets very nicely. I removed the excess with a fine tool I use quite a lot; my little finger.
After completing the upper wings and tailplane, I suddenly realised I had not sprayed on a coat of varnish! So what you might be thinking. Well, when Mig Pigments dry when they have been thinned with water, they revert to their original powder state, and are therefore easily blown away by airbrushing, which is exactly what happened. Curses! I had got a really good looking weathering technique onto the model, only to lose it all.

Before redoing it, I decided to do some post shading of the panel lines with a thin mix of a dirty brown colour thinned with turps. Oh dear! Big mistake. When I tried to re-apply the Mig Pigment it would not take. Curses again. What to do now.

I thought a revarnish with Humbrol matt coat would solve the problem and this proved mostly, but not entirely, effective. I had to redo some areas two, or even three times to finally get a satisfactory result. This all took time and tried my patients, but at least I`ll know next time around what procedure to use.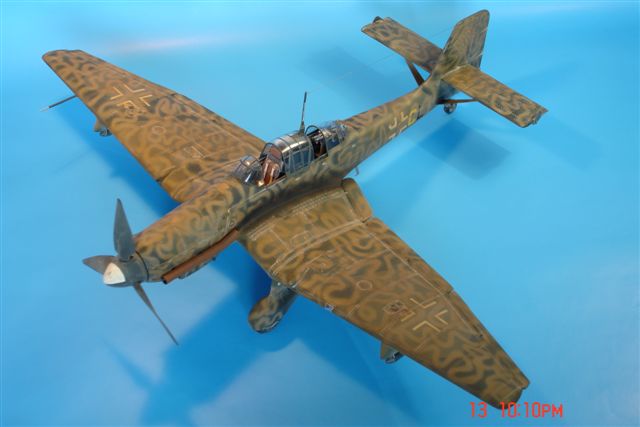 I glued on the flame dampers and then did the staining from them, which is Humbrol matt coat and Humbrol matt black thinned a lot with white spirit. To complete the exhaust affect I coated the matt black dampers with Mig Pigments `light rust` then dusted it when dry to leave a residue.

I did some fuel stains with thinned Tamiya semi gloss black around the four fuelling points on the wings, and that was about it apart from adding bombs, aerial, canopies and prop.
The one problem I had left, and the only annoying thing about the kit, was how to fit the pilot`s sliding canopy in the open position without it being perched too high and therefore looking ridiculous! I decided to take the plunge and use gel super glue. This risky technique didn`t go too badly, having glued the pilot`s canopy to the canopy that holds the aerial mast (at the top where there is enough framing to hide misting) before gluing both to the fuselage. There is some slight distortion visible in the clear plastic when viewed from a certain angel, but I am satisfied with the overall result.



This was a long project, and there were times when it languished a bit, especially when things went wrong with the weathering process, but perseverance is sometimes the name of the game in our hobby, and I got it right in the end. By the time you read this, I dare say Hasegawa will have released a D variant, but I`m not bothered, I`ve already made one!
---
Model and Images Copyright 2006 by Alan Roffey
Page Created 27 July, 2006
Last Updated 26 July, 2006
Back to HyperScale Main Page