The Aircraft of
Captain Kobayashi
by Yukinobu Nishikawa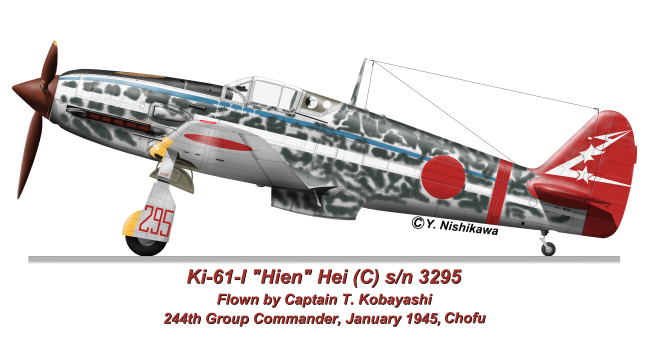 Ki-61 type Hei "Hien" s/n 3295

HyperScale is proudly supported by Squadron
Captain Kobayashi was the one of youngest commanders of a fighter group in the Japanese Imperial Army Air Force in the World War II, eventually reaching the rank of Major. He was commander of 244th group and his mission was the defense of the capital city "Tokyo" against US air raids, especially against B29's. He used several aircraft while leading 244th group, and photo pictures some of them are remaining and these are resources of my profiles.

From mid of 1943 to around May of 1945, 244th group used Ki-61-I "Hien" Type "Kou" (A), "Otsu" (B), "Hei" (C) and "Tei" (D).
---

Profile of "Hien" s/n 3295 at January 1945 (title image)
"Hien" s/n 3295 is the type "Hei"(C), which has 2 wing mounted imported MG151/20 machine guns and 2 nose mounted 12.7mm machine guns. In the case of his machine, 2 of nose mounted 12.7mm machine guns were removed to improve maneuverability and speed, and the gun openings were covered by leather. Originally, this aircraft wore a natural metal surface with light blue line on the fuselage as an identification of commander, but one time 244th group moved to their base and at that time camouflage was required. Painting was applied in a short time some of dark green spots covered blue line. He needed personal identification, so the white line was given to his machine. s/n3295 was lost at fighting with B29 on January 27, 1945 on the Tokyo area when Captain Kobayashi intentionally rammed a B-29. On that day, he bailed out of his damaged aircraft and survived without major injury. The marking on the fin is the insignia of 244th group.
---

Profile of "Hien" s/n 4024 at January 1945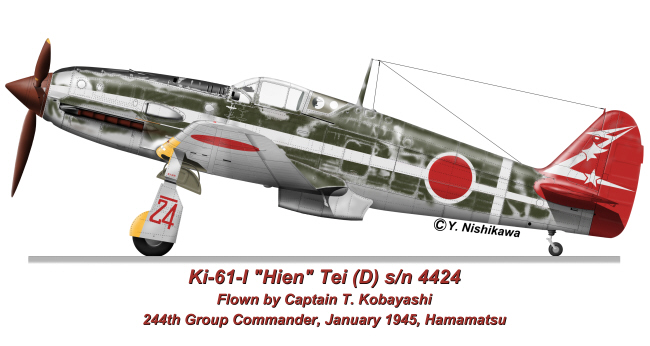 "Hien" s/n 4024 was often used by Captain Kobayashi and type of this aircraft is "Tei" (D). "Tei" (D) has 2 nose mounted 20mm machine guns and 2 wing mounted 12.7mm machine guns. These 20mm MG's were Japanese design model and nose of type "Tei" (D) is longer than previous types of "Hien" because bigger size machine guns needed extra space for mounting.
---

Profile of "Hien" s/n 4024 at February 1945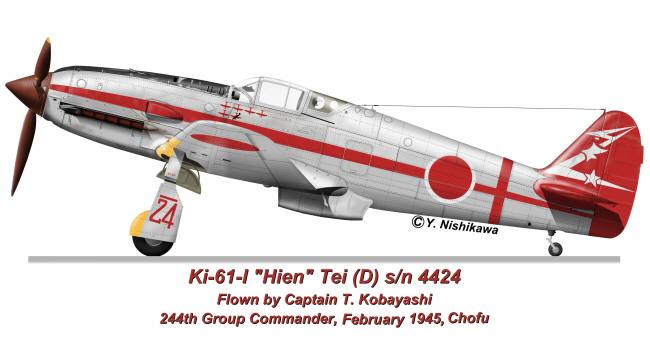 "Hien" s/n 4024 had maintenance might be in later half of January 1945 and during this maintenance, painting of this machine was removed and wireless communication system might be changed so that antenna mast was removed.
The red line was given on the fuselage as an identification of the commander. His aerial victories were marked on the side of the cockpit, one of them showed his crashed attack.
Please refer enlarged profile (click thumbnail to right to view larger image)
---

Profile of "Hien" s/n 4024 at March 1945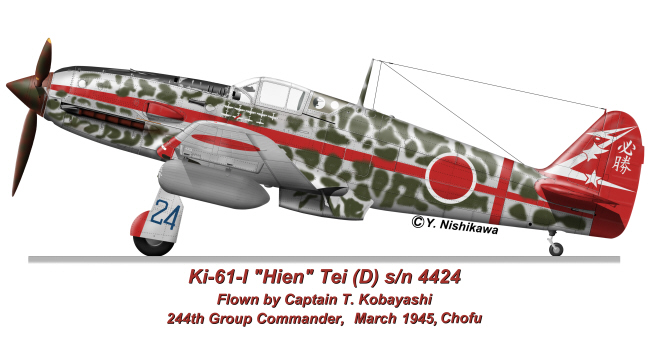 In the March 1945, US Navy task force came to the Pacific coast of Japan, and the head quarter of Japanese Army Air Force ordered all groups in Tokyo area to attack them. The 244th group was a part of this attacking force, Captain Kobayashi had text on the fin of his aircraft as his message " We must win" in Japanese kanji letter.
Also, the front edge of wing was painted red color to identify himself to his wingmen. However, the Japanese Army Air Forces did not contact the US Navy task force, so these aircraft returned safely to their base.
"Hien Fighter Group" subtitles "A Pictorial History of the 244th Sentai, Tokyo's Defenders" by Takashi Sakurai. Dainippon Kaiga Co., Ltd

Famous air planes of the world No.17 " Ki-61 Hien" Bunrindo Co., Ltd.

Model Art No.652 Issued March 2004 Model Art Co., Ltd.
I would like to say thank you very much to Mr. Takashi Sakurai, who is the author of the "Hien Fighter group". He gave me some quite helpful suggestions, when I was completing these profiles.

In his book, there are many high quality photo pictures of "Hien" of 244th group, which were taken a famous photographer for a kind of advertisement purpose of Japanese Army.

Most of the articles in this book are written in both Japanese and English so that even people who are not native Japanese can read article for each photo picture. This is quite a helpful book when modelers who want to make a model of Ki-61 series.

---
Model, Images and Text Copyright © 2005 by Yukinobu Nishikawa
Page Created 14 July, 2005
Last Updated 14 July, 2005
Back to HyperScale Main Page