Tamiya's 1/48 scale
Kubelwagen Type 82
by Tony Bell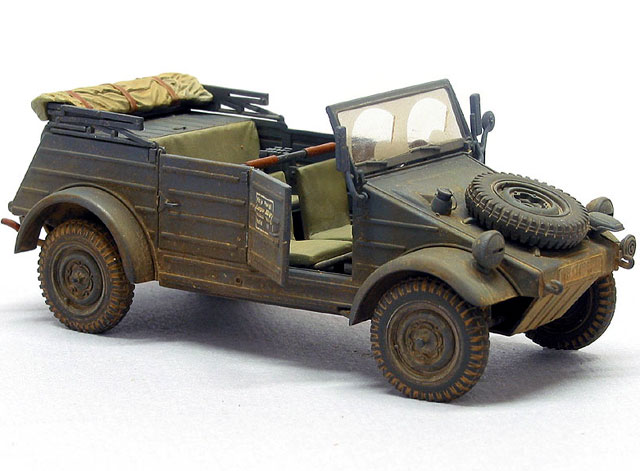 Kubelwagen

Tamiya's 1/48 scale Kubelwagen Type 82 is available online from
Squadron
Next to the Willys Jeep, the Kubelwagen must be one of the most iconic utility vehicles of the Second World War.
Based on specifications issued in early 1938, the prototype Type 62 was designed by Porsche engineers based on the VW Type 60 'KdF-Wagen' (a.k.a. Beetle) chassis and engine. The Type 62 prototypes underwent field trials in November 1938, and modifications to the design resulted in the production standard Type 82. The Type 62 had a body style reminiscent of itís Beetle sibling, but one of the changes demanded by the German Army was that the appearance be ďmore militaryĒ, the result of which was the archetypically Teutonic final form.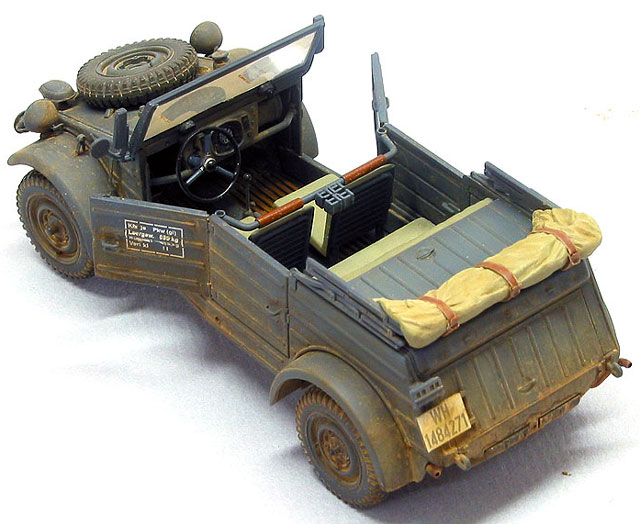 By warís end 50,435 Kubelwagens had been produced, plus another 14,283 Type 166 Schwimmwagens (the amphibious vehicle based on the same platform). Although these may seem like large numbers, compared to the 647,870 Jeeps produced by Willys, Ford and Bantam they only serve to highlight the limitations of German production during WWII.
Tamiya's 1/48 scale Kubelwagen
Tamiya has released Kubelwagen kits in 1:16, 1:35 (old and new tooling), and now in 1:48 scale. The kit is typical of their recent releases in that they combine excellent fit with thoughtful engineering without sacrificing detail.
The moldings are extremely sharp indeed with no flash or sink marks and only very faint mold separation lines. Visible ejector pin marks are limited to the inside surfaces of the separate front doors and the backs of the seats. In both cases the marks are shallow and easily filled with superglue or Mr. Surfacer and sanded smooth.
Engine detail is limited to a representation of the sump (did the flat four engine even have a sump?) molded into the underside. This is covered by an underpan so not much is visible anyway.
The cabin is also nicely detailed, but missing a few details, notably the clutch, brake and gas pedals as well as the storage box in the driverís foot well and the choke knob on the transmission tunnel. The steering wheel is very delicate, with only the finest of mold seams to clean up. The one instrument is well represented with raised detail and all of the other dashboard details are present.
---

Reference Material
When I initially bought the kit I had every intention of doing it right out of the box, but then I spotted a neat little reference on the Kubelwagen . Rossa Graph No. 10 covers the Kubelwagen in gory detail, with captioned colour photographs of a restored example. Obviously written with modellers in mind, I just had to buy it.
At this point I figured that it would be a waste of good reference material if I didnít take advantage of it and do at least some extra detailing. Fortunately for my bank account there arenít any aftermarket sets available, otherwise I probably would have applied the same logic and spent even more money.
---
Assembly
I decided to build the model in two major subassemblies in order to facilitate painting the interior. Using the instructions as a general guide, I assembled the lower frame and upper body, leaving off a few items such as the exhausts, spare tire and under body shields.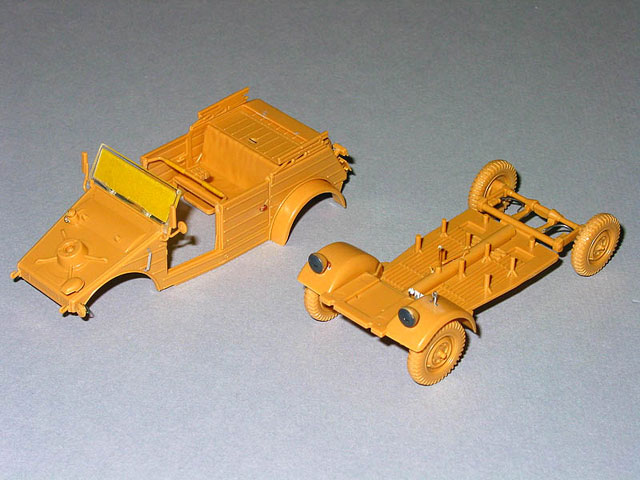 Flat spots were sanded on the tires so that the model would not be up on itís tippy-toes, and the front wheels were attached at a slight angle for a more candid appearance.
Using the Rossa Graph as a guide, I added or replaced the following details:
Tire valve stems from stretched sprue;

Headlight, horn and wiper motor wiring from copper wire and fine solder;

MV Lens headlights;

Fuel cap retaining line from wire;

Door handles from copper wire;

Rifle support padding from masking tape;

Ragtop straps from masking tape with wire buckles;

Shovel bracket from sheet aluminum;

Clutch, brake and gas pedals from sheet aluminum, and styrene sheet and rod;

Driverís side storage bin from sheet styrene;

Gear shift lever from brass wire with a superglue knob;

Choke (next to the gear lever) from stretched sprue;

Engine cover grab handles from copper wire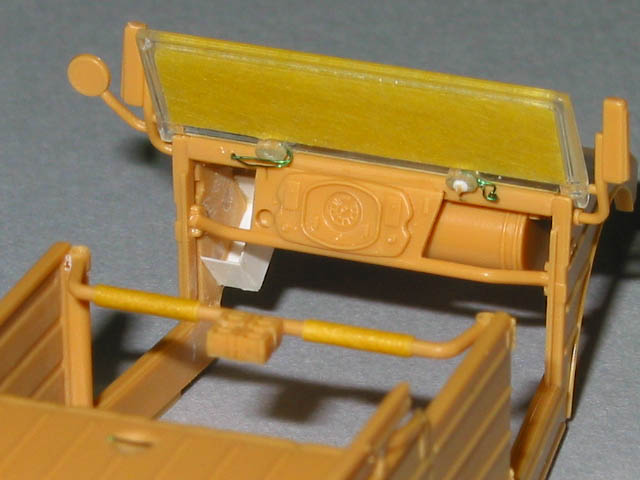 While the model was still in the subassemblies, everything was sprayed with Tamiya XF-1 Black, followed by several light coats of XF-63 German Grey to which was added some XF-2 White and a bit of XF-8 Blue. A lighter shade of this colour was thinned about 90% with isopropyl alcohol and misted onto the upper surfaces. Once this was all dry, I applied a ďfilterĒ of chrome yellow oil paint thinned with turpentine.
The seats and canvas top were airbrushed with a mixture of XF-57 Buff and XF-58 olive green (which ended up looking very much like RLM-02). These were then shaded and faded with darker and lighter versions of the basic colour thinned 90%. The rest of the interior was brush painted with black, white and silver. A drop of 5-minute epoxy gave the speedometer a glassy look.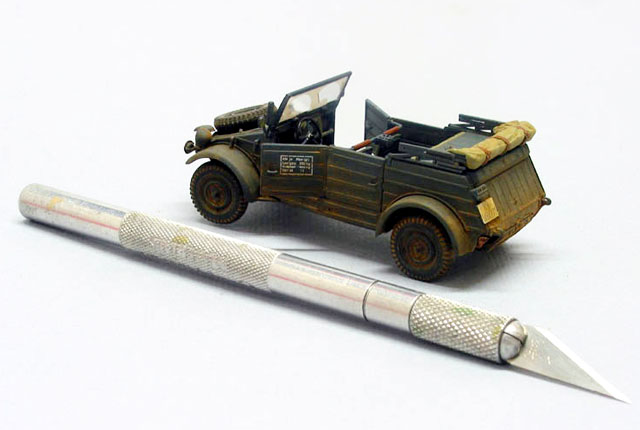 The wooden floor slats were brush painted XF-57 Buff, followed by a thin, streaky coat of burnt sienna artistsí oil paint. The bumper pads on the rifle support cross brace were painted Testorís burnt sienna, as were the straps for the canvas top.
The front and rear license plate decals were supplied with the kit and went on well with Mr. Mark Softener decal setting solution. The kit decals only provide black door data stencils for the tan coloured options.
Because I decided to do a panzer grey machine I had to get custom made decals for the white stencils. Using Photoshop, I created the graphic file for the stencil, which I then sent off to Mike Grant. For a very reasonable price, Mike printed the decals for me and had them delivered in little more than a week, with a spare set thrown in just in case. These decals were very thin, with remarkable resolution.
At this point the windshield masking was removed, the upper and lower subassemblies were joined, and the front doors attached in the open position.
Weathering was accomplished with MiG Pigments. European Dust was slopped liberally over the entire model, with more being applied to the lower surfaces. Clean turpentine was then brushed on the pigment to set it in place and wash it into the recesses. More turpentine was used with a clean brush to move the pigment around to get the right patterns and distribution. The underside and wheel wells were painted to look like dried mud with a thick coat of pigment mixed with turpentine.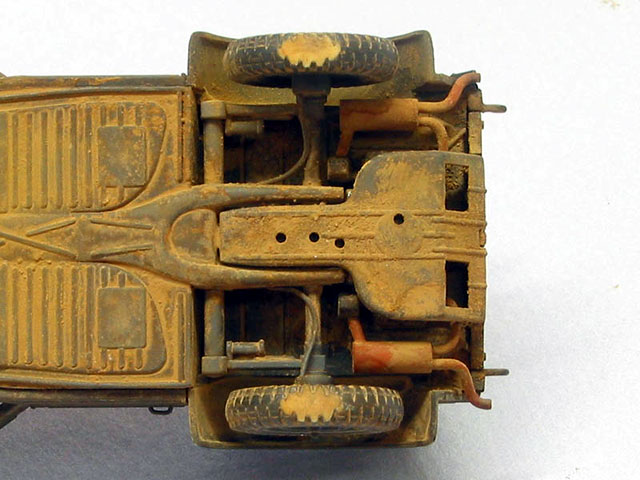 The windshield wiper marks were masked off with tape cut with a compass and a solution of MiG pigment, water and dish soap was airbrushed lightly over the model. Before removing the masks, a small amount of pigment and water was applied with a fine brush to the end of the wiper bladesí travel.
Living in Toronto in the middle of winter, I had just to look in my own driveway to see how and where grime accumulates on a passenger vehicle!
Along with their Kettenkraftrad and Mototug, Tamiyaís 1:48 Kubelwagen is part of a very encouraging product trend. Itís becoming a bit repetitive to keep saying so, but this new kit from Tamiya, along with all of their other recent releases, offers nice detail, great fit and engineering.
Now Mr Tamiya-san, how Ďbout that Jeep?

Click on the thumbnails below to view larger images:
---
Model, Images and Text Copyright © 2004 by Tony Bell
Page Created 11 March, 2004
Last Updated 12 March, 2004
Back to HyperScale Main Page