Gavia's 1/48 scale La-7
Red-Nosed Lavocka
by Aleksandar Šekularac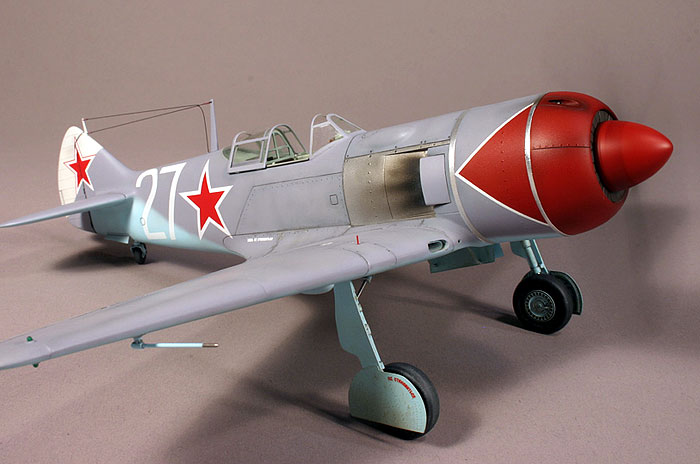 Lavochkin La-7

Gavia's 1/48 scale La-7 is
available online from Squadron.com
Who is better?
It is hard to speak seriously of world's greatest fighter plane of a certain era.
There are many aspects that make a design of an aircraft successful, and many designs that were never compared face to face. Second World War is a period that receives much attention, and flying machines that fought in it even more so. Therefore it is often that one hears bold statements that one, or another is certainly the ultimate fighter of the WWII. I won't name the usual suspects, as you all know them.
I will mention one aircraft that is undeservingly forgotten though - the Lavockin La-7.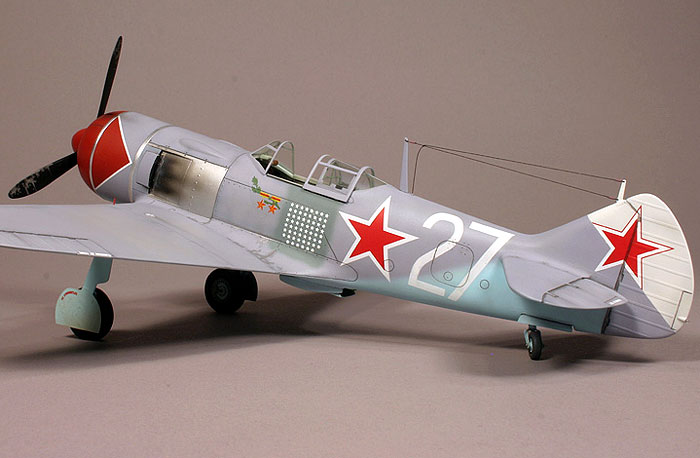 The La-7 came through a long wartime evolution of Lavockin design, sourcing from LaGG-3. It dominated the skies over the eastern front, and Germany during 1944 - 45 period.
The La-7 was a very purposeful design, being constructed mostly of delta-wood (mix of wood and resin). Rugged, powerful yet nimble, and with twin ShVAK cannons armed for the occasion. It eclipsed in performance, and manoeuvrability its main opposition: FW-190's and Bf-109G/K's. Late 3-cannon version was even more deadly, and much sought after by Soviet pilots, but produced in smaller numbers.
---
The Pilot & His Plane
But certainly, more important than spec-sheets is the man behind the throttle. In this particular case the name doesn't require much introduction. It is Ivan N. Kozhedub, triple hero of the Soviet Union, and highest scoring allied ace of WWII. During the two active years of combat flying he collected 62 recognized kills, while his unofficial score is undoubtedly higher. He survived the war, and continued to play important role in Aviation throughout his life, ultimately receiving a title of "Marshal Aviatsii".


Considering the fame of the pilot, it is almost beyond belief how little is known about his last WWII plane: La-7, "white 27". There is more misinformation rattling around than actual facts. Only few period photographs exist, and even these are highly fractional, leaving a great deal for a debate. Recent research work by Erik Pilawskii is once again unmatched in this area, and in his web article named: "Lost in Time... The Misadventures of Ivan Kozhedub's Famous White 27", he gives previously unknown perspective on wartime appearance, and subsequent changes to this aircraft. Some details from 27's post-war life are almost more intriguing and mysterious than her combat service. For anyone in interest, the text can be found by following this link:
http://vvs.hobbyvista.com/Markings/Kozhedubs_White27/index.php.
I used this article as a primary source of information, and tried to model this famous plane as it looked in May of 1945, the time of Victory.
Building the Gavia 1/48 scale La-7

The Kit
The clean lines of the La-7 have eluded plastic kit industry for many years. In 1/48 scale there are today two main options - the old Hobbycraft/Academy kit, and the much newer and little better Gavia. When Gavia's kit showed up on the market, it was immediately hailed as the ultimate La-7. Well, all is relative. I will agree that it is a better starting point than the Hobbycraft kit, but it is far from perfect.
There are areas where Gavia is wildly inaccurate. To name one, the fuselage spine behind the cockpit is too narrow (and the fuselage is not deep enough for that matter). Consequently, the rear part of the canopy is some 25% under-scaled in width! All this makes the back part of Gavia's La-7 look too "Spitfireish". There is more, believe me, but I don't want to go into details.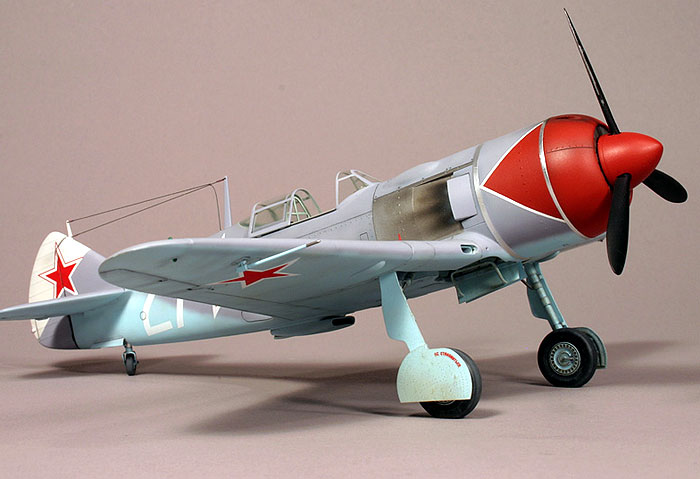 I hear that the new Eduard La-7 in 1:72 scale is more accurate. This means that they didn't just scale down Gavia's kit, but rather designed a new one. Good news for small-scale modelers, and kudos to Eduard. As for me, I am not holding my breath for ultimate La5/7 family in 1:48 scale.
I wanted to make this model look more like La-7, so I did a number of modifications to the kit, and here is a list:
Widened rear fuselage by inserting a plastic wedge along the spine.

Rebuilt cockpit deck, and wall behind the pilot's seat for widened fuselage.

Used excellent Part PE set for cockpit, and other miscellaneous details.

Scratch-built gun-sight, and some other cockpit detail.

Used Falcon vac canopy parts (ironically, these are designed for Hobbycraft kit, which is more accurate in width

Reshaped vertical stabilizer.

Rebuilt the spinner.

Hollowed out compressor ducts in wing-roots.

Scratch-built exhaust stacks.

Rebuilt inaccurate second cowling ring.

Added rows of rivets using compass needle.

Replaced tail, and wing tip lights with clear bits.

Detailed landing gear.
All markings were sourced out from somewhere else, except for the kill marks and few stencils, which are from the kit.
All colors are from the new WEM range of Soviet WWII paints (highly recommended).
So there you have it.
White 27, as flown by most famous Soviet ace.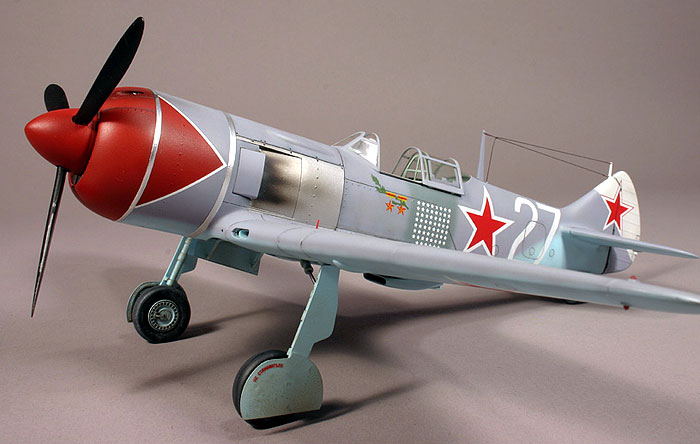 Now I need to finish that AM Sturmovik, and one representative of Yak family, say Yak-9T (now that will be a surgery, but don't get me started...), and I will have my basic Soviet Great Patriotic War collection finished.

Detailed build-up article about my La-7 should appear in October 2004 release of British SAM magazine.


Click the thumbnails below to view larger images:
LaGG & Lavochkin Aces of World War 2


Aircraft of the Aces 56

Author: George Mellinger
Illustrator: Jim Laurier
US Price: $19.95
UK Price: £12.99
Publisher: Osprey Publishing
Publish Date:

November 21, 2003


Details: 96 pages; ISBN: 1841766097
Model, Images and Text Copyright © 2004 by Aleksandar Šekularac
Page Created 15 May, 2004
Last Updated 14 May, 2004
Back to HyperScale Main Page