Kopro 1/72 scale
Letov S 328
by Mark Davies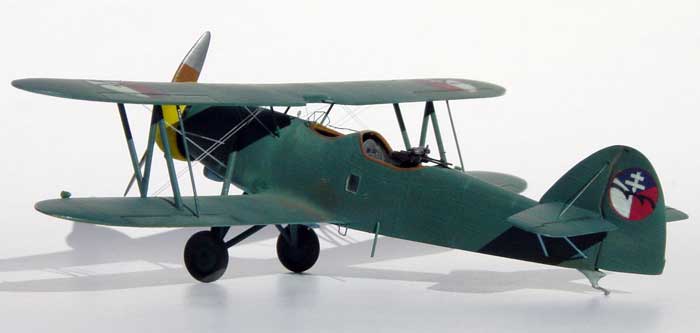 Letov S 328

KP's 1/72 scale Letov S 328 is available online from Squadron (for less than USD$7.00)
The Letov S 328 was developed in 1933 to meet a Finish requirement for multi-role tactical reconnaissance plane, although in the end the Finish contract did not materialise. However, the Czechoslovakian Air Force ordered 445 aircraft as part of their re-armament in the troubled mid to late 1930ís.
I have always liked slightly off-beat subjects, and general duties type planes form the thirties, so coming across this kit in a friendís collection was a good find. NZ$5.00 was enough to make it mine.
My example was a typical Kopro (KP) boxing from the 70ís, along with decals that were well past their best. The kit was however quite a gem (like many KP kits form this period in my opinion). The plastic is very dense and hard, with a bit of light flash. All the KP kits are now available re-boxed with attractive artwork and better Propagteam decals.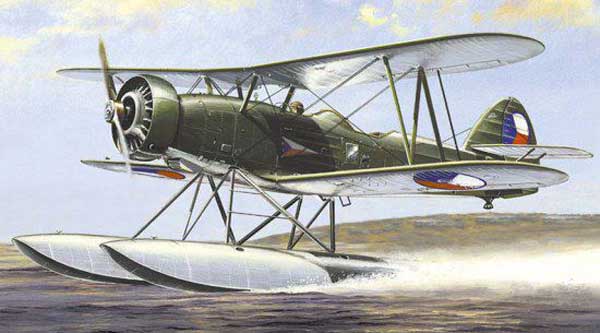 Detailing is raised but very refined, interior detail is well above many kit manufacturerís standards of the same time (The first review I could find was in Scale Models December 1973.), and little extras like wing-mounted headlamp style landing lights are there too.
I was sorely tempted to build the float version (who can resist a big biplane on floats after all?), but I had found some artwork for a WW2 Slovakian scheme for a landplane version that I thought was very attractive, and decided to build it instead.
I purchased an Extratech PE detail set from NKR Models http://www.nkrmodels.com.au as the S 328 has a big interior, and got to work on improving on what KP offered. The detail set provides all of the major interior detail, gun sights, cocking leavers and improved ammunition drums, bomb-racks, step and aerial, plus a windscreen frame. Extratech instructions were adequate, and everything went together quite quickly with no problems. One good thing with Extratech is that very little detail is superfluous. No doubt this helps with their reasonable prices.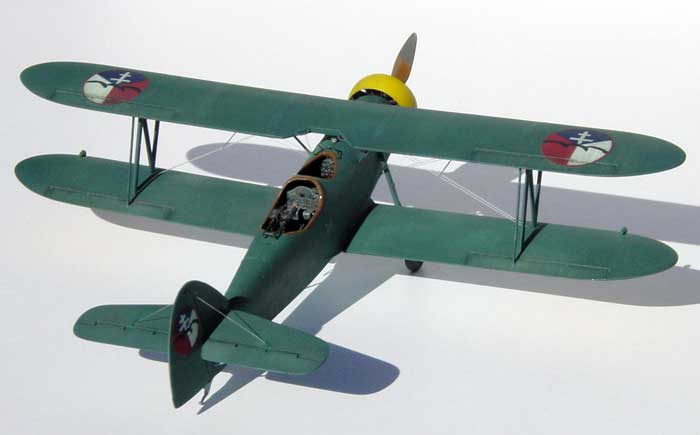 The plastic side of things was a breeze with no particular fit problems that I can recall (not always the case with these old KP kits), and I chose to rig the plane with invisible mending thread drawn through drilled holes. After breaking all my fine drills on the very tough plastic a made the last few hole with heated nichrome wire. I found that I could get a very clean and fine hole in the hard KP plastic, and didnít end up wit the mess you might expect using this method.
Painting was straight forward, but the old kit decals were unusable. In the end I used some Frog Czechoslovakian roundels, added the double cross from white decal strip and hand-painted the black wavy lines.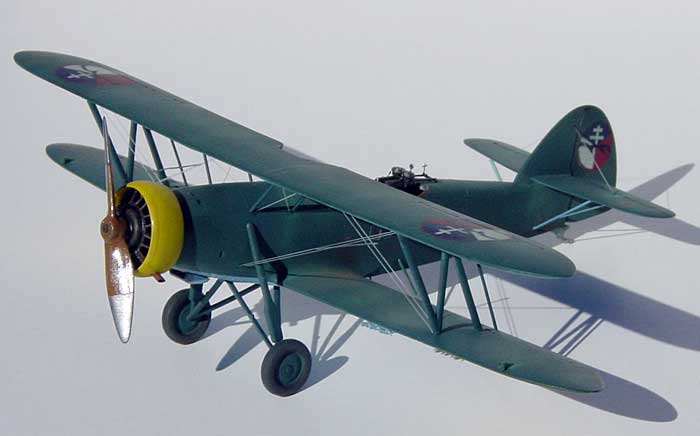 I wanted a well used look for a plane used to left in the open, and went for a dusty and faded look.


Iím happy with the end result as another unusual subject for my display cabinet. This was a two-week build during evenings and weekends, and I plan to do several more Czech subjects from the KP range, having bought several from Modelimex http://www.modelimex.cz/inshop/ for about NZ$10.00 each. If you like this type of subject, then buy some and see why the good kits are far from being a recent Czech phenomenon.



Click the thumbnails below to view larger images:
---
Images and Text Copyright © 2004 by Mark Davies
Page Created 19 August, 2004
Last Updated 19 August, 2004
Back to HyperScale Main Page