Monogram + Photoshop Montages
"Low on Fuel"
and more!
by Bob Aikens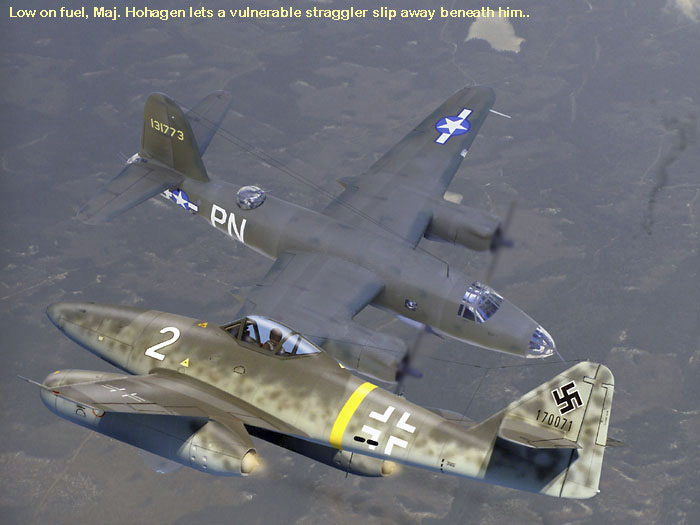 "Low on Fuel"

Dragon's 1/48 scale Messerschmitt Me 262A-1a is available online from Squadron
Here are some Photoshop montage images of the old 1/48 scale Monogram release of the Messerschmitt Me 262.
For this and other such 'image' projects, I took a number of digital pics of the models in what I thought to be good 'flight' positions, and chose those the more appropriate. I move these into Adobe PhotoShop and begin work building up these 'virtual' images in the sometimes elusive hope that, in the end they'll look like more than the sum of their parts.

The models themselves sprung out of the Kagero book and decals (Me 262 in Combat). The images sprung out of the models. The captions come mostly from pilots recollections or log entries.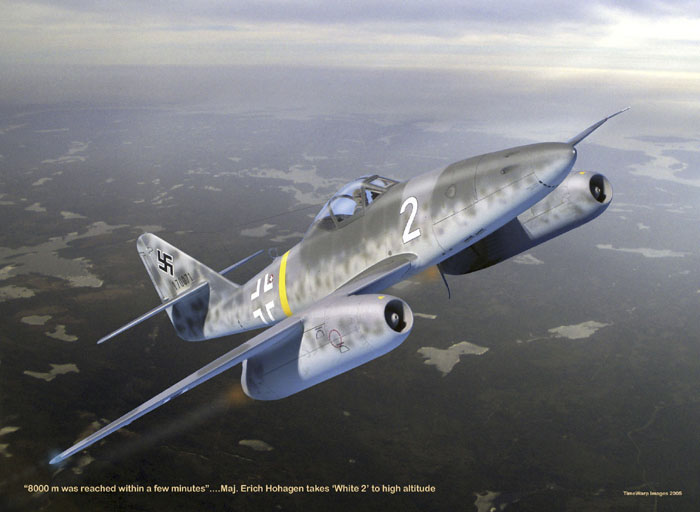 I began working on the images even before the models were fully complete such was my enthusiasm to get going-almost like the Napoleonic officer who mounted his horse and rode off in all directions. Perhaps even a better analogy might be that of some kind of medieval court buffon or jongleur, trying to keep his creative courage alive, and also his head on his neck..

There are 5 main images and a collage:
Low on fuel
8000 meters
Older pilots
Hptm. Tronike
Yellow 4
Collage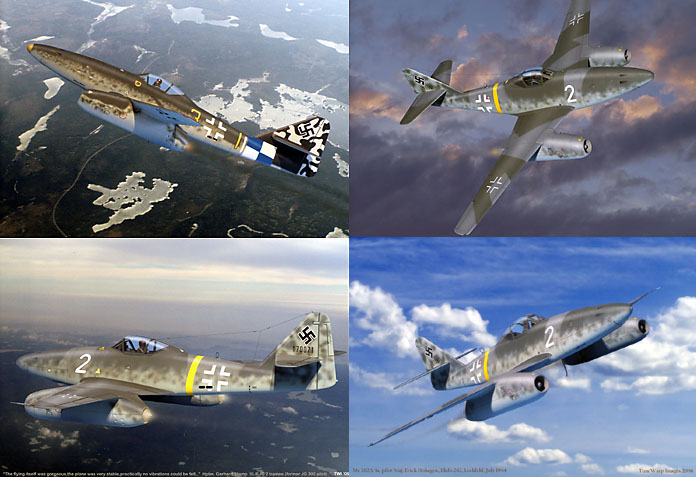 The Marauder in the montage (s ) is the Monogram B-26 which I did up from image files.

Re; 'Yellow 4' - this image springs out of a digtal shot taken at the RAF Hendon museum in London . I was in contact with John Levesley, who is the web master of the 404the Fighter Group UK website. I asked him to help identify the unit, as I had failed to do so when I was there. He said this aircraft was apparently captured at Flensburg at the war's end. The 'Reich Defence' bands are those of JG 7. He says most references put this aircraft in the 2nd staffel because of its' yellow numbering. i.e. II/JG 7. The badge is a different story, however as it ought to have been their 'greyhound' one; but it may have been painted over with the '2' for some reason.Perhaps we'll learn more..

I think this was the most fun of all-to get a 'real' 262 flying again!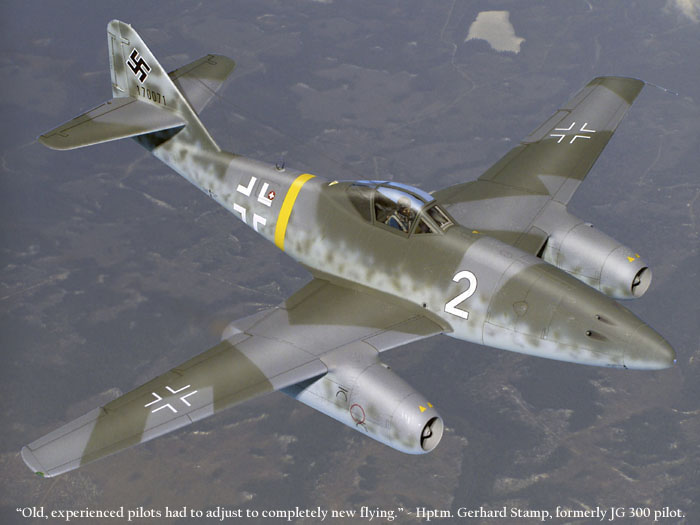 I'm not going to say much about actually how this imaging process is done, but Adobe PhotoShop 7 is its main engine. Besides, it's probably a subject for another forum. It may not be modeling, but it is aircraft image modeling and its a lot of fun!
TimeWarp Images is an especially appropriate name for what I'm trying to do. I think of them as 'vignettes' or 'virtual dioramas'.... so maybe it's not that different from 'real' modelling after all !

Click the thumbnails below to view larger images:
Modelling the Messerschmitt Me 262


Osprey Modelling 12


Author: Brett Green and Bob Oehler
US Price: $18.95
UK Price: £12.99
Publisher: Osprey Publishing
Publish Date:

February 28, 2006


Details: 80 pages; ISBN: 1841768235
Model, Images and Text Copyright © 2006 by Bob Aikens
Page Created 10 March, 2006
Last Updated 21 February, 2007
Back to HyperScale Main Page