Tamiya's 1/35 scale
M1A1 HA Abrams
by Desmond Lee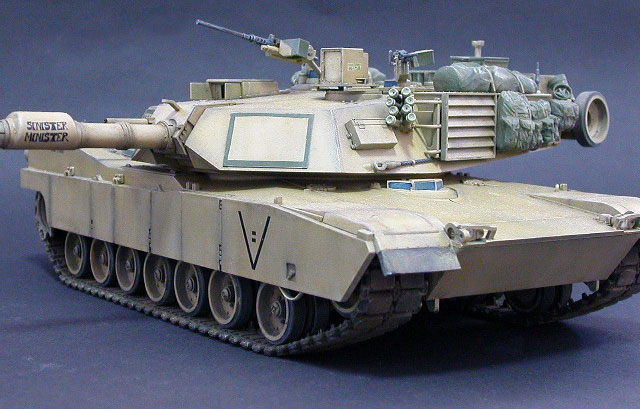 M1A1 HA Abrams

Tamiya's 1/35 scale M1A2 Abrams is available online from Squadron.com
One of the most interesting modifications to the M1A1 series was the new armor composite including depleted uranium (DU) plate.

This armor greatly increased resistance against kinetic energy rounds. The model that has this feature was called M1A1 HA (heavy armor),and had a protection equivalent to 600mm against kinetic energy ammunition (APFSDS) AND 1300mm against chemical energy warheads (ATGM'S and HEAT ammunition).

The M1A1 HA is currently in service with the US Marines and is deployed in large numbers in Iraq.
The Tamiya kit
The 1/35 scale Tamiya M1A2 Abrams (No 35269) can be built into a USMC M1A1 HA with alternate parts included in the kit.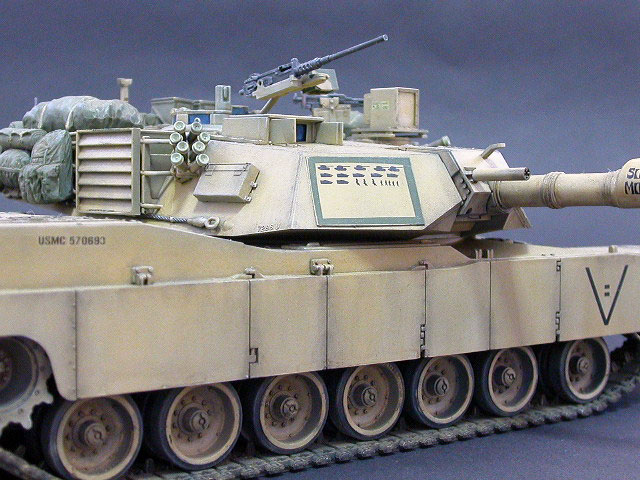 For the Marines version, changes included the smoke dischargers (D45,D42,D48) and the missile countermeasure device (MCD). Also included are two new sprues (V & W) from the Modern US Military Equipment Set (No 35266).

I will not go into the construction of the kit but will focus more on the aftermarket decals by Echelon and painting/weathering techniques applied.
---

Echelon M1A1 HA Abrams OIF decal
Echelon Fine Decals is a Singapore company that specialises in aftermarket decals. Until now, Echelon has produced 5 different sheets of Abrams decals and each sheet has full markings for 6-7 vehicles. The decals are printed by Microscale and the quality is excellent. The markings are very well printed with good colour register.

The markings used for this particular Abrams comes from the Operation Iraqi Freedom M1A1 HA (Heavy Common) Abrams decal sheet ( No T35004). Apart from the generic markings, the sheet comes with markings for 6 vehicles namely:
"Sinister Minister" PC, 2nd platoon, 2nd Marine tank battalion, 1st Marine division

"Big Pito" PC, 3rd platoon, C Coy, 2nd Marine tank battalion, 1st Marine division

"Kitten Rescue" Unidentified B Coy tank

"4 Play" 2nd platoon, D Coy,1st marine tank battalion,1st marine division

"Saddamizer" Tank of Executive Officer, D Coy, 1st Marine battalion, 1st Marine division

"Hard Lighter" B Coy, 1st Marine battalion,1st Marine division
Markings for the external auxillary power unit (EAPU) and missile countermeasure device (MCD) are also included.
My Abrams was first primed with Tamiya Nato Green (XF67) before it was sprayed with Tamiya Buff (XF57). A lighter shade was then achieved by adding white to the initial buff. I used very thin clear films to made the MV lens and they were hand painted at this point of time, together with the head/rear lights. The vehicle was then sprayed with gloss vanish before the decals were applied.

The applied decals was set to cured for a day and another coat of gloss vanish was sprayed to prepare the model for an oil wash.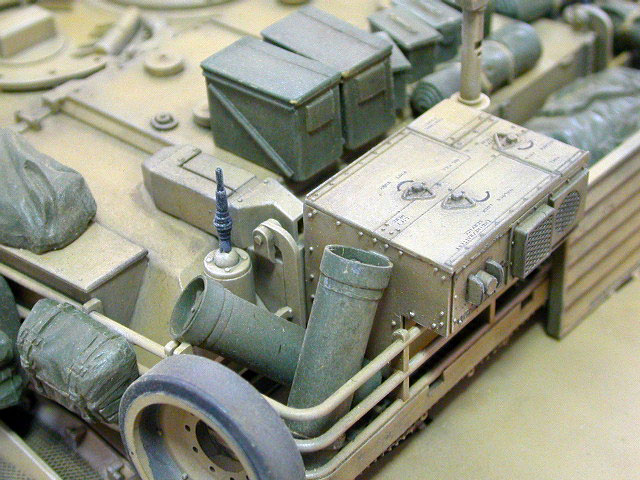 For the wash, I used black and burnt umber heavily thinned with thinner and applied throughout the vehicle. The black wash was concentrated more along the crevices and panel lines. A very light dry-brushing with white oil paint was then used to highlighted the edges.

I always like to use grounded charcoal sticks (Faber-Castell) for my weathering works and it really does wonders on desertised vehicles.

External stowage was painted with Nato Green (XF67),washed and weathered before they were glued to the model. Lastly, the entire vehicle was sprayed with matt vanish to eliminate any gloss and MIG Production sand color pigments was dusted on the tracks and wheels.
Click the thumbnails below to view larger images:
---
Model and Images Copyright 2005 by Desmond Lee
Page Created 02 June, 2005
Last Updated 02 June, 2005
Back to HyperScale Main Page