Dragon's 1/72 scale
Messerschmitt Me 1101
by George Oh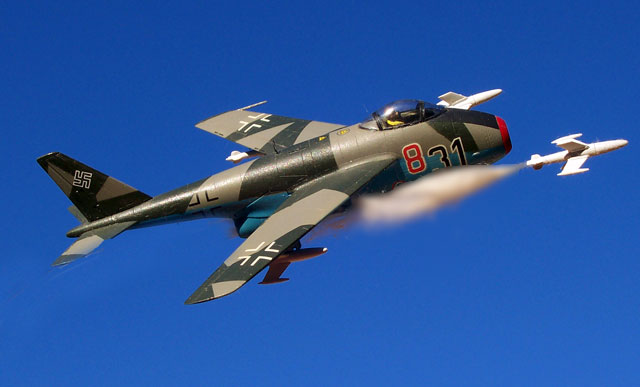 Messerschmitt Me 1101

HyperScale is proudly supported by Squadron.com

The Me.1101 never flew. The nearly-complete prototype was captured by US forces and shipped back to the USA where it was studied and used as the basis for the design of the variable swept-wing the Bell X-5. Studies of the Bell X-5 led to the development of the NA F.86 Sabre jet fighter.

This is the first 1946 Luftwaffe kit, the first Dragon kit, the first with PE parts and the first in-flight model I have ever built. It was the "Identical Kit" subject of a club competition. All of the other models would be standing on their wheels, with their bellies open and their jet-engines visible.
I built mine like this to be different, and because it's missiles roused an idea I'd had in mind.
The model went together requiring putty only where the tail cone mated to the fuselage, and a spares-box pilot. I didn't like the NMF-with-caulked-seams scheme, preferring conventional camouflage.
The belly got Gunze H45 Light blue - more vivid than I would have liked, but I fobbed it off by saying that this is a high-altitude fighter. The uppers were camouflaged with Gunze H70 RLM Grey #2 and Tamiya IJN Green (scandelous, er?). I could see no reason to cam the missiles, so they are white. Two were mounted on thin piano wires that are hidden under cotton and superglued to the pylons. The red nose ring came from the boxart (two attacking B.32 Dominators)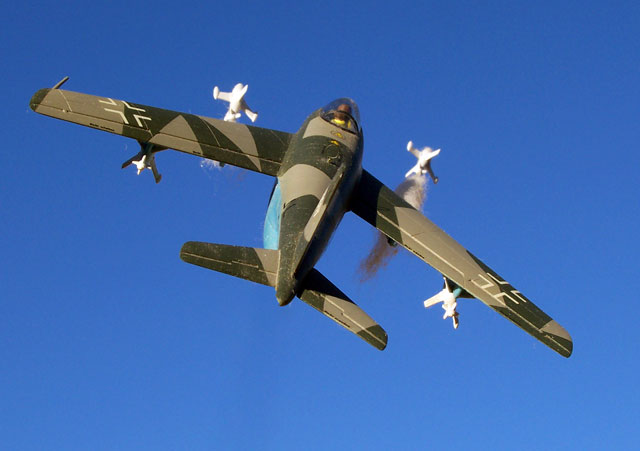 The decals were basic markings (no swastikas), lots of stenciling and two lots of digits for a pick-your-own-number option. I cross-matched and off-set my numbers for variety. The acrylic rod was bought from a plastics factory, bent over a large can in a 180C (350F) oven for a minute, and mounted into the side of a wooden block. The model was mounted on it, canted (for variety).

The photos are my first with a digital camera, the background is an Australian spring sky (Yeah, it looks like yours), and this is my first submission to HyperScale.

---
Model, Images and Text Copyright © 2006 by George Oh
Page Created 17 August, 2006
Last Updated 21 February, 2007
Back to HyperScale Main Page