Trumpeter's 1/32 scale
Messerschmitt Me 262A-1a
by Jay Laverty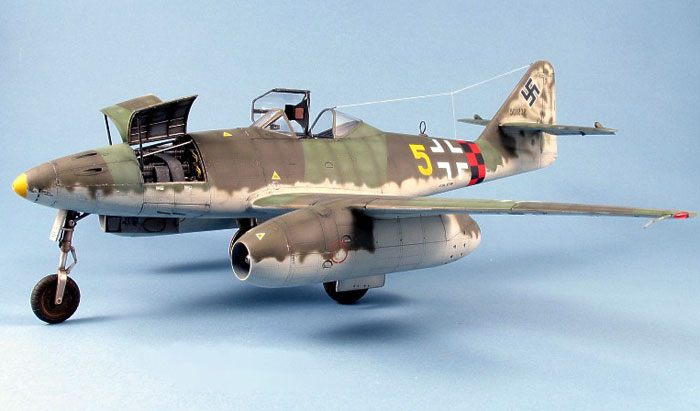 Messerschmitt Me 262A-1a


Trumpeter's 1/32 scale Messerschmitt Me 262A-1a is available online from Squadron.com
Good News All Round
When I heard this kit was due, I was very pleased. I have always liked the 262 but remained reluctant as I didn't fancy the scribe job that is involved with the Hasegawa and Revell offerings. Both kit's require a fair amount of work to bring them up to serious modelling levels and to be honest I am pretty lazy and couldn't be bothered. Besides had I actually tucked into one, This kit would have been announced and all of my efforts would have been for nowt.

Looking into the kit when it first came, was like looking into a treasure chest for modellers. Finely engraved detail, subtle and accurate rivet's and some very nicely thought out assemblies. It was quickly apparent that the instructions were somewhat suss as they called for interior green wheel wells, which, even with my limited knowledge of Luftwaffe subjects, I knew to be seriously questionable.



Fairly Straightforward Build
Construction has been lain out very easily in the instructions and the fit of the kit is excellent in places and average in others. Overall I would rate it highly but there are some low parts.

I began with the engines and got halfway through detailing the second one before I decided that it was pointless as I planned to only open the one.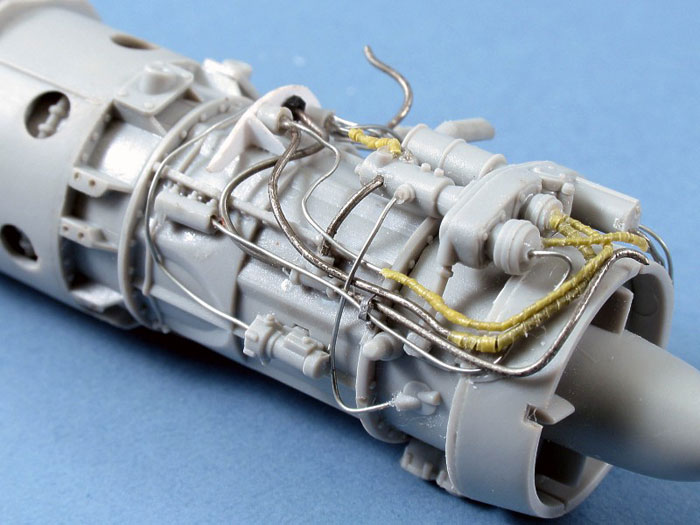 There really isn't a lot of work that is necessary to bring this model to show levels, however I also feel that this is an excellent start for the "going to town" treatment. I chose to safely sit somewhere in between as a compromise for time and effort equalling result.

I added some details to the cockpit, namely some left over rudder pedals from my previous He-162 project, along with swazzling up an oxygen hose, and detailing the control column.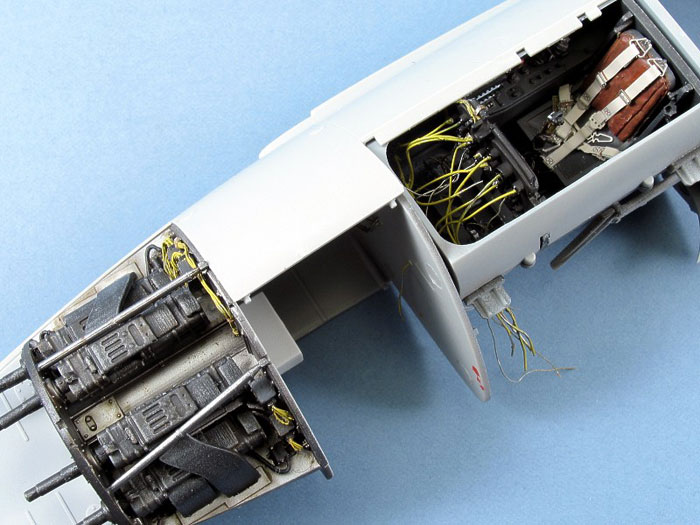 After spraying the interior surfaces (cockpit and wells ) and adding some detail and finishing the gun bay, the fuselage was mated and wings added. There is only one slight problem with the fit on the fuselage although it isn't very serious and can easily be dealt with in the usual manner.
Fun Painting
I am far from one of those who feel it is worthwhile to fret over how close the shade of green is for RLM 83 is and I just put my faith in Xtracolor and spray on. I use Xtracolor's quick drying thinners to thin with and also add some Rustins Terebene to the mix and I find this gives me a few hours drying time, more than enough for me. I generally leave it overnight to dry, however if I need to rush, I simply spray a coat of gloss varnish on, leave it for half an hour, then carry on.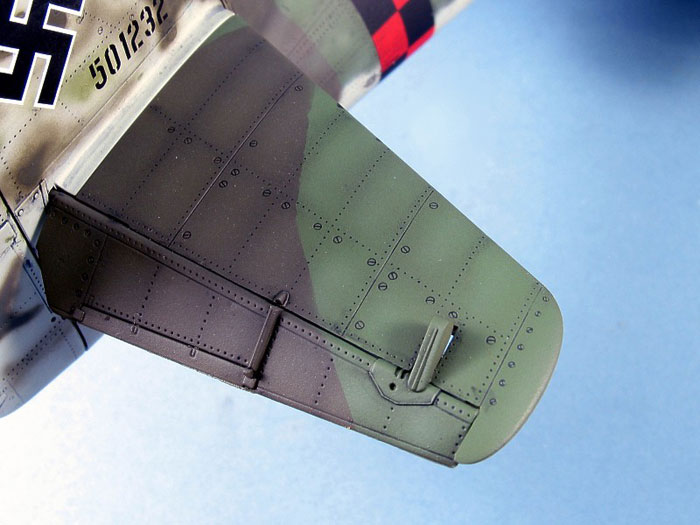 As you will find out in a minute, this practice came in very handy later on...

I spray at about 1 Bar on the compressor and use a mixture of about 65% paint and 35% thinner, although that isn't exact as neither am I. I have no problem with spending about 3 hours spraying one of the colours on a model, and if you do then I recommend using acrylics. It is also imperative to use primer on a model ( to be honest I find it amazing when I hear that some people still don't ).
---

Markings
I decided I was going to use the Eagle Cal sheet for this model, the moment that they were announced as Yellow 5 caught my eye. However I wanted to get this model done for MAI and therefore couldn't wait any longer so I used an older Eagle Strike sheet. What a mistake.

One the Eagle Strike Sheet is an elaborate mottling scheme on the tail, which I spent hours spraying on only to find a completely different pattern on the actual picture in the Eagle Editions "Stormbird colours" (coincidentally authored by HyperScale's esteemed editor himself).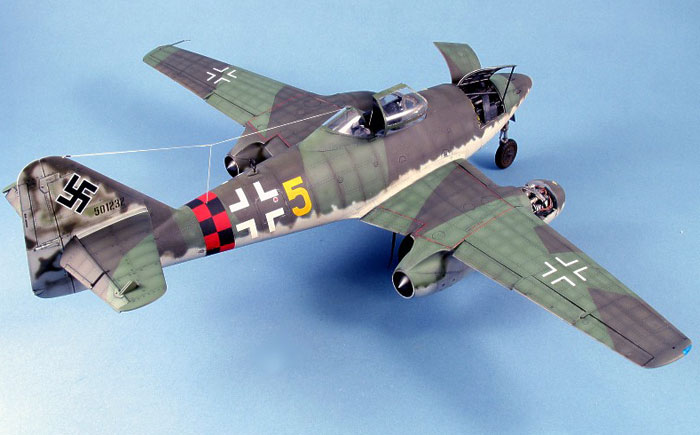 I spent another hour taking the mottling off with a cotton bud dipped in thinner, as I had used gloss acrylic varnish to cover the RLM 76.

The 5 is the wrong shape, and the serial is laid out incorrectly, so I strongly recommend waiting for the Eagle Editions sheet to arrive, as they will be impeccably researched as usual.
---

Wild Weathering
I am constantly trying to tidy up my weathering to make my models look dirtier without being messy. Basically I am always looking for ways to improve.

I experimented with this model by adding Paynes Grey to the Raw Umber from Winsor and Newton's I usually use, and as the mixture came out considerably thicker the result was quite good. I "polished" off the excess with a dry cotton bud as opposed to removing it with thinner and the results speak for themselves.



Good Fun All Round
I can highly recommend this kit as a model for any level of modeller, and while some of the rookie mistakes I made will be very obvious to the more discerning eye, I was very pleased with the final result. For a more in-depth look at some of the techniques I have used on this model, it will be in one of the upcoming issues of Model Airplane International as advertised to the right.

Click the thumbnails below to view larger images:
---
Model, Images and Text Copyright © 2005 by Jay Laverty
Page Created 18 October, 2005
Last Updated 18 October, 2005
Back to HyperScale Main Page