Monogram & Italeri/Dragon 1/48 scale
Messerschmitt Me 262As
by Bob Aikens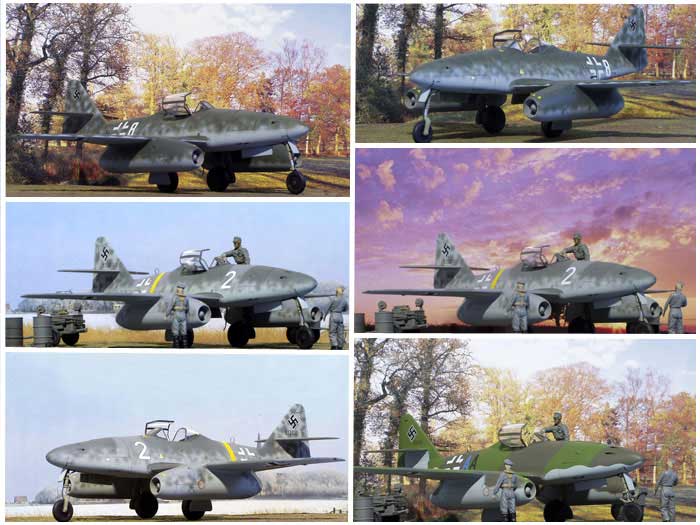 Messerschmitt Me 262A-1a
Dragon's 1/48 scale Messerschmitt Me 262A-1a is available online from Squadron
This modeling project grew out of the Kagero publication # 18 Me 262 in Combat, and it's TechMod decal sheet. The varying schemes made for interesting and challenging modeling. The kits, two old Monogram and the Italeri re-issue of the Dragon, were recent acquisitions, along with the Dragon 262B 'Nachtjager'. During an uncharacteristic bout of sanity I talked myself out of doing four at once.
Another victory for moderation.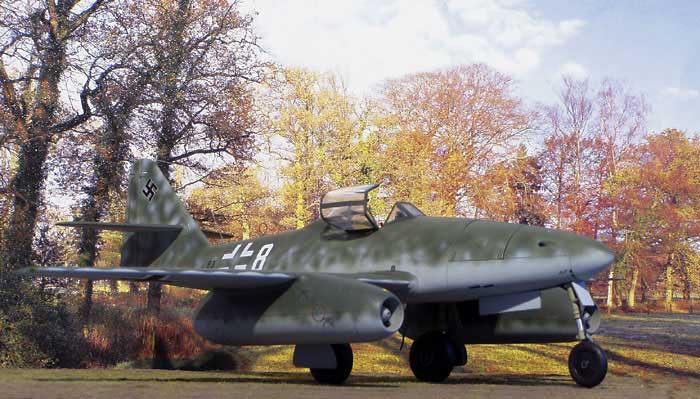 I was going to title this article '3 x 262' = something; but I still can't come up with an adequate right side to the equation. In retrospect it was just one of those things that you have to get out of your modeling system. It was fun, I used up some of the RLM paint stash, and despite some dicey moments in decaling the Dragon model (B3 +AA), I ended up feeling pretty good about the whole thing.
The two main things worth mentioning about this project are:
The 'composite' construction of the Monogram kits.

The penciling back in of the nacelle and nose panel lines of all three models.
Quite a lot of 'body-work' was done on the nose areas and the nacelles of all the builds. Because of the amount of filler needed to get things looking smooth, I decided not to try to re-scribe anything at all. Besides, the Monogram kit has few indentations-and mainly at the control surfaces. I've used this rather simple pencilling method in one form or another for decades, even before the 'Verlinden Revolution' circa late 70's.
Very similar to the dynamics of the 'other' world of the arts, the 'Verlinden Way' became a trend, then a style, and finally an orthodoxy.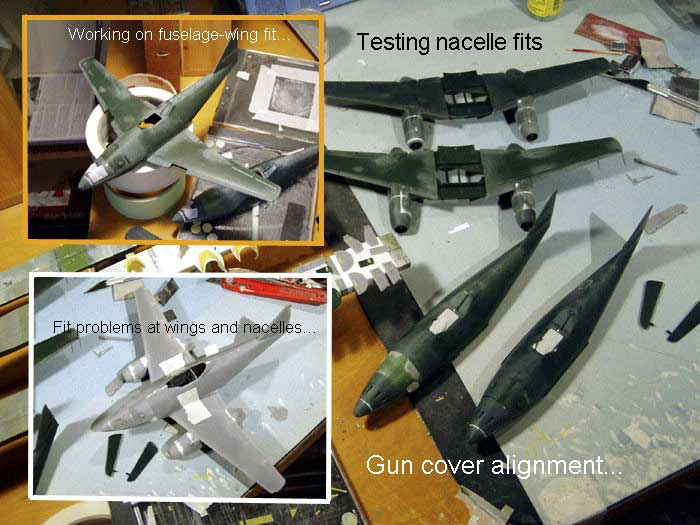 As with all orthodoxies there will be antidotes - some mild, some strong...it'll be interesting to watch. The use of pencilling for these 262s was however just a matter of practical necessity.

The 'composite' or 'modular' construction stuff is certainly not new to anyone - all modelers use it in one form or another - it's just part of model building! With a bit of jiggling and judicious sanding you can get the nacelles to fit rather neatly into the wing slots-likewise with the wings into the fuselage. It is not Tamiya-fit, but its not too bad-and if the offending gaps appear too wide, there is at least a partial solution (see wing pics). Of course, the whole exercise is not really for ease of construction, its for ease of painting. For example, I was able to use a card mask cut-out to do the 'splinter' on the wings of 'White 2'. The main impetus for the 'composite' technique was that I had used it some years back on the Monogram kit and it had worked quite well (see scan of SLR pic).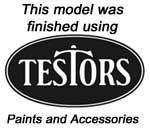 The painting was accomplished with a combination of card masks, straight masking tape, and free-hand airbrushing. AeroMaster and ModelMaster RLM paints, both acrylic and enamel were used.
The 81,83,76 on B3+AA was last in line.
By this time I was in 'compromise land', so it got mostly masking tape.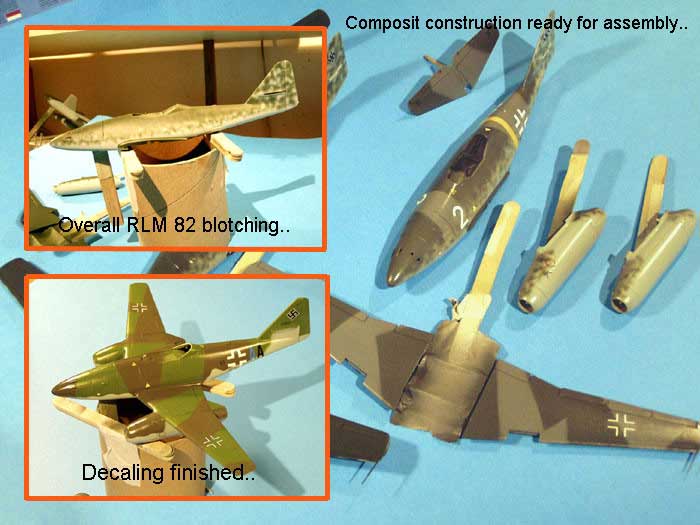 These models were pretty much built simultaneously and all got brown-black acrylic wash at the control surface indents. On the Dragon model these had to be enhanced as the lines are very fine to begin with.All seats got Eduard harnesses, and the kit DF loops were replaced with scrap phot-etch. The windscreens and canopies were attached with white glue, and the antennae is invisible thread. The wing-fuselage attachement on the Monogram builds was secured with 5-minute epoxy.The TechMod decals have wonderful color and registration, but have very fine film-almost onion skin.
The utmost care should be taken in their placement - they MUST be slid off the sheet onto the surface which must be waiting with a bit of lubricant (e.g. a drop of dish washing liquid) on it.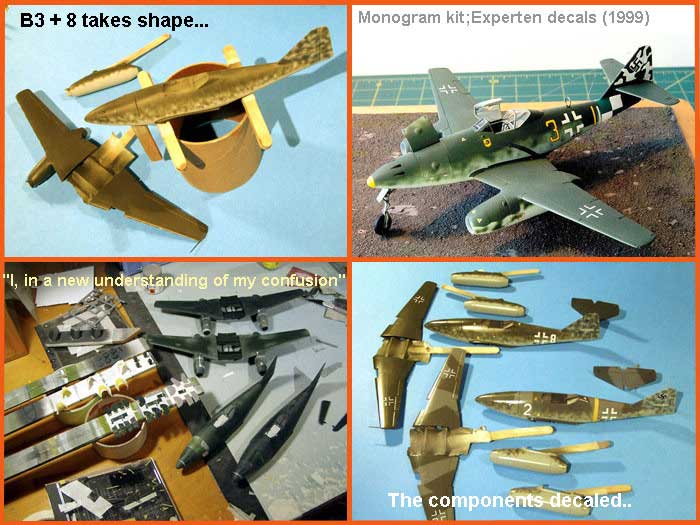 No picking them up with tweezers or knife blades as with thicker film because they'll double back on themselves quite readily. Trust me!
As final notes the discerning eye may notice that the gun cover section on 'White 2' is the excess closed part from the Tamiya kit. Also in the 'scenic/airfield shots done with calendar pic backdrops and inadequate lighting, I've done a bit of PhotoShopping in the blend of base to backdrop and shadow removal.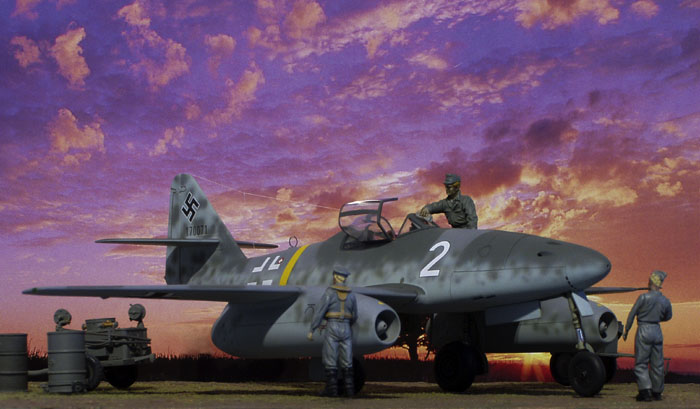 By the time these 'scenic' shoots were over, my Luftwaffe figures were fed up - they had cleaned their last windscreen and were just not going to stand around any longer waiting for my models to get airborne. I had to cut a deal with them and say that I would try to introduce more workers. I resolved to do so...of course they also wanted a change of scenery. That will be more difficult as good backdrops are hard to find.
But it was their final accusation that cut the deepest - that these types of presentations had become so 'two-dimensional'. It almost left me speechless!

Bonnes maquettes!
Click the thumbnails below to view larger images:
---
Model, Images and Text Copyright © 2005 by Bob Aikens
Page Created 16 December, 2005
Last Updated 16 December, 2005
Back to HyperScale Main Page