Academy's 1/48 scale
MiG-21bis
by Bob Aikens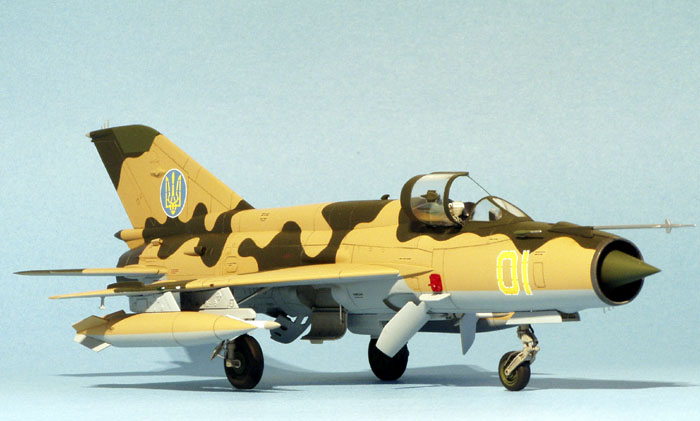 MiG-21bis


Academy's 1/48 scale MiG-21MF is available online from Squadron
This is my build of Academy's MiG-21MF, kit # 2171/FA147.
The box top says copyright 1998, but it may have been issued earlier than that. As has been noted on numerous articles on this kit the model is rather a MiG-21 bis 'Fishbed L', rather than an MF.
As Hans-Heiri Stapfer notes in the Squadron Signal 'Walk Around MiG-21 Fishbed Pt. 2: "The MiG-21 bis Lazur featured a wider, deeper dorsal spine than the earlier MiG-21MF. This spine was faired further back into the vertical fin, nearly to the braking parachute bullet faring." This is a notable feature of this model kit.
Overall, this is a very good model kit. The fit is generally excellent-the wings, for example, fit so snugly to the fuselage than no filling is required. The front-rear joint (to accommodate Academy's PMF version) requires some filling and sanding.
The cockpit, however is quite spare and inaccurate, but if the canopy is left closed it is not a problem.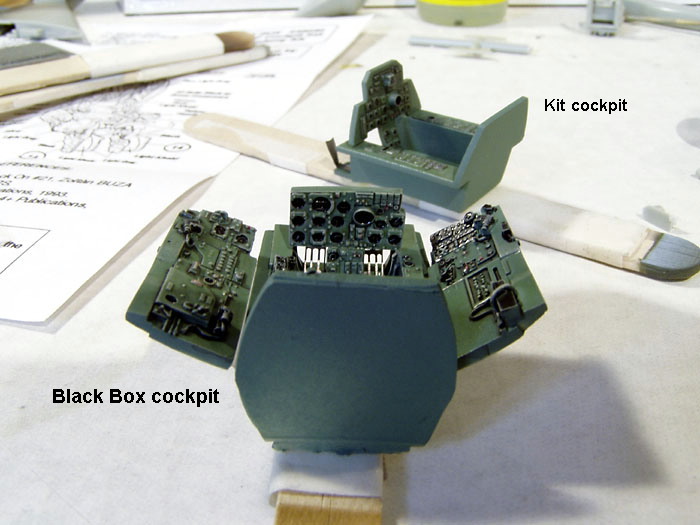 My build contains the Black Box resin cockpit. The plastic from the kit instrument shroud area must be removed to accommodate the resin parts. Other than that the kit is straight from the box.
The topside painting was done with Tamiya acrylics; Desert Yellow XF-59 lightened with White X-2 and JA Green XF-13, lightened with Field Grey XF-65. The undersides are AeroMaster Lt.Ghost Gray 'blued-up' with MM Azure Blue.

The decals are from Hi-Decal Line-48-001 MiG-21 BIS Fishbed L/N-an excellent sheet, similar in quality to TechMod.
'Yellow 01' is a MiG-21 bis - SAU Fishbed N, Ukrainian Air Force, 1992. It should feature 'Swift-Rod' ILS antennae under the air intake and atop the tail fin.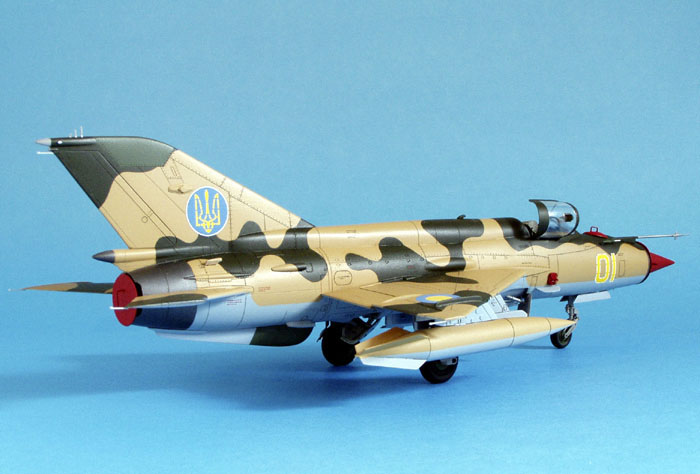 As the viewer can easily see the camo scheme was done with masking tape...I still have second thoughts about this-but there is always the option of doing another free-hand rendition ! Until the issue of this kit, the only MiG-21MF kit in 1/48 was the OEZ example. Revell did issue a PMF in 1/48 in the mid-70s-I still remember clumsily grafting the larger spine over the PMF one to get an Egyptian MF....those were heady days ! (see pics)
References for this project were Walk Around MiG-21 Fishbed Part 2, Squadron/Signal Publications, and also their MiG-21 Fishbed in Color, both by Hans-Heiri Stapfer.

Bonnes maquettes!
Click the thumbnails below to view larger images:
Arab MiG-19 and MiG-21 Units in Combat




(Combat Aircraft 44)

Author: David Nicolle and Tom Cooper
Illustrator: Mark Styling
US Price: $19.95
UK Price: £12.99
Publisher: Osprey Publishing
Publish Date: March 25, 2004
Details: 96 pages; ISBN: 1841766550
Model, Images and Text Copyright © 2005 by Bob Aikens
Page Created 02 November, 2005
Last Updated 02 November, 2005
Back to HyperScale Main Page