Revell's 1/32 scale
MiG-29 A Fulcrum
by Tomas Chmelik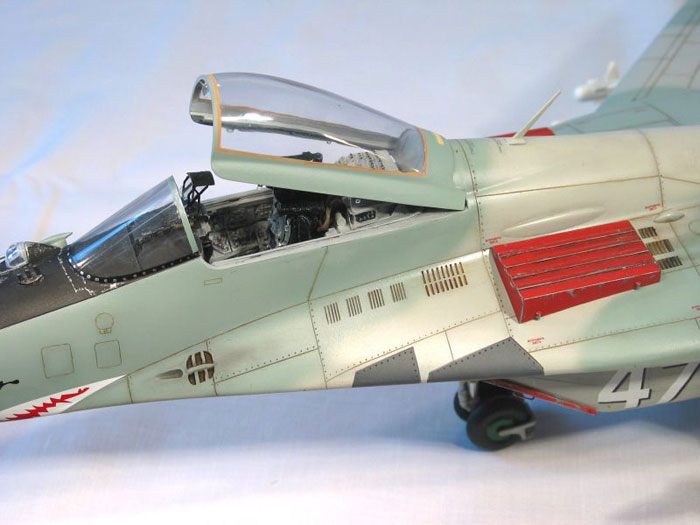 MiG-29 A Fulcrum

Revell's big 1/32 scale Mig-29 in two variants (single and double seater) was issued for the first time several years ago. At that time, kits received – at lest as I remember- positive feedback. They were the only kits of this airplane in 1/32 scale so probably mainly the attractives of the airplane was the main factor. After several years the single-seater model was reissued. How to review the model now when there is more information available?
General summary is described in more detail at the and of the article, but even here I can say that the feelings from the kit are at least mixed. After opening the relatively large box with attractive cover you will find six sprues with relatively high number of light grey parts, one sprue with clear parts and large sheet of decals. Model is marked "Super decal" a decals are really perfect, very complete, with perfect register, but also with some minor flaws (see later). Instructions are traditional Revell type, but again, with some minor flaws. But lets go step-by-step.
Parts are crisply molded, without flash, with crisp negative engraving. Looking closer one can find that some details are relatively rough and in some aspects very schematic, typical example is cockpit, wheel wells or other details. However, when compared to short-run kits, the model sounds like an easy build – which is true. More confusion appears when the model is compared to literature – 4+ publication in this case. Engraving is largely fictious, wheel wells are totally wrong and flaws can be found in number of other areas (tailpipes for example). How are these problems related to absence of information at the time of making the kit is a question.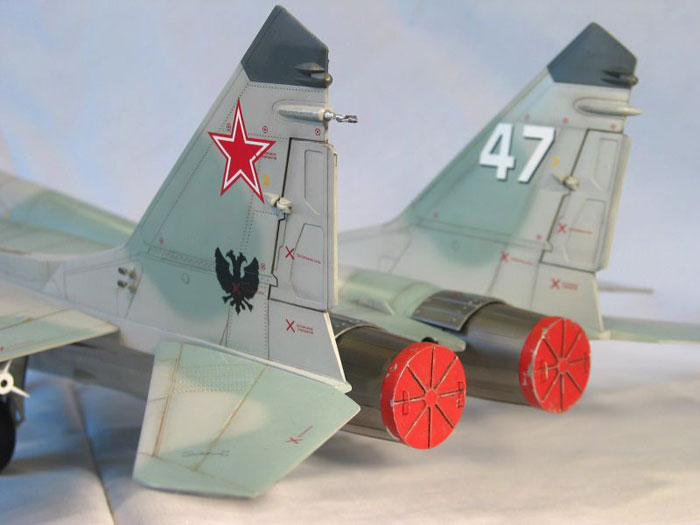 The question is how to proceed further. The modeler has three basic options – leave the model out, being disgusted, or deal with problems which includes major surgery and scratchbuilding, or leave the flaws away with the use of resin aftermarket accessories to replace the most problematic parts, if available. From the previous sentence it becomes – being alibist - clear that I chose the third option. Major surgery is not my cup of coffee, I know that I would not be able to end with a satisfactory result. Therefore I searched web for resin accessories – surprisingly, looking at flaws of the kit, there are not many. Resin cockpit is (or was) produced by CAM – I was able to obtain one via internet, but the product is listed as out of production. I noticed that it is in plans of Black Box as well, but this might be intended for upcoming Mig-29 from Trumpeter. Other resin details used were Exhaust and FOD covers, also from CAM. One disadvantage of the kit is that intakes n the upper fuselage are made in open position which is not typical for grounded aircraft, without any kind of attempt to represent what is under them – it would have been useful to have them as alternatives – closed or open. However, resin cover is a good option, supported by the fact that red color of covers puts more life to the model. As far as I know no other accessories are available – however there would definitively be a space for improvements!
Construction itself is without major problems.
The fit of the main parts is very good, without flash. Construction steps are straightforward so the main components are put together relatively quickly. Problematic areas were already mentioned here – cockpit is successfully replaced by resin parts, however their age is somewhere noticeable. One big disappointment is the wheel wells – they have almost nothing in common with its original. When completing construction by adding wheel well covers I noticed that when in open position they do not look "right". The problem might not be only in the covers, but also in the shape of intakes, so there is almost no chance for repair without significant surgery.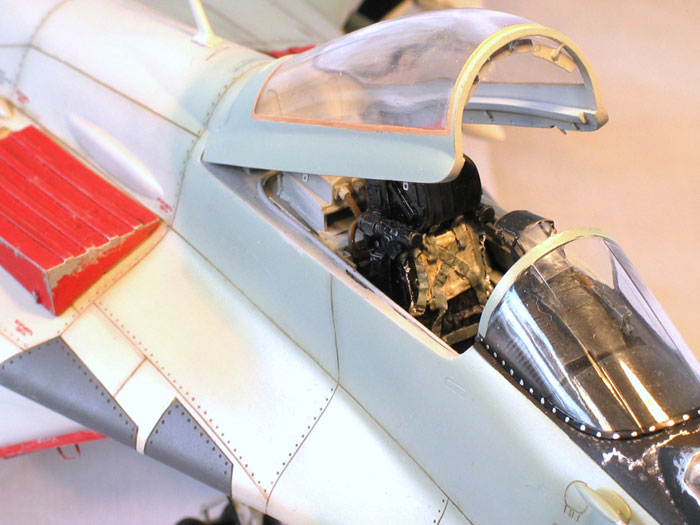 The undercarriage generally could include more details, but as the model is intended for display shelf and not for competition I decided to leave this part as it was. Aside of the cockpit the construction was in fact out of the box. To conclude – model looks after completion as a Mig-29 so let's leave dealing with flaws to those who feel to do so.
One note to instructions – it is relatively logical, but in some parts I had a feeling that it was made for a prototype model, because sometimes calls upon parts that are not available, sometimes mixes left and right part of the plane etc. The best solution is to consult your references for the placement of small parts.
The kit contains two sets of decals – one for a colorful German Luftwaffe subject, depicted on the box cover, while the second is a Russian plane no. 47 with attractive shark mouth in a standard camouflage.
I searched the Internet for pictures or drawings of this concrete plane, but aside of few general drawings of Mig-29 with shark mouth I have found no concrete evidence of this plane. However, as shark mouth goes together with the shape of Mig very well, I decided to choose this option. Instructions are not clear also regarding camouflage colors – they call for mixage of Revell paints without any reference to other brands or FS codes. Instructions also describe three tone camouflage for Russian plane (grey+grey-green on upper surfaces, lighter gray on undersurfaces) which I have fund no evidence of being true – my references were mostly listing light grey overall with grey-green camouflage on upper surfaces. The reason might be that pictures of real plane sometimes look to have different colors due to sun fading, dirt or generally weathering, but theoretically I have also no evidence against three-tone camouflage. Finally I decided to stick to my references and I went for two tone camouflage. Model Master paints were used - USSR Fulcrum Gray a USSR Fulcrum Gray-Green. They are semi gloss, very good for airbrushing and in my opinion they represent the Russian tones very well. Light wash with artistic oils and pastels were used for weathering, followed by gloss varnish.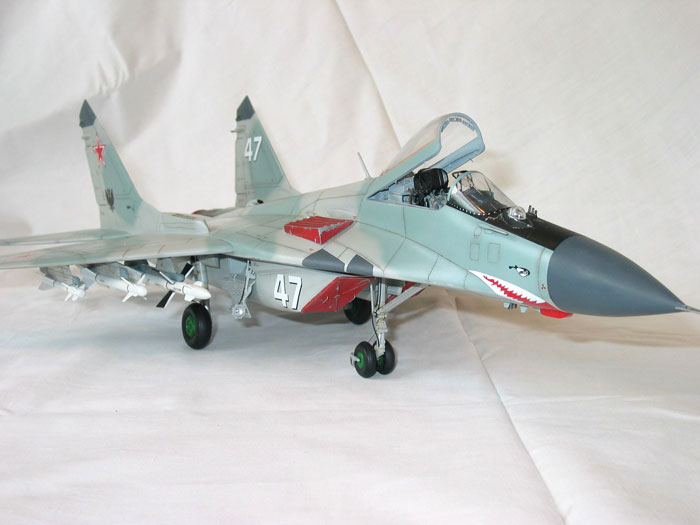 Decals are very complete and in perfect register. They are opaque and adhere well, with slight use of setting solutions. They include stencils for German and Russian version separately which are readable. However, instructions are sometimes not clear where to put especially the small ones, sometimes I had a feeling that instructions call upon a stencil, which is not available on a decal sheet. Funny parts of decaling are the strips for missiles – they are too short to run around the missile. Trivial problem, but looking at complexity of the decal sheet bit surprising.
After a final coat of varnish, adding of small details and model was complete.
What to say as a conclusion? I prefer to build kits out of the box; however as same as in the case of the Mig-21, I used resin aftermarket parts that helped model a lot.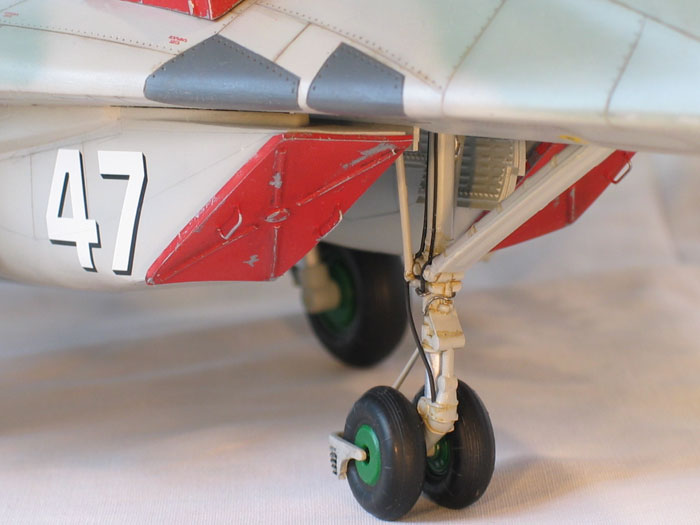 Other flaws of the kit were not treated, but as the result looks as a Mig-29, I am satisfied. Pictures were taken before transport to final destination so some finest details are not yet attached. Summarizing the kit, I would conclude by the following:
Positives
· Attractivity of the subject
· Well moulded parts, no flash
· Relatively easy construction
· Engraved lines
· Decals
---
Negatives:
· Panel lines not where they should be
· Shape problems, sometimes visible
· Wheel wells, undercarriage as a whole
· Cockpit
· Finer details sometimes too rough
Click the thumbnails below to view larger images:
---
Model, Images and Text Copyright © 2005 by Tomas Chmelik
Page Created 26 May, 2005
Last Updated 25 May, 2005
Back to HyperScale Main Page