2 x Trumpeter's 1/32 scale
MiG-3
by Olivier Barles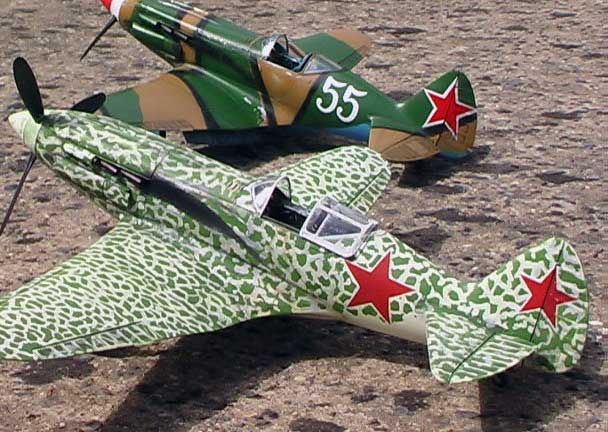 MiG-3


Trumpeter's 1/32 scale MiG-3 is available online from Squadron.com
Here are a few pictures of two models from the 1/32 Trumpeter MiG-3 kit.

Trumpeterís large-scale MiG kit is great in terms of shape and proportions, however, some work has to be done to achieve a good result.

The same approach has been applied to the construction of both models, with only some minor differences such as the cockpit equipment (one has a radio, the other one has not) or the inside color (grey for one and a nice "MiG blue" for the other)...

Basically, the main improvements consisted of making lips of all air intakes and their exhausts as well as the covers of the main landing gear much thinner than what is proposed by Trumpeter. In my opinion, these parts were so thick as to be unacceptable in the quest for a realistic look.

The same procedure has also been performed to the trailing edge of all surfaces (even if already and satisfactorily thin enough, but as we say in French "who can do good can do the best" - literal translation !)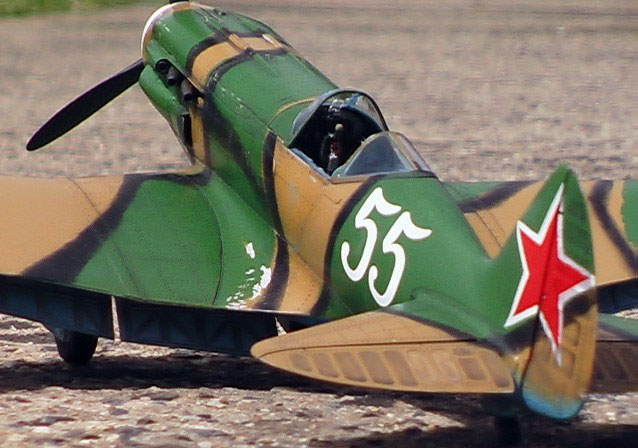 So, after this "thin making" process, re-engraving had to be done on the external sides of the covers of the main landing gear. Talking about engraving reminds us of another obvious defect of this model kit, which is that rivet holes are really too much deep, that being especially the case on the empennage. The only cure I could find was to generously use the abrasive paper and in the end, the result is not too bad.

There were no real problems building the cockpit. A few additional cables and some other small parts such as oxygen bottles and electrical switches are enough for an authentic front office, with the final touch being a nice paint job. Of course, the seat harness has to be made and fixed at the back of the seat.

Then, before going to painting and weathering, the remaining task consists of improving the main landing gear by building the retraction mechanism (one piston at the base of the gear column and a system for the closing of the inner doors - built according to the pictures found on the "Modelling the aircrafts of the VVS").
One MiG is painted using the proposed marking of a very original winter finish for a plane that fought on the Kharkov Front in winter 1941-42 (white with light green spots).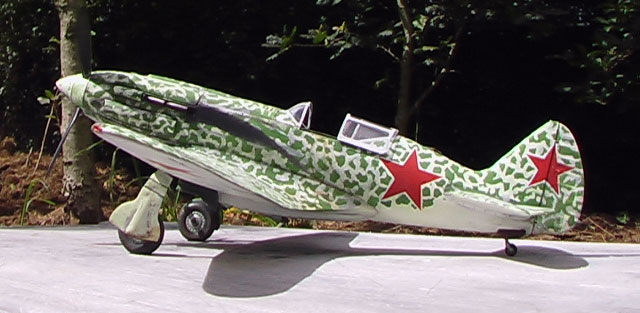 The other model is painted in the colourful markings of a MiG-3 on the Black Sea Front in Summer 1943 (the central part of its canopy seems to have been removed on the available pictures of this machine).
I have been a fan of this plane with its shape of a pure-bred bird since my childhood and I do no regret to have waited for so long to be able to build it in my favourite scale.

Click the thumbnails below to view larger images:
Soviet Aces of World War 2


Modelling Manuals 17


Author: Hugh Morgan
Illustrator: John Weal
US Price: $17.95
UK Price: £12.99
Publisher: Osprey Publishing
Publish Date:

October 15, 1997


Details: 96 pages; ISBN: 1855326329
Model, Images and Text Copyright © 2004 by Olivier Barles
Page Created 19 October, 2004
Last Updated 20 October, 2004
Back to HyperScale Main Page