Tamiya's 1/48 scale
Mustang Mk.IVa
by Randy Lutz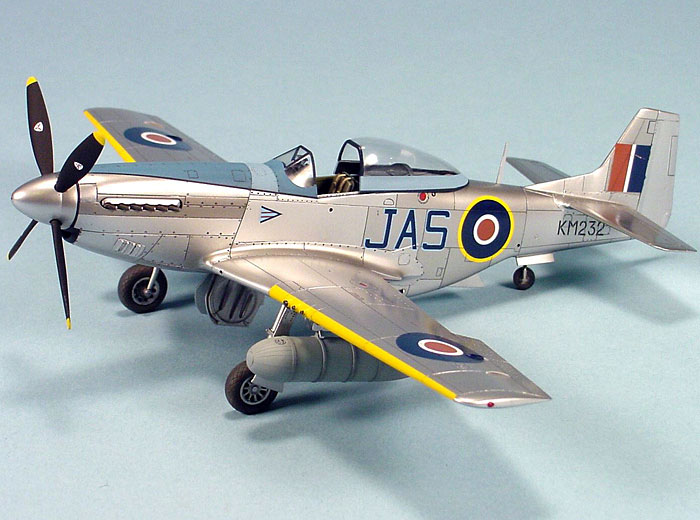 North American Mustang Mk.IVa


Tamiya's 1/48 scale P-51D Mustang is available online from Squadron.com
Here is my Tamiya 1/48 scale North American Mustang MK. IVA finished in the markings of Wing Commander (Flying) James Eric Storrar, of the Hunsdon Wing, while stationed at Hunsdon, England in May 1945.

I built this model to showcase the IPMS Canada 442 Squadron Mustang decals. A complete build article detailing the modifications and method used to paint the model will be featured in an upcoming issue of Model Aircraft Monthly, but I have extracted a few paragraphs and present them here.

This natural metal Mustang Mk IVA (P-51K-10-NT, U.S. serial 44-12355) was the personal aircraft of Wing Commander (Flying) James Storrar and was fitted with an Aero Products prop, Dallas hood and exhaust shrouds. There exists much controversy when it comes to the colours applied to Storrar's aircraft and what I present is my best assessment based on the available references. The anti-glare panel and lower canopy frame are light blue, with both edged in dark blue. Of particular interest is the fact that while the canopy frame and the hydraulic fluid reservoir cover are light blue, they are a shade lighter than the panel at the base of the windscreen and the cowl anti-glare and in addition, the dark blue trim does not quite line up between the windscreen and the sliding hood, both of which suggests evidence of repainting.
The carb intake cowl lip, as well as the thin stripe around the nose, immediately behind the spinner could be either dark blue, or black. I leaned towards dark blue. The wing leading edges were yellow, inboard to the dog leg in the leading edge.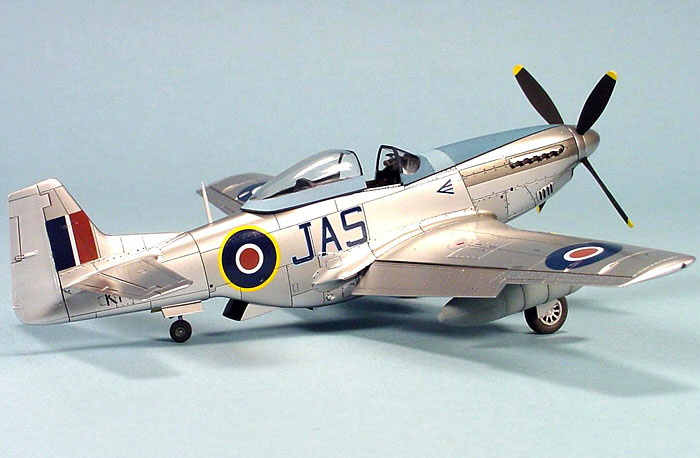 As was customary in the RAF for Wing Commanders, it displays the pilot's initials, or in this case JAS (which is short for James) in dark blue with light blue edging in place of the squadron codes and has the Wing Commander's pennant on both sides.
The pilot's seat armour plate was absent from JAS, however, the radio gear and fuselage fuel tank were still present, as Storrar was in the process of converting KM232 into a two-seat Mustang, at the time of the May 9, 1945 mission. KM232 was also fitted with the AN/APS-13 tail warning radar on the vertical fin. Entries in Storrar's log book confirm that his ground crew kept this aircraft highly polished. An interesting note, according to the RCAF Details of Operations Form 541, was that Storrar only flew this particular aircraft on one mission with 442 Squadron, which was May 9th, to provide top cover during the liberation of the Channel Islands. It is at this particular time period that I chose to represent Storrar's Mustang and as such is fitted with the 108 gallon compressed paper drop tanks.

The model was built with the following improvements and additions:
Fuselage
perforated cowl vent panels covered with louvred panels

all lift points and vent holes drilled out

exhaust pipes replaced with Ultracast parts

Ultracast seat added

headrest removed from seat armour plate

propellor blades modified to represent an Aeroproducts propellor

AN/APS-13 tail warning radar added from fine wire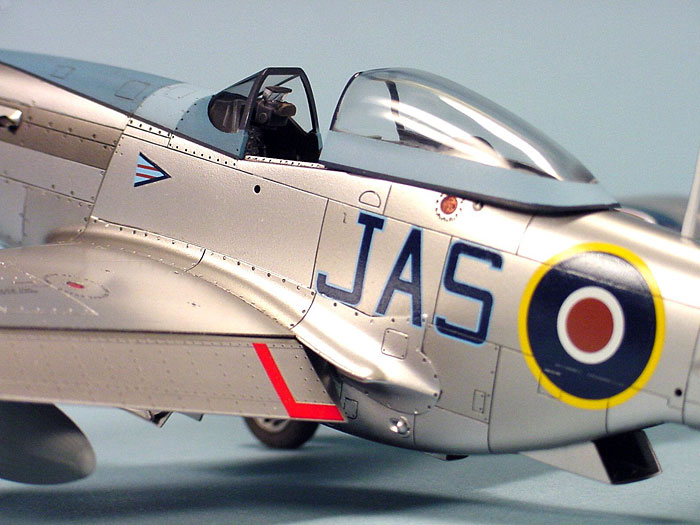 Wings
raised rivets in the area of the landing gear above and below wings removed

landing light replaced with MV Products lens

108 gallon drop tanks added along with fuel lines

wing gun barrels drilled out
---

Landing Gear
oleo torque links drilled out

shock portion of strut covered with metal foil

tow rings drilled out

wheel hubs drilled out



The airframe was painted with various shades of Alclad II, Xtracolor X106 Insignia yellow FS13538, X122 Insignia Blue FS15044 and X160 Synthetic Haze Blue FS15190.
All markings are from IPMS Canada decal sheet 442 squadron Mustang IVs.
photos of actual aircraft obtained from the Storrar family

Famous Airplanes of the World No. 79, P-51D Mustang

Aero Detail No. 13 North American P-51D Mustang

Model art No. 401 North American P-51 Mustang

Squadron Walk Around No. 7 P-51D, by Squadron Signal

P-51 Mustang, by Squadron Signal
---
Closing Comments
In closing, when 442 squadron was disbanded, Storrar gave his Mustang to the then Station Commander at Molesworth, Group Captain John Wray, to be used as a "hack" for senior officers. At that time it was painted with his initials JBW. In mid November of 1945 while being flown in poor weather from Digby to Hendon, Wing Commander Derek Walker perished when he stalled in on his approach turn and burned up on impact. This marked the end of KM232.


As a footnote, Hasegawa as they are reknown for doing, has released a re-release of a re-re-release of a Mustang with these same markings. Only, they did not get the details right, as they forgot the dark blue ring and chin scoop on the nose, failed to identify the light and dark areas of the anti-glare panel and do not show the yellow leading edge bands. So, if you want to build a more accurate model of W/C James Storrar's Mustang, get the IPMS Canada decals.

Click on the thumbnails below to view larger images:
P-51 Mustang
From the RAF to the Mighty Eighth


Special Editions (Aviation) 1

Author: Michael O'Leary
US Price: $10.95
UK Price: £6.99
Publisher: Osprey Publishing
Publish Date:

September 15, 1997


Details: 128 pages; ISBN: 1855327147
Model, Images and Text Copyright © 2004 by Randy Lutz
Page Created 17 April, 2004
Last Updated 22 October, 2004
Back to HyperScale Main Page