Trumpeter's 1/350 scale
CVN-68 USS Nimitz
by Ted Taylor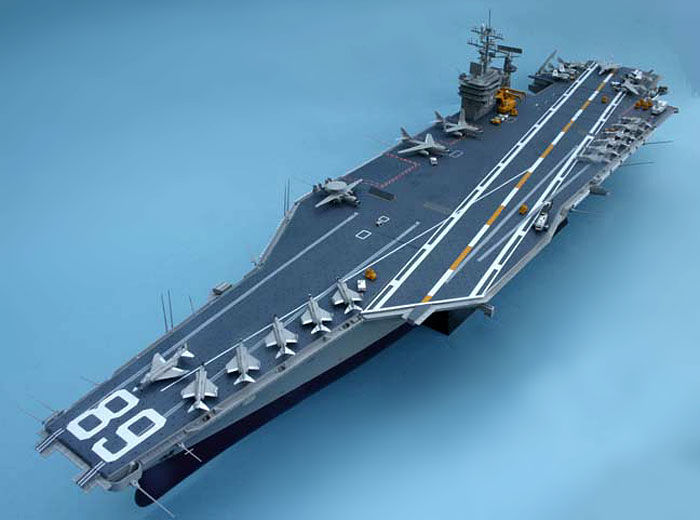 CVN-68 USS Nimitz

Trumpeter's 1/350 scale Nimitz is available online from Squadron
Here is Trumpeterís 1/350 scale CVN-68 USS Nimitz aircraft carrier.

This is one of my ďeasy buildĒ class of kits and it is big - like 38 inches long. The hull comes as two sections, upper and lower, offering the easy option of a waterline model.



The upper hull has metal strips for bracing as a waterline model and just lies nicely on the lower half if you prefer, with just a hint of cement, applied from the inside, the whole lot is fixed permanently. There is a full hangar deck and four moveable lifts and openings to this deck but should you decide not to do the interior there are closures for the openings.
There are a few minor cuts to be made before construction begins depending on your requirements. Once the hull is ready it is just a matter of adding details before the flight deck goes on, The deck is nicely detailed and is in three parts which fit together reasonably well for such large pieces, the detailing is nicely done with tie down spots engraved on the surface, optional position blast deflectors and there are loads of tiny antennas to be added to the edges, these are the parts that look like fishing rods hanging over the sides on the real vessel. One small point here these are very delicate and they have a number of feeds to each one on the frames so require very careful removal to avoid damage.

There are some missile defense systems, a huge crane and lots of tiny life rafts all making quite a nice interesting scene.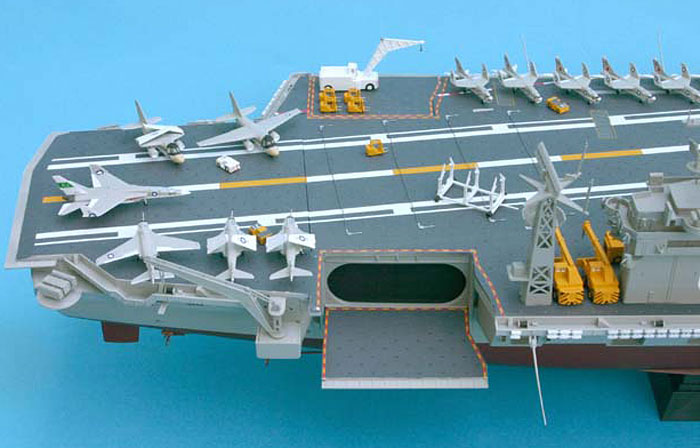 The island is a free standing model in itís own right and if you donít cement it to the deck then the model can be kept in itís own box, details are nice and look accurate with various decks for the bridge and vultures row along with some rather over scale radar and aerials which might benefit from an etched brass set if any are available as would the main radar mast which though nicely done is a little heavy on detail.

On deck, the ship is depicted as it was in 1975 when the aircraft were launched with cat strops and as such she has the three extensions to the ends of the launch rails which are not there today, decals are supplied for the deck markings but not all of them are used at one time, your research will show which are needed, even the 68 bow number was painted differently at various time so be aware.

Now the good news - you get lots of deck machinery: four mobile cranes, eight tow trucks and eight fork lift trucks to handle all the aircraft which include, 1x SH-3 sea king, 1x RA-5 Vigilante, 1x E-2C Hawkeye, 2x A-3s, 2x S-3 Vikings, 3x A-6E Intruders plus six each of F-4J Phantoms and A-7E Corsairs. Each comes on a frame with three colour plastic, grey black and clear and there are folding wings separate wheels etc. etc. took for ever to build but then the result really sets the ship off.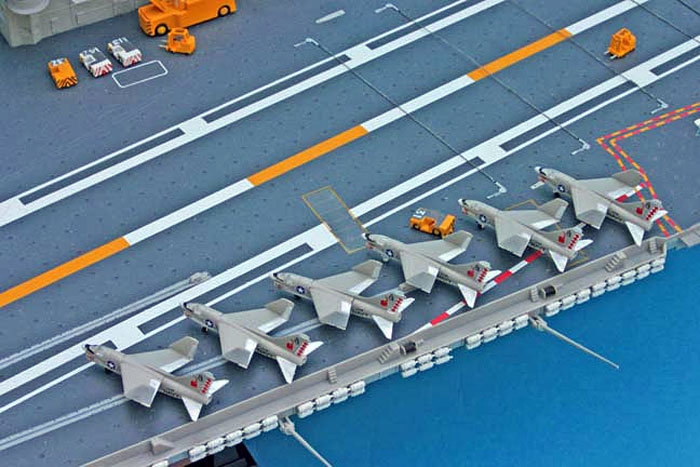 Decals are provided for each of these aircraft, full markings. The only thing missing are the pilotís names. It took me longer to do the aircraft than the rest of the whole ship, the time involved in painting each one and then the decal application for such tiny items nearly had me clearing the decks a few time but I persevered and I am pleased with the model now.

Trumpeterís 1/350 scale Nimitz is lot of model for the money, Iíll recommend it to any ship enthusiasts
Click the thumbnails below to view larger images:
---
Model, Images and Text Copyright © 2005 by Ted Taylor
Page Created 20 March, 2005
Last Updated 20 March, 2005
Back to HyperScale Main Page