Czech Master Resin's 1/72 scale Opel-Sander RAK.1
by Mark Davies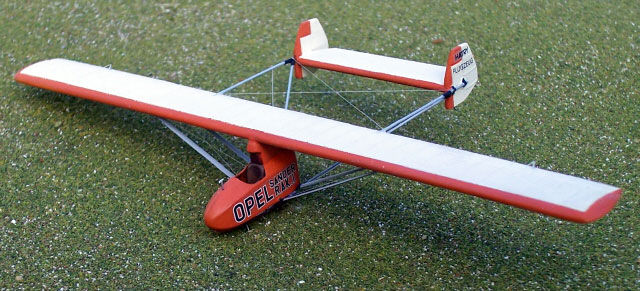 Opel-Sander RAK.1

HyperScale is proudly supported by Squadron.com


The Opel-Sander RAK.1 was designed by an engineer named Hatry, and first flown at Frankfurt-Rebstock on September 30th, 1929. It was a rocket powered glider, and one of a series of experiments in rocket-powered propulsion by car-magnate Fritz von Opel that involved cars as well as aircraft.
It used 16 solid-fuel rockets made by Alexander Sander, a pyrotechnic manufacturer from Wessermünde. The rockets had a combined thrust of 900 lbs, but were intended to be fired in relays of two as the plane accelerated along a raised track. Problems with igniting the rockets electrically were never entirely solved, and five were found to have remained unfired after the first flight. The RAK.1 flew for about 1,424 metres and attained a speed of 153 kmh. An attempt with more powerful rockets was abandoned after a heavy landing which badly damaged the airframe. The aircraft is now preserved in the Deutsches Museum.

I have been aware of the RAK.1 for the past 36 years after my father bought a small Hamlyn paperback book on rockets and missiles when I was ten. The book featured artwork of the RAK.1 blasting skywards. I still have the book, and the picture has always been in my memory, so I was very pleased when I found I could buy a kit of the RAK.1.
The Czech Master Resin (CMR) kit is very simple. It provides nicely moulded fuselage pod halves, cockpit interior detail, main & tail-planes, tail-fins, skid, the various wing struts and tail booms, plus decal options for two colour schemes.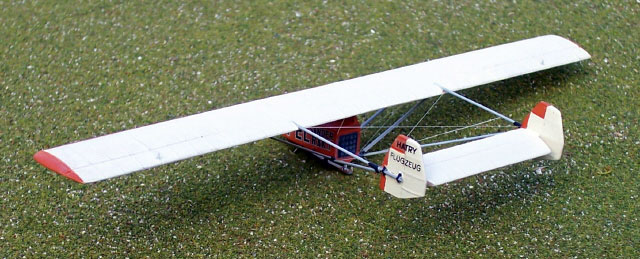 I found everything very straight-forward. It almost goes without saying that CMR provides the resin tail booms as patterns rather parts to be used, as they could not possibly support the tail. I made my tail booms out of thick wire rolled on glass with a steel ruler to straighten it. I stretched heated plastic tube over the wire to simulate the strengthening collars where the booms join, and used thick foil to provide the boom attachment points at the tail-fins. I also stretched some Plastrut streamlined strut section to make the wing struts.

Completing this model was made difficult because my left arm was in a splint and my hand bones wired, after two of three surgeries to reconstruct my wrist. Suffice to say that I dropped and broke the tail off at least 12 times during the build and the main-plane at least twice. Surprisingly I did not struggle too much with the stretched-sprue rigging, aileron actuators and other small details.


I painted my model an orangey-red to match CMR's artwork, despite the instructions describing the colour as red (the other option was for blue trim).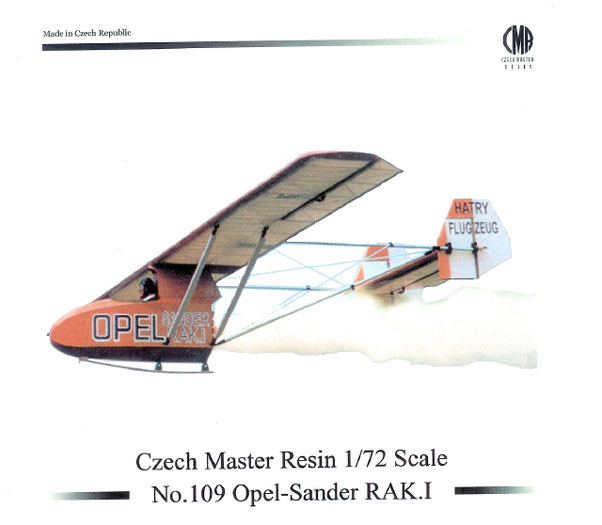 This is the second CMR glider kit I have built and, if I ignore the handicap my injury caused me, I would have to say that this kit was almost as simple as resin kits come, and a good option for someone with one or two other resin kits already completed. I plan to make more CMR glider kits as they add some real variety to the model cabinet, and they are nice and simple builds. I thoroughly recommend the RAK kit to anyone who wants to add something unusual to their collection.


---
Model, Text and Images Copyright © 2006 by Mark Davies
Page Created 25 August, 2006
Last Updated 21 February, 2007
Back to HyperScale Main Page