Trumpeter's 1/48 scale
Curtiss P-40B
by Roger Fabrocini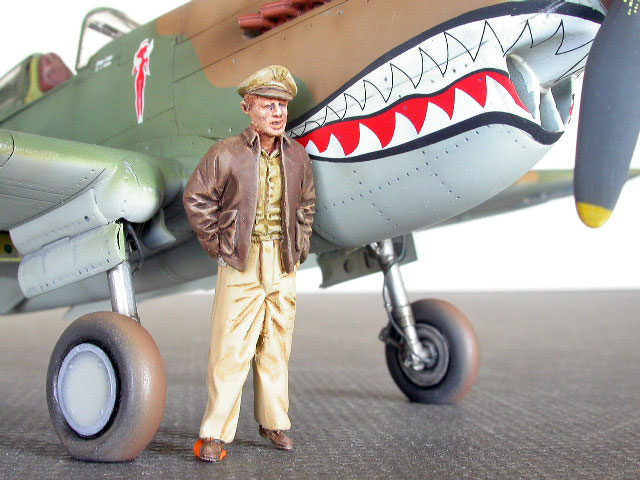 Curtiss P-40B

Trumpeter's 1/48 scale P-40B is available online from
Squadron.com
Here is Trumpeter's 1/48 scale Curtiss P-40B, kit #02807 finished as Serial #P-8186, number 75 of the Third Pursuit Squadron of the American Volunteer Group or commonly known as "The Flying Tigers".
Considering there are many more qualified then myself to comment on the accuracy and engineering of the kit I will confine my article to basic construction and finishing issues.
For the most part this kit fits together good to fair.
The only real issue I encountered was the need for a spreader bar to adjust the gap at the fuselage wing joint. On the positive side I found the fit of the clear parts to be very good especially the rear panels which I tacked in last after all painting was completed.
I added the following parts to detail my P-40:
True Details resin wheels (the kit wheels are in four parts, these are simpler and better detailed)

Legend's Resin cockpit set #LF4036 (though made for the Monogram or Academy kits I found it to fit with no extra fuss)

Ultracast resin exhaust (a .080" piece of strip styrene was shaped to fit the kit exhaust opening. The kit opening is too big and deep)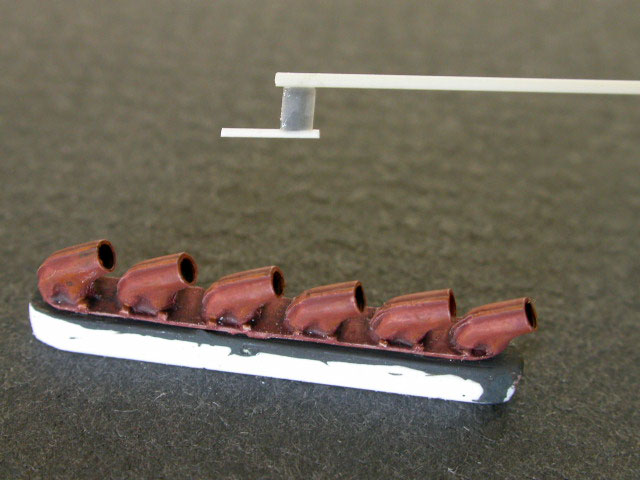 Odd bits from an Eduards's P-40 photoetched set.

Missing landing gear struts and brake lines added to main gear struts

Fabricated new "British type" pitot tube

.50 caliber blast tubes from stainless steel tubing (ends reamed out to amore scale thickness)

Antenna insulators made with Vallejo plastic putty (looks just like the real thing! Great stuff)

Fuel drains from fine wire insulation
To tone down the rivet detail I decided to try Mira from Czech's stressed skin technique.
---

Mira's "Stressed Skin" Technique
For those not enlightened to Mira's technique it entails replicating the undulating surface of an aircraft's metal skin by scraping shallow valleys into the plastic with a rounded (#15) scalpel blade.
In this case it has the added benefit of reducing the rivets' prominence.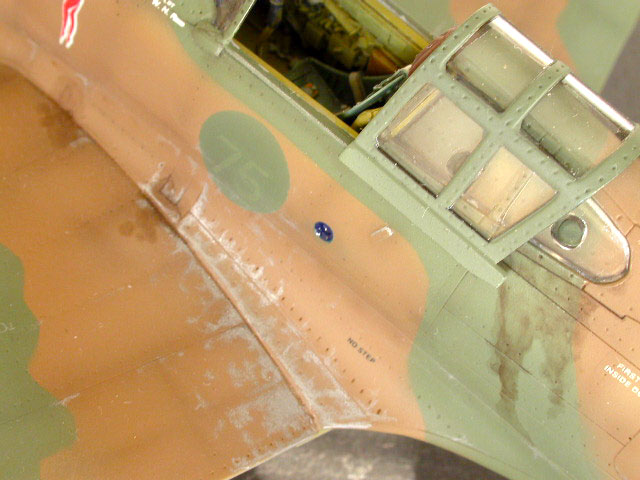 After the scraping it is necessary to sand down the surface which also addressed the problem of the raised radio hatch, jack points, and other overstated raised detail.
I must say that I found it very easy and almost as enjoyable as painting. You actually see the part transformed from a piece of plastic to what appears to be a real aircraft skin. The one drawback I found is that it is hardly noticeable after a flat coat. It needs gloss or semi-gloss to "catch'" the light and show it off like a natural metal finish. (now, where is that Academy F-86?)
After priming with Mr. Surfacer 1000, the undersurfaces were preshaded then sprayed with Gunze H-62 IJA grey. Uppersurfaces are Gunze H-72, RAF Dark Earth and H-320 JSDF Dark Green with some H-302 (34092) added. The demarcation lines where masked using Tamiya masking tape.

The airframe was weathered using different shades of the above colors, Vallejo #912 Tan Yellow, Tamiya XF-64 red brown and straight H-302. Final weathering was done with Chris Wauchop's Tamiya Red Brown / Black mix and CMK's #SD-03 Sandy Dust weathering pigments.
The exhausts are hand painted using Vallejo acrylics.


I chose Bill Reed's #75 as it may have appeared between early December, 1941, when markings were applied at the time of the battles over Rangoon around Christmas of that year. No "kill" markings, no pinwheel wheel covers and I am assuming the chalk markings on the cowling would have rubbed off by then. I used the Aeromaster sheet #SP48-07. The British upper wing roundels are painted on.


I can understand the views of those who might criticize this kit. Considering today's technology and resources Trumpeter could have done better, but I must say I still enjoyed my time with it.

Mira's "stressed skin" is another way to personalize a kit and I do love weathered finishes, so this may have influenced my opinion. I hope all my future builds are this much fun.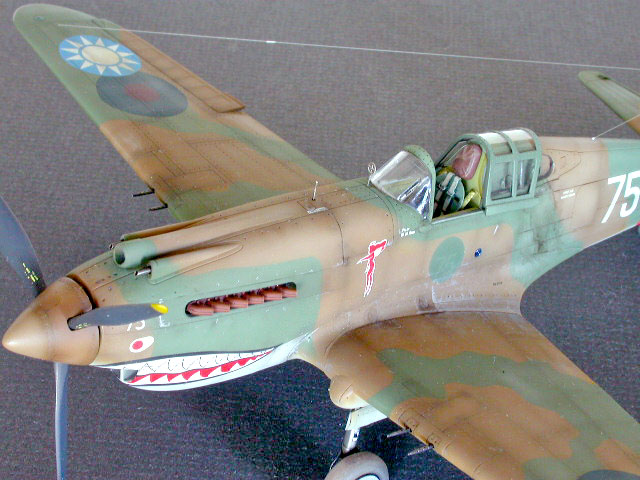 Thanks, as always to Brett and all on the "forum", take care.
Click the thumbnails below to view larger images:
Modelling the P-40
Hawk 81, Tomahawk, Warhawk and Kittyhawk
Osprey Modelling 15


Author: Brett Green
US Price: $17.95
UK Price: £12.99
Publisher: Osprey Publishing
Publish Date:

January 10, 2004


Details: 80 pages; ISBN: 1841768235
Model, Images and Text Copyright © 2004 by Roger Fabrocini
Page Created 14 November, 2004
Last Updated 15 December, 2004
Back to HyperScale Main Page