P-47D "Bubbletop"
by Brian Criner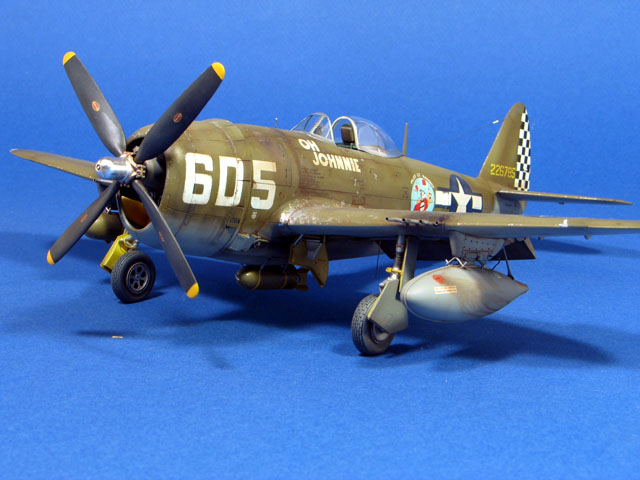 Republic P-47D Thunderbolt "Bubbletop"


Tamiya's 1/48 scale P-47D Bubbletop is available online from Squadron
This is my build up of Tamiya's 1/48 scale P-47D Bubbletop representing Lt. Raymond Knight of the 350 FG. Knight was awarded a posthumous Medal of Honor for his determined attacks on an enemy airfield in Northern Italy just before the wars end.
I saw the Superscale sheet (#48-793) at a local hobby store, and decided it was time for another Jug build.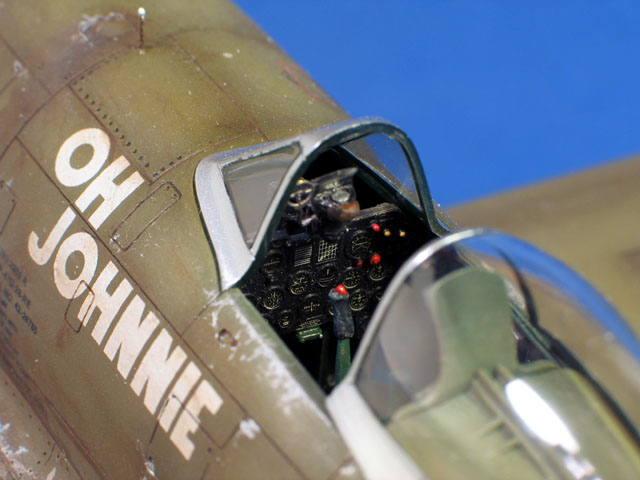 This is the third Tamiya Jug I have completed and the fourth Thunderbolt in the past 3 years. I guess I'm stuck in a rut. Build up comments on the Tamiya kit are unnecessary, as this information has been extensively covered in other articles.
For me, this project was about making an OD paint job look, well, different.
There has been much discussion recently about the pros and cons of pre-shading. My goal when preshading is not to actually "shade" the panel line, but to create an effect that fools the eye. I guess my objective is for the shading to be noticed but not seen.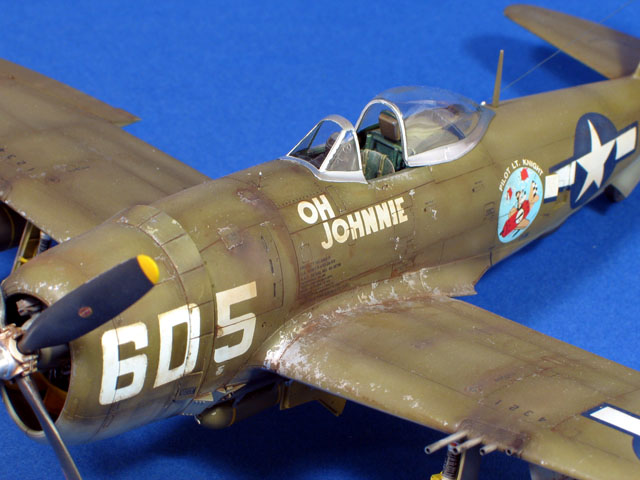 I pre-shaded the entire model with Model Master Burnt Umber that had been darkened with a couple drops of black. After covering the model with basecoats of Olive Drab and Neutral gray, I added a drop each of flat white and sand to the paint cup. I lightened the center of each panel, the goal being to disrupt the monochromatic finish.
Next I filled a paint cup with Testor's clear flat, then added about four drops of Olive Drab and heavily thinned the mix. I used this combination to bring back some of the center panel color.
Weathering involved a wash of artist oils Burnt Umber thinned with turpenoid. The wash was applied over a flat surface allowing some of the pigment to "bite" into the paint. I wiped out the excess pigment with a Q-tip, then applied some ground up earth toned pastels (the yellow ochre and sand colors) to the wing walk areas with a chisel tip brush. This was followed by another wash, and then more pastels. The goal was to create stains that appear aged.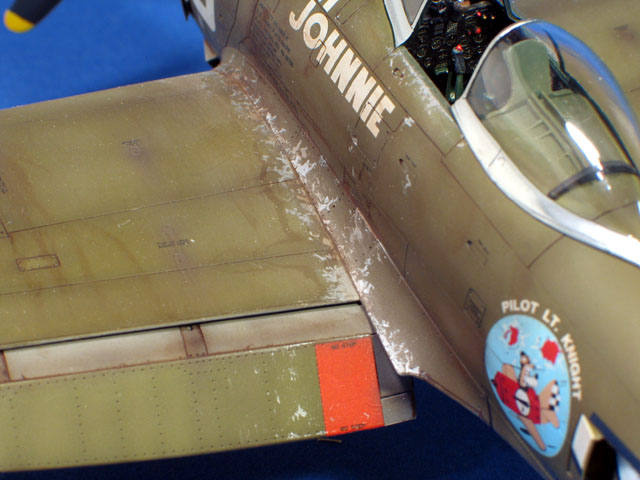 Scuffing and chip marks were made by a combination of "painting" Testor's silver with a fine gage steel wire, and stippling with a Berol silver pencil. This was my first effort using the silver pencil, and I was impressed with the result (Brett's 109 video on Testor's ScaleWorkshop convinced me to give it a try).
The asymmetric bomb load is based on a photo I noticed in the "In Action" book of a some Okinawa based T-Bolts. I confess I not seen any photos of 350 FG Jugs in this load out (they certainly were capable of carrying this kind of a load), although I have not seen any evidence that this combination was not used. So I claim artist license on this one.
The 1000 bomb is from the Accurate Miniatures B-25 kit, and the anti-sway brace on the drop tank was made from syringe tube and scrape from the spare parts box.

I suppose I should start working on something other than Thunderbolts. Maybe a Mustang or two...or three.

Click on the thumbnails below to view larger images:
Modelling the P-47 Thunderbolt


Osprey Modelling 11


Author: Brett Green
US Price: $17.95
UK Price: £12.99
Publisher: Osprey Publishing
Publish Date:

July 25, 2004


Details: 80 pages; ISBN: 1841767956
Model, Images and Text Copyright © 2004 by Brian Criner
Page Created 26 March, 2004
Last Updated 03 October, 2004
Back to HyperScale Main Page