Tamiya's 1/48 Scale
P-47D Thunderbolt
by Parker Ewing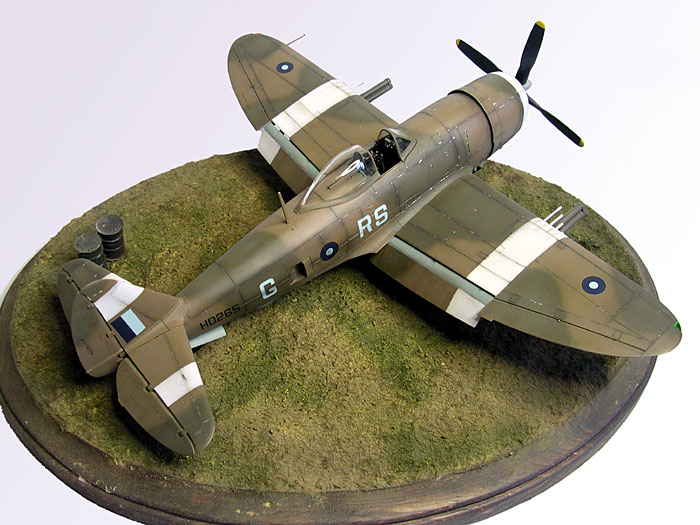 Republic Thunderbolt Mk.II


Tamiya's 1/48 scale P-47D Thunderbolt is available online from Squadron.com
A college baseball coach once told me "Son, society's biggest problem is T.O.B. It's contagious, so don't ever let it creep into your game." What is T.O.B you ask? And what does it have to do with modeling? Well, I'll tell you. It stands for Transfer Of the Blame.....and if you're reading this, I'm TOB'ing everything squarely on your shoulders. Allow me to explain. See, I started modeling four years ago. I began basically where I left off as a 10 year old. Some liquid cement out of a tube, scissors, spray cans, and a few crummy brushes. I was happy, and I remember thinking this was a really cheap hobby.
All that changed that fateful day I typed "model aircraft" into a search engine and found HyperScale. I was blown away by the quality of the work, ideas, and possibilities. An airbrush was the first purchase, then a dedicated work station.
I read your posts with disdain about vast collections and unfinished work. "That's insane. I'll buy one kit at a time and finish it". And aftermarket stuff covering minute details? .....these guys need to get a life! Well, those weighted tires are cool, maybe I'll just use those. And decals too."
Long story short, four years later I found myself buying kits based solely on how much aftermarket stuff was available. Moskit, Ultracast, Aires, Cutting Edge....I had to have it. I knew the dark side had consumed me. Thanks to you guys I had a problem called AMS and if I wanted to stay married, I needed to somehow stem the tide. Well, that's where this kit comes in. Kits like this are my saving grace. I mean, what more do you need? Great cockpit, dropped flaps, weapons...etc. And the fit? Please. I decided to build it straight from the box and I gotta say, I really enjoyed it.
What can I say? Straightforward. Clever design of the rear fuselage made for a great fit.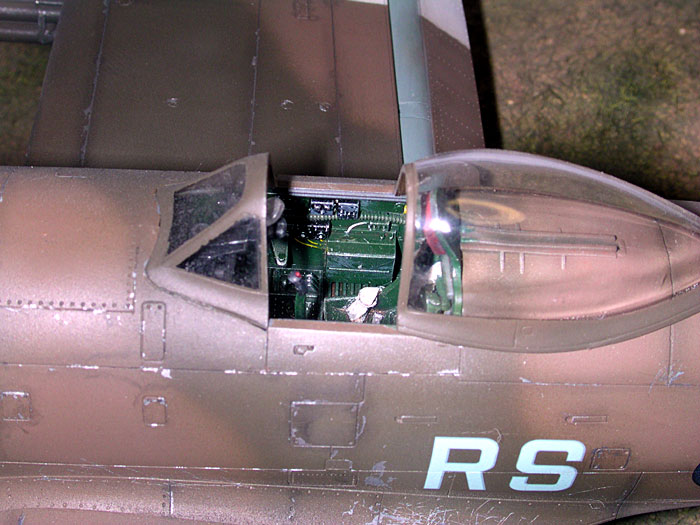 Still have to add the gizmo that spans the rear canopy. Makes a new guy like me look like a pro.
Painting, Marking and Weathering
I had no idea what scheme I was going to do, but after seeing Andrew Dextras build on Tamiya's website, I decided to try his weathering techniques. By the way...Dextras, Scott Samo, and Chris Wauchop are the painting & weathering Champions of the World, so if I get accused of copying them, I'll consider that a huge compliment. Anyway, I primed it with MM chrome enamel and shot the colors freehand with my Sotar 20/20 using Gunze acrylics strained with some stolen panty hose.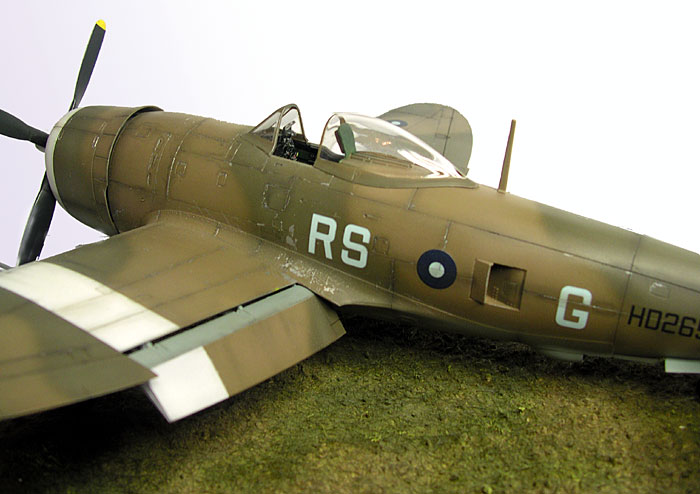 These paints don't stick well to the enamel, which makes it really easy to chip the paint. Developed a new technique on my own (or so I think) that I really like for chipping. Ever seen those way overpriced sanding sticks at Hobby Lobby? The ones that are long and skinny like a pencil? Well, I take one of those and tap where I want to chip. The individual sand grains produce the tiniest scale chips. To my eye, it looks great...and it's super easy.

Gunze flat thinned and strained with the same stolen panty hose, and a lot of pastels finished it off.
I am really happy with the way it came out and the fact it only took two weeks to do. Simple, quick builds are good for the soul. Plus my slowly growing stash of kits and unfinished builds that I blame you for will stay minimal. Will I give away my Dremel? No. But the aftermarket has lost it's death grip on me. I am free. Oh, and by the way, please ignore this 47's Ultracast seat and KMC rear flaps. Hey, I gotta start somewhere.
Modelling the P-47 Thunderbolt


Osprey Modelling 11


Author: Brett Green
US Price: $17.95
UK Price: £12.99
Publisher: Osprey Publishing
Publish Date:

July 25, 2004


Details: 80 pages; ISBN: 1841767956
Model, Images and Text Copyright © 2004 by Parker Ewing
Page Created 16 April, 2004
Last Updated 03 October, 2004
Back to HyperScale Main Page