Revell's 1/32 P-47D conversion
Tandem T-Bolt
by Richard Marmo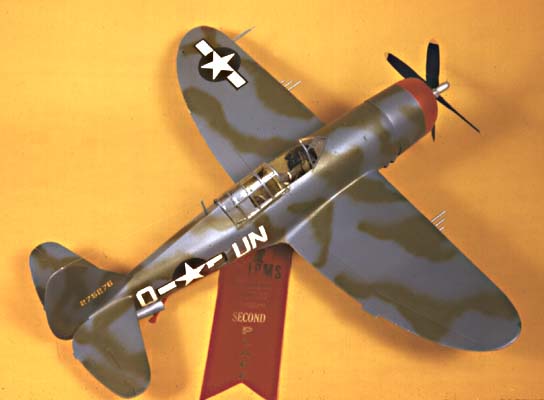 Republic P-47D Thunderbolt "Bubbletop"
Two-Seater Conversion


HyperScale is proudly supported by Squadron
Today's model builders (meaning those who have only been building for the last 15 or maybe 20 years) are used to high quality kits whose parts can literally be held together and have the seams virtually disappear. Then there's the aftermarket where you can buy readymade castings (or photoetch frets) of just about any detail part you care to name. Put all of this together and the result is a gorgeous, superdetailed model that truly is a work of art.
But is it model building?
Back in the olden days (God, I hate to use that phrase!), manufacturers gave you kits of subjects that we all wanted and that we thought were the epitome of quality and detail. They were expensive, too. Some were as much as $4 or $5 or even more. If you wanted to improve it…or superdetail it for a contest, you did it by actually building the necessary bits and pieces. The finished model was something we were proud of and that frequently was a prizewinner in local and even national contests. Today, that same model would be ashamed to be seen on the shelves alongside the modern efforts that we've all become used to.
So let's go back 30 years or so (32 in this case) and see what was showing up in magazine articles at that time.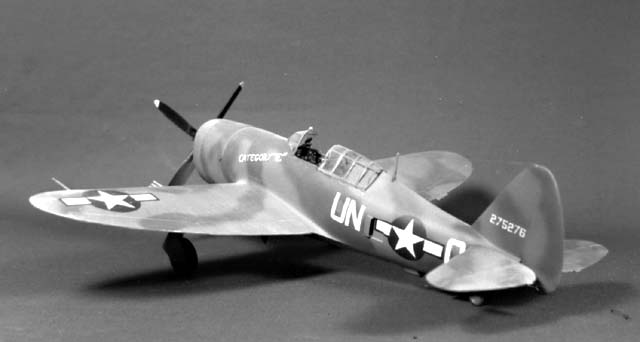 In November 1972, one of my articles appeared in a now-defunct magazine (that sold for the spectacular price of $1.25 per month) describing the conversion of the then-new 1/32nd scale Revell P-47D Thunderbolt (Razorback version) into a field-mod two-seater. Keep in mind that the following article was originally written in 1972 with the products and techniques available at the time. If nothing else, it'll provide a window into the way things used to be done. And along the way, maybe a laugh or two…especially when you see the names of certain products that no longer exist and you may not have even heard of.

By the way, for those of you who don't know, I'm a founding member of the IPMS/USA (IPMS/USA #2) and make my living as a freelance writer/modelbuilder.

Anyway, here it is. I hope you enjoy this little jaunt into the past. And if by chance you'd like to see more of these older articles, just let me know at tennexican@mindspring.com .
Believe me, I've got plenty of them.



Republic's P-47 Thunderbolt was, at first sight, invariably greeted with the question "That's a fighter?". Some pilots never liked the aircraft, while others found that she grew on them. Occasionally, entire fighter groups (notably the famed 56th F.G.) came to love the Jug so intensely that they ended the war flying Republic's monster.

Inevitably, field mods found their way into virtually every aircraft type, and the Jug was no exception. Whether as a squadron hack or VIP transport, a number of 2-seat Jugs eventually cropped up. While there were a couple of factory built 2-seat trainers (designated TP-47G), most were the result of field mods. About the only thing the two types had in common was their beginning as P-47D Razorbacks. From there, they went their separate ways.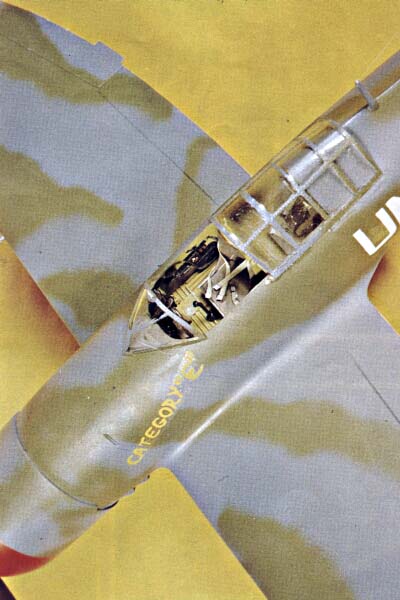 The field modified version is the subject of this article, using Revell's 1/32 P-47D Razorback kit as its basis. Other materials you'll need are a second P-47 kit for the canopy, Squadron Sheet Styrene and Green Stuff.

The wings and stabilizers can be assembled per the instructions and all the rivet detail sanded off. One of the lesser evils of the kit is an over-abundance of fence posts that pass for rivets. Their removal is a marked improvement.

The original cockpit sub-assembly can be completed according to the instructions. However, I would suggest covering that gaping crack in the seat with a piece of .010 sheet styrene cut to shape, rather than try to fill the crack with putty. Besides being more effective, it's faster.

To make room for the second seat, cut the spine back to a point even with the aft edge of the canopy trough. After removing the spine section, spray the interior chromate green and install the kit interior. Now you can start on the second position floor and bulkhead. Best bet here is about .040 sheet styrene, with the time tested trial-and-error method used to obtain a good fit. Don't forget to cut a second bulkhead to cover the mold cavity in back of the pilot's armor plate.