Academy's 1/48 scale
P-47N Thunderbolt
by Tymon Galewski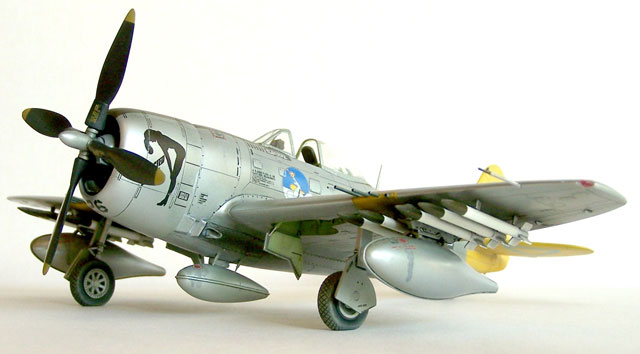 Republic P-47N Thunderbolt
Academy's 1/48 scale P-47N is available online from
Squadron
The P-47 Thunderbolt was the heaviest and biggest single seater fighter fighter aircraft of WWII.

My favorite version of P-47 is the N. This was the final production variant of the Thunderbolt with extra Fuel tanks in wings between landing gear and fuselage. This variant could operate continuously for over 10 hours which allowed the P-47N to travel to Japan from Iwo-Jima, drop her deadly cargo, fight in air with Japanese fighters, and go back home. The auto pilot of the N version was advanced enough to allow its pilot to sleep during the transit flight over an ocean!

My model represents a P-47N of 463rd Fighter Sqadron, 507th Fighter Group, operating from le Shima island in 1945. The yellow tail with blue triangles is a group identification.

The plane is equipped for a long range assault mission with 2x165 US gal. (625l) + 1x75 US gal. (414l) drop tanks and 10 HVAR 127mm "Holy Moses" Rockets

I recently built two P-47s in 1/48 scale from Academy, straight out of the box.

The more recent P-47 models from Tamiya outclassed the older Academy kits but… If you want to have N (latest-long range) version of Thunderbolt old kit is still worth building as it is currently the only 1/48 scale offering on the market.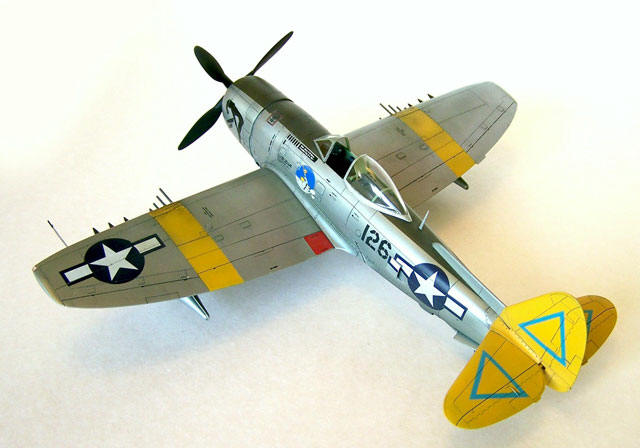 First of all fuselage and wings look very good. Panel lines are very good, and the fit is to Hasegawa standard. The poorest part of the model is its interior.

There are a huge amount of US weapons in the kit including Bazookas and the wheels (for N version only) have realistic flattening.


The finishes proposed by Academy are very interesting. There are two special boxes witch P-47 from Academy with great decals. One is P-47N "Expected Goose" (my model) and the other is P-47D "Big Ass Bird".

The decals from Academy are nicely printed (good detail), colors are okay, they work great with Model Master Setter and Solver, so why not them? Because they are Very, very thick!! I decided to cut every decal exactly on the line of the printed color to get the thick edge of decal foil exactly on the edge of markings. This was easy enough for the US insignia The silhouetted lady on the nose was more difficult.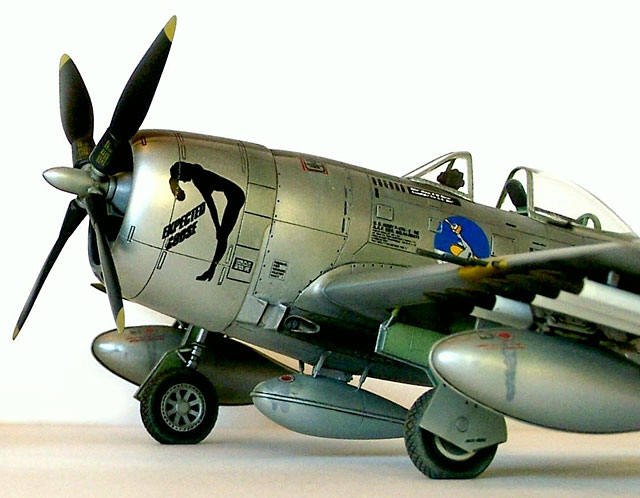 Simple isn't it? You get great decals with your kit and you don't have to wait and pay for Aeromaster stuff. Build process is longer about 2 hours, and the decals look like airbrushed on the model surface.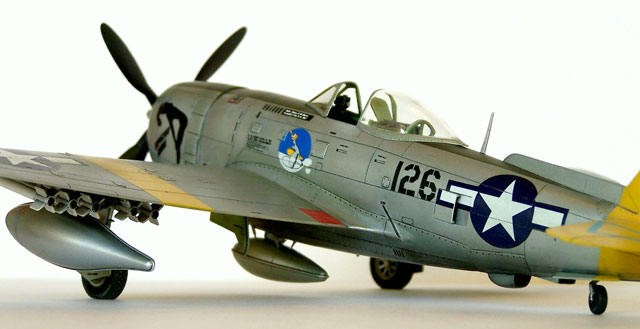 Thunderbolt vs. Axis Fighters
Here are two photos of the P-47 with its opponents on both air fronts.

In Europe the P-47 opposed great numbers of Messerschmitt Bf 109s. In the picture below you can see P-47 "Eileen" of 82 FS 78 FG "the Checker Clan" operating from Duxford, Great Britain at the end of 1944. Her opponent is a Messerschmitt Bf 109G-10 (an old Revell) kit in markings of the famous II/JG27 operating from Schleswig-Holstein (north-western Germany), beginning of 1945.

The difference in size between the Bf 109 and P-47 is shocking. The Messerschmitt looks like a different scale

The best Japanese fighter of the end of the war was the Nakajima Ki-84 Hayate (Frank). It was called by the Japanese propaganda "The Great East-Asian Fighter" Although it was a very large plane, it was significantly smaller then the P-47.

Modelling the P-47 Thunderbolt


Osprey Modelling 11


Author: Brett Green
US Price: $17.95
UK Price: £12.99
Publisher: Osprey Publishing
Publish Date:

July 25, 2004


Details: 80 pages; ISBN: 1841767956
Model, Images and Text Copyright © 2006 by Tymon Galewski
Page Created 28 February, 2006
Last Updated 21 February, 2007
Back to HyperScale Main Page