New Zealand Territorial Air Force
RNZAF P-51D Mustang
by Jonathan Squires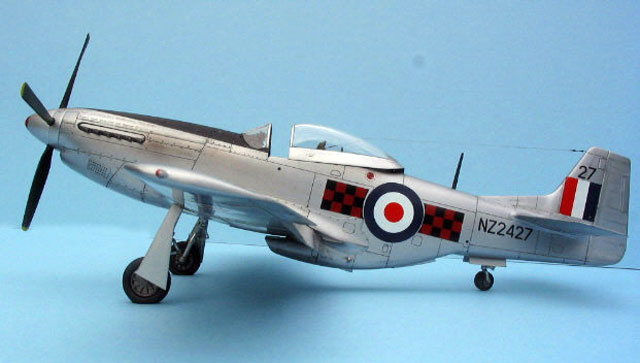 P-51D Mustang

Tamiya's 1/48 scale P-51D Mustang is available online from Squadron.com
The P-51 Mustang in RNZAF Service
Following the end of WWII, the RNZAF undertook a downsizing program and proceeded to demobilise much of the wartime air combat force to a peacetime level. In order to partially offset this reduction in capability, and to maintain pilots' flying skills, it was determined that the formation of an Air Force Reserve (known in NZ as the Territorial Air Force, or TAF) would be necessary. So, in 1948, the NZ Government ordered the formation of four TAF (Reserve) Squadrons to supplement the post-war RNZAF. The four squadrons, №'s. 1 (Auckland), 2 (Wellington), 3 (Canterbury) & № 4 (Otago) TAF were initially equipped with Tiger Moths & Harvard's. However, in 1951-52, the TAF received a significant boost in capability (at least relative to a Tiger Moth!) when it was re-equipped with P51 Mustangs.
The RNZAF came to acquire its P51's through an order placed with North American Aviation for 370 P51D Mustangs. These were originally intended as a replacement for the F4U1 Corsairs that the Air Force was then operating in the Pacific. However, only 30 P51's were delivered to the RNZAF prior to the end of hostilities, the rest of the order being cancelled before it was sent to NZ. Those that did arrive in NZ were firstly placed in storage and ultimately issued to the TAF Squadrons.
The TAF flew its Mustangs from 1951 to late 1955. The aircraft were popular with their pilots. However, a combination of the relatively low hours flown, and a subsequent lack of experience on the type, led to five fatal accidents and a particularly high attrition rate. Interestingly (to me anyway!), was the incorporation of each regions provincial rugby colour's into checkerboard flashings on either side of the roundels carried on the fuselage.
By 1955 the Air Ministry felt it could no longer justify the existence of the TAF and chose to remove the Mustangs from service. Despite this, the four TAF squadrons, once again flying Harvard's & Tiger Moths, continued to exist for a short time until their final dissolution on 1 August 1957. All remaining Mustangs were put up for sale & mostly scrapped.
The Mustang's themselves were standard P51D-30-NT's, manufactured at the Dallas plant in early 1945 and were notable only for being equipped with the un-cuffed propeller blade. They appear to have been well maintained and did not show significant signs of wear & tear.
---
Surviving New Zealand Mustangs
Three of the ex-RNZAF Mustangs survived the scrap heap; two of which are now airworthy again. The aircraft depicted here, NZ2427, arrived in NZ on 27th August 1945. It was immediately placed in storage, firstly at Hobsonville, and then Ardmore Aerodrome. NZ2427 remained in storage until early 1952, when it was reactivated and allocated to №. 3 (Canterbury) TAF Squadron. It served with 3 Squadron from October 17, 1952 to August 9, 1955.
Following another three years in storage, NZ2427 was sold to private owners for £80.00. Under its new managers, the aircraft spent the next 32 years firstly at Omaka aerodrome (near Blenheim, NZ) where it remained virtually airworthy (but not flying), then at Peter Coleman's home (near Omaka). Its last home prior to restoration was a garage in Blenheim where NZ2427 was partially disassembled.
In 1990 the remaining components of the airframe were sold to the Alpine Fighter Collection (Sir Tim Wallis, Wanaka, NZ) with the intention of restoring it to airworthy condition. Instead of restoration, though, the aircraft found itself in storage again due to the acquisition of another complete & airworthy Mustang by the AFC. In 1996 NZ2427 was once again sold, this time to Maurice Hammond from England as part of a deal that included a partially restored Hurricane (BW881).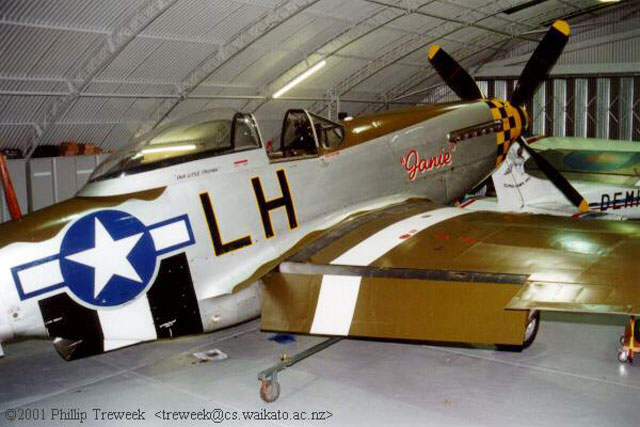 NZ2427 has since been restored to flying condition, however not in the markings of New Zealand's TAF but that of "Janie" from the USAAF's 353rd Fighter Group when it was based at Rawdon (Essex) during WWII.
Two other NZ Mustangs survived the dissolution of the TAF. Following service with № 3 Squadron, NZ2417 was sold to a private NZ owner. It was rebuilt (using pieces from NZ2409) and flew in NZ as ZK-CCG from 1964-68. Following another period of storage, it was in 1974 sold on to an American Museum where it lived until 1983. It was then sold to Kermit Weeks Air Museum where it now resides in the markings of "Cripes a Mighty III".
The last survivor, NZ2423, was first allocated to № 2 (Wellington) Squadron. In 1955 it was transferred to № 42 Squadron (Ohakea) where it served as Squadron hack until early 1957. After a short time in storage, the RNZAF sold NZ2423 to a private owner, who subsequently on sold it in 1964 to a Mr. J Smith. As far as is known the aircraft remains in storage in Mapua, New Zealand.
There are two other Mustangs currently in NZ, one of which is based in Auckland. Although not originally an RNZAF Mustang, the NZ Warbirds Association operates an ex-Indonesian Air Force P51 in the markings of NZ2415 from № 3 (Canterbury) Squadron (see photo below).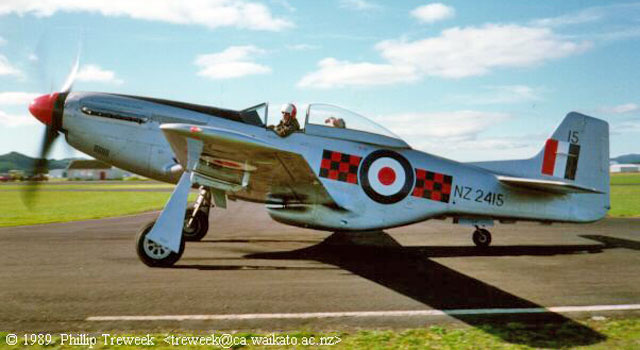 This is the Tamiya 1/48th scale P51D Mustang. It is a straightforward kit to build, and makes up into a fine looking model with few, if any flaws. The only problem I encountered (other than by my own creation) was the removal of the mould point from the side of the bubble canopy.
Aftermarket accessories used were a True Details cockpit & weighted wheels. In addition visible areas of the fuselage were detailed with pieces of fuse wire. These included the actuating mechanisms for the rear wheel well doors, the oil cooler shutter and air intake. Hydraulic lines were added to the main gear, as were photo etch towing eyes.
This model has suffered from more than its fair share of re-painting and re-construction!
When built in 2000, it was initially painted using a Humbrol aluminum. However, this did not look much like Aluminum, so I decided to strip it off and repaint it using Alclad II. Second time around the result looked ok, so I finished it off using decals from Ventura (& the spares box) and moved on.
About three months ago I came across a picture of NZ2427 and noted not only that the propeller blades were un-cuffed, in marked contrast to the cuffed ones on my original model, but that I had applied incorrect sized roundels. In short, my attempt looked nothing like the real thing! So, after securing some un-cuffed blades through HyperScale, I planned on effecting a quick fix changeover to correct the blades and decals. However, before I knew it enthusiasm had the better of me and the aircraft was in about 17 pieces and lacking any markings whatsoever!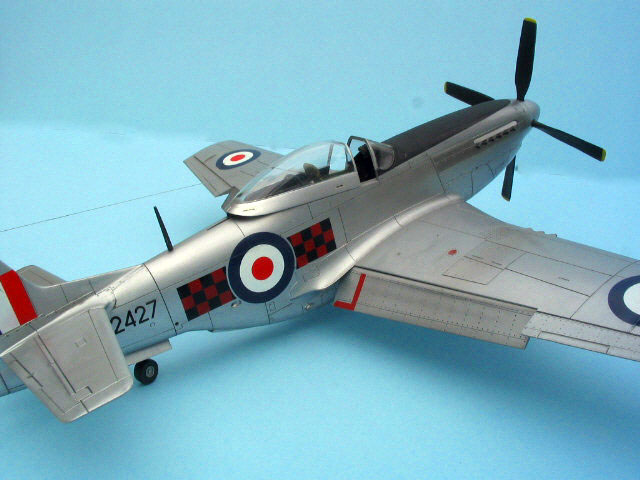 At this point I started playing around with some Micromesh polishing pads in an effort to achieve a better aluminum finish. This was most successful and enlightening – the resultant polished finish is a great aluminum imitation.
New, correct size roundels were sourced from the spares box and applied. Unfortunately trouble struck in the application of the Ventura checkerboard markings. No matter how hard I tried, just would not stick to the model. Following some advice from Steve Westerby, I attempted dipping the checkerboards in a 10:1 mix of water and PVA to help add some more glue to the decal backing. This, in combination with Micro Sol and a hot rag, was mostly successful. Other markings were Aeromaster and performed as would be expected.
Once the decals were complete I recalled that Mustang wings were not actually exposed aluminum – they were painted silver. So, in order to reflect this, I sprayed a satin varnish on the wings with the intent of at least making them look different to the rest of the aircraft. .
---
Weathering
As far as I can tell from pictures, the NZ TAF Mustangs were clean, well maintained aircraft. As such, I held back on applying much in terms of wear & tear. Firstly, panel lines were highlighted using a wash of 80% isopropyl alcohol, 15% Tamiya Nato Black and 5% dish wash detergent. This proved remarkably effective.
Exhaust & gun stains were added using a highly diluted mix of burnt umber, black and smoke, while paint chipping & propeller blade wear were subtly applied using a silver artists pencil.
---
Final Details
All the parts I had removed (undercarriage, canopy, aerials, pitot head etc.) at the beginning of the reconstruction were reattached and the model was complete (again!).
This model is no show stopper (there are some bad joint lines visible on the underside of the fuselage), however I found it to be a rewarding and interesting project to complete. Historically, it was great. From a modeling perspective, I learnt some new skills, for example how to polish & apply a panel line wash to Alclad II, how to remove blemishes from canopies and finally apply some virtually useless decals to a model.
Geoffrey Bently & Maurice Conly. Portrait of an Air Force. The RNZAF 1937 – 1987.

Ross Ewing & Ross MacPherson. The History of New Zealand Aviation.

Classic Wings Magazine, Vol 8, No 1. "Multi National Mustang"

Images of "Janie" and NZ 2415 courtesy of Phillip Treweek. www.kiwiaircraftimages.co.nz

"New Zealand Military Aircraft Serial Numbers: RNZAF North American P-51D Mustang"
Click the thumbnails below to view larger images:
P-51 Mustang
From the RAF to the Mighty Eighth


Special Editions (Aviation) 1

Author: Michael O'Leary
US Price: $10.95
UK Price: £6.99
Publisher: Osprey Publishing
Publish Date:

September 15, 1997


Details: 128 pages; ISBN: 1855327147
Model, Text & Images Copyright © 2004 by Jonathan Squires
except two reference photos Copyright © 2004 by Philip Treweek from http://www.kiwiaircraftimages.com
Page Created 29 November, 2004
Last Updated 28 November, 2004
Back to HyperScale Main Page