Matchbox "Classic" 1/72 scale B-25
PBJ-1H "Love Bug"
by Tory Mucaro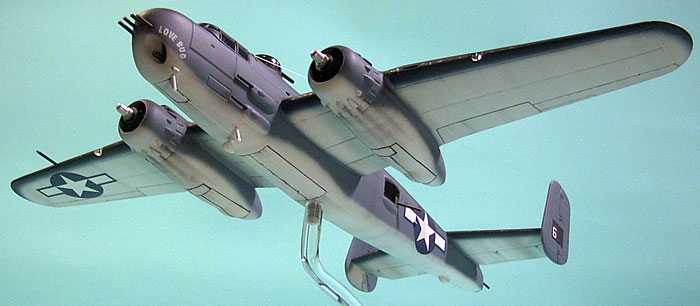 North American PBJ-1H
"Love Bug"

The PBJ-1H is the Marines equivalent of the B-25H.
Only one Marine squadron used the "H" model operationally, and that was VMB-613. Unfortunately, they encountered the same problem with the type as the Air Force - a lack of suitable targets for the big 75mm gun. However, the type remained in service until the end of the war.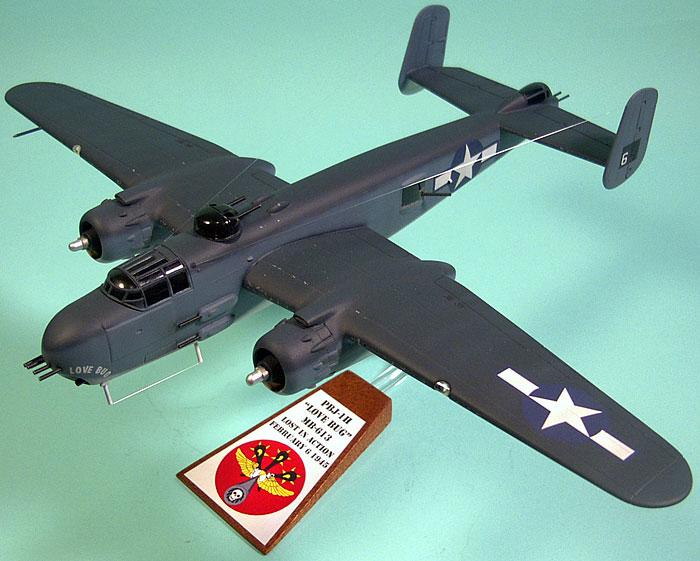 The aircraft I chose to model is BuNo 35275, MB-6 "Love Bug" flown by First Lieutenant William J. Love. This aircraft was lost on February 6, 1945 during a hunter-killer mission. Six planes conducted a strike against Airfield Number Two on Ponape Island. "Love Bug" was lost to enemy fire, killing the entire crew of six. The wreck of this aircraft was discovered in July of 2001. For more information on VMB-613, check out this excellent website:

http://www.vmb-613.com/

I started with the classic (which is just another word for old) Matchbox kit.
The reason I used this kit instead of a Hasegawa or Italeri kit was that I discovered the poor little thing sitting on the shelf of my local hobby shop, Jersey Shore Hobbies. It was part of a private collection being sold off. I suspected no "serious" modeler would ever even consider buying, let alone building it. So I handed over the $10.00 being asked for it and set forth to attempt to turn it into something presentable.
Upon opening the box I discovered why "serious" modelers avoid this kit. It is a very basic, somewhat inconsistent kit. The wings have very deep recessed panel lines while the fuselage has very fine raised panel lines. I have no idea what the designers at Matchbox were thinking when the set about tooling up this one.

Also, there was no interior detail to speak of, save a few crew members and some basic furniture. And don't even ask about the landing gear!

So I decided to go the desk top model route with it and build it gear up (my favorite way to display aircraft anyhow) and with blacked out transparencies. It was built pretty much out of the box with one exception. After getting the model home I discovered the tail gunner's transparency was missing. After an ill-fated attempt to secure a replacement, I wound up fashioning one from a piece of scrap acrylic.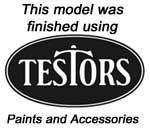 Once assembled the model was given a coat of Plasticote Auto Primer and all gaps filled and sanded. Then I applied Krylon Flat White for the underside color.
Once this was dry, I airbrushed Model Master Non-specular Sea Blue on the upper surfaces. Model Master Intermediate Blue was then airbrushed on all the vertical surfaces last. The model was clear coated with Polly Scale Gloss Clear and decals from Aeromaster were applied for the insignia.
The tail numbers were fashioned from Microscale Black Decal Film and the number six came from a Microscale Atlantic Coast Line railroad decal sheet.
The "Love Bug" was applied using Archer Dry Transfers lettering. The antennae wires are stretched clear runners (not sprue as is often reported!) from the kit's clear parts.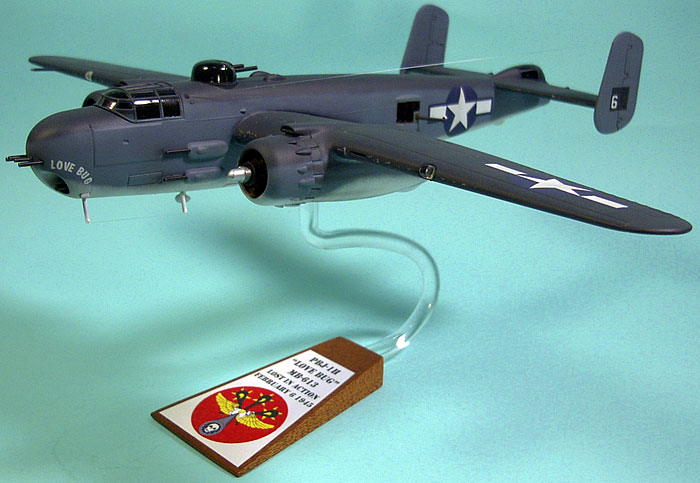 Weathering was accomplished with Floquil Grimy Black thinned and airbrushed as well as some light pastel application.
Some paint chipping was added with Testor's Steel (sliver always looks to bright for chipping). No pre or post shading was done.


The stand is made from a scrap of mahogany cut, sanded and clear coated with a heated and shaped piece of clear Ľ inch acrylic rod inserted. The name plate was created using squadron insignia art obtained from the aforementioned website in Microsoft word, printed out, trimmed and spray mounted to the base.
And that's about it.
I must admit that I prefer the B-25 in the Navy's tri-color camo. It just works with the lines of the aircraft. And who could resist all those guns?

Semper Fi!
Click on the thumbnails below to view larger images:
---
Model, Images and Text Copyright © 2006 by Tory Mucaro
Page Created 18 December, 2006
Last Updated 21 February, 2007
Back to HyperScale Main Page