Revell AG's 1/144 scale
Pepsi Concorde
by John Chung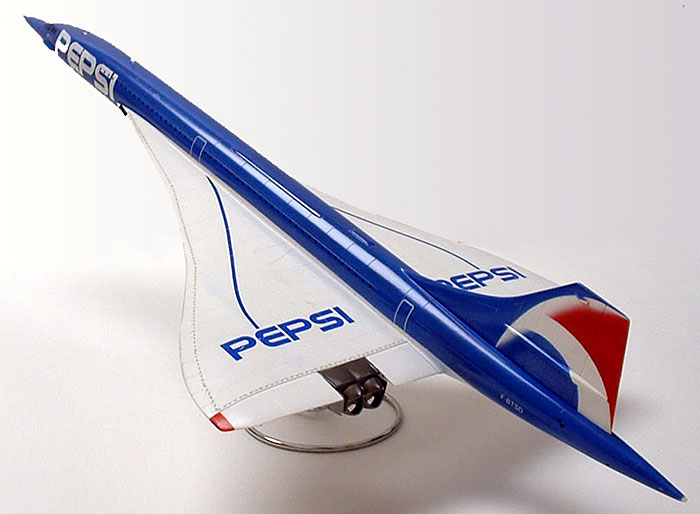 Pepsi Concorde


HyperScale is proudly supported by Squadron.com
I shall not elaborate much here on the history of the Pepsi Concorde, other than it was painted up in 1996 as part of the Pepsi Corps new $500M US promotion effort. The airframe, F-BTSD, was signed with Air France to be painted up in this scheme.

A total of 16 flights were flown in this paint scheme before the aircraft was returned to its Air France operational colours. For more info, please http://www.concordesst.com/history/events/pepsi.html
This is the Revell AG 1/144 Concorde kit. It is a fairly nice model with decent recessed panel details and polished molding with no pebbly surface imperfections. Nevertheless, my copy had a number of sink marks over and under the wing halves that required filling, which don't seem to appear on other copies of the kit. The shape of the forward windscreen and nose were wrong. Trailing edges of the flying surfaces required thinning, as would be for most models of this scale. By far the biggest disappointment of this kit is the lack of intake and exhaust ducts. I had to scratch build these with plastics and fillers, which weren't exactly pleasing to endeavour upon. Aside from such, the kit suffers from no other major pitfalls. Take heed joining the upper and lower wing halves so no steps result.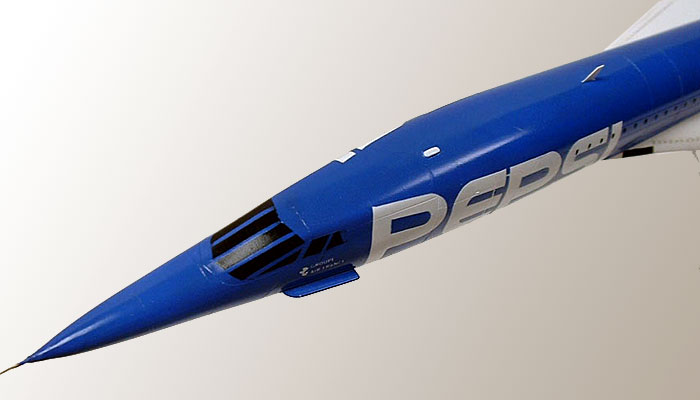 The kit was built in flight condition. The fit of the gear bay doors was straightforward with minimal filling and some rescribing. A clear plastic piece replaced the tail light. Antennas and cable ducts were replaced and/or scratch built with styrene pieces, as well as the replacement pitot tube. A stand I had lying around was adapted for the project, and a mount was built into the kit fuselage structure to accommodate the fitting. If there was any other modification, I honestly can't recall at the moment.
The paint was custom mixed blue curtailed to the colour on the decal. The model was sprayed with Tamiya white primer and let dry before sanding. I would elect grey primer first next time before the white primer coat, reason being the latter was too light as to allow light through the wings and exposing the grey putty pattern that was impossible to hide thence. The tail pattern was masked with the decal as a template, and sprayed in the order of white, red and blue before touch ups.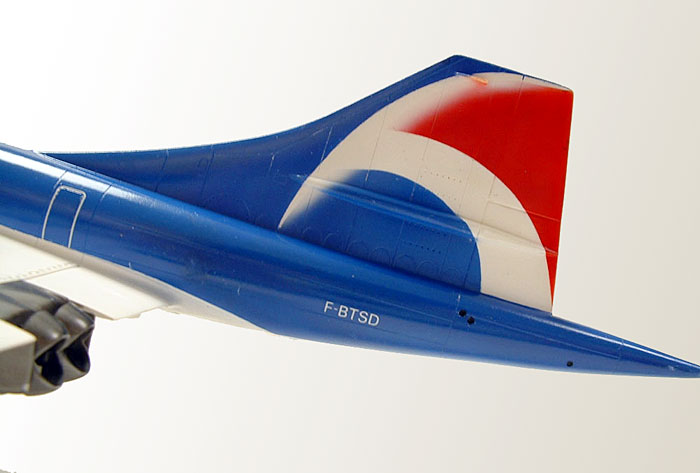 Decals were applied as per instruction with additional stencils taken from the kit decal sheet. If I were to attempt another Pepsi Concorde, I'd obtain two sheets of the Flightline decal as the underlying colours were bleeding through. I had to mask and respray over the white 'Pepsi' logos on the sides as a result of.

Much thanks to Mr. Robert Dippi on AirlinerModelling for offering his set of Flightline Pepsi Concorde decals, without which this project probably would not have been completed on time.

This project is dedicated to a friend.
Click on the thumbnails below to view larger images:
The Concorde Story

Sixth Edition




General Aviation

Author: Christopher Orlebar
US Price: $29.95
UK Price: £19.99
Publisher: Osprey Publishing
Publish Date:

May 20, 2004


Details: Hardback; 232 pages; ISBN: 1855326671
Model, Images and Text Copyright © 2004 by John Chung
Page Created 12 April, 2004
Last Updated 12 April, 2004
Back to HyperScale Main Page