Prince of Wales
by Bernie Dominiak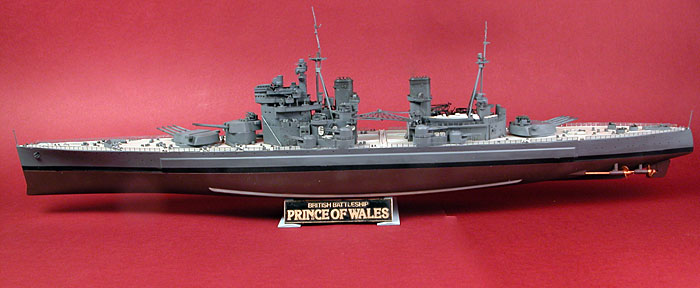 Prince of Wales
May 1941 immediately post Bismarck engagement
images by Brett Green

Tamiya's 1/350 scale Prince of Wales is available online from Squadron
I usually build Luftwaffe aircraft but occasionally I like to build other topics. And I do not have the skills to build "factory finish" kits so I have to beat them up a bit to cover my mistakes.

So when Tamiya's 1/350 scale Prince of Wales, complete with a photo etch set, came into my possession partly built, I looked for battle scenario's to build. The Prince was really only in one battle in which she took a beating but survived. This was the engagement with the Bismarck when the Hood was sunk and the Prince was obliged to make smoke and disengage.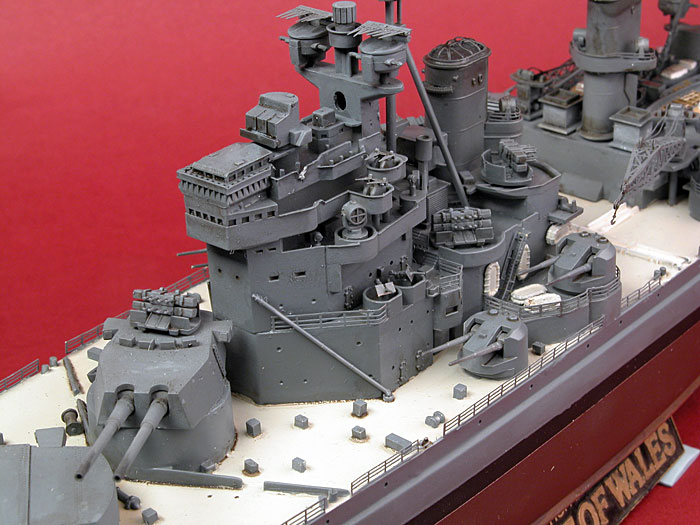 So now to check out the previous building and how to model the battle damage.
One aspect of the kit I did not like was the deck because it comes in three pieces and the middle piece does not fit snugly into the others. Maybe this was more of an issue for me because aeroplane bits always come in two halves. In the end, the decks became misaligned; I tried to putty the gap problem, and subsequently lost the deck plank raised detail and that looked very ordinary. So I removed all the raised deck detail from the entire deck to hide the putty to hide the misalignment – maybe I should stick to planes.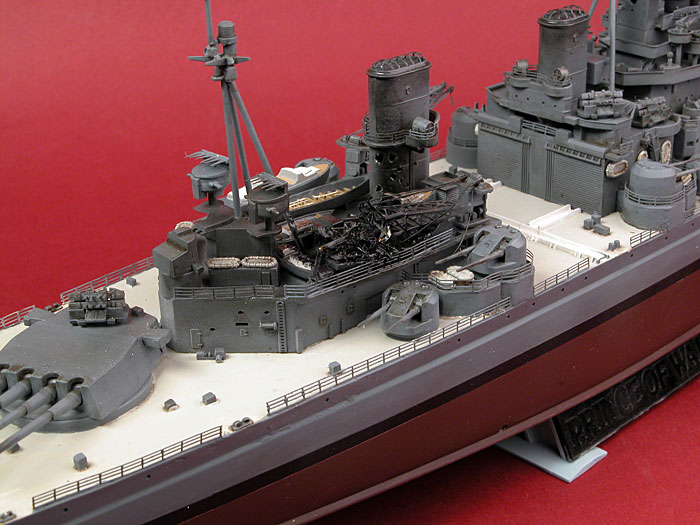 During the engagement, Prince was hit seven times by both 15 inch and 8 inch shells from the Bismarck and Prince Eugen. Most shells went straight through or did not explode so mostly there is not much damage to model. Most of this penetration damage is created by thinning out the plastic wall (of the hull, funnel or superstructure) from the inside and inserting a knife blade and giving a bit of a twist, and repeat the process a couple of times.

The hit which did the least structural damage is actually the most dramatic, and this was on the rear boat deck. A shell struck the boat crane causing splinter damage to the rear funnel and boats. The subsequent fire in the boats destroyed several craft. Damage to boats was mostly done by using a Dremel motor tool, followed by matt black paint in key parts. I threw in left over bits of photo etch railings to create a bit more detail. Several passes with Tamiya's "smoke" acrylic paint finished the process.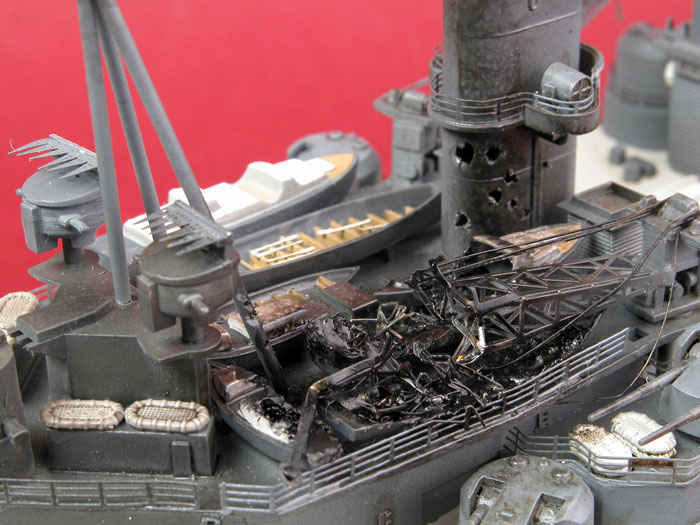 The Tamiya kit is delightfully detailed however photo-etched railings, cranes and other "stuff" enhance with the kit. The cranes are particularly nice and the building of the damaged crane was a real pleasure.

I considered turning this model into a diorama but two hits were below the water line, so I decided to put the ship on its stand. The Tamiya kit was a joy to build (except the deck and that was probably my fault) and the photo etch kit provided delightful detail to replace some plastic bits which were a bit thick.



Click the thumbnails below to view larger images:
British Battlecruisers 1939–45


New Vanguard 88

Author: Angus Konstam
Illustrator: Tony Bryan
US Price: $14.95
UK Price: £8.99
Publisher: Osprey Publishing
Publish Date:

October 22, 2003


Details: 48 pages; ISBN: 184176633X
Model and Text Copyright © 2004 by Bernie Dominiak
Images Copyright © 2004 by Brett Green
Page Created 25 August, 2004
Last Updated 25 August, 2004
Back to HyperScale Main Page