Fine Molds' 1/72 scale
Curtiss R3c-0
by Roger Fabrocini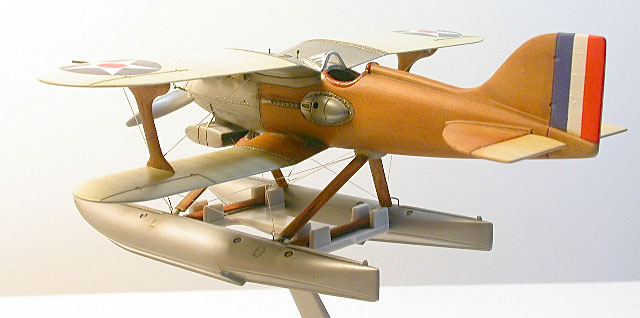 Curtiss R3c-0 Fighter Seaplane (Unauthorized Modification)

HyperScale is proudly supported by
Squadron.com
Fine Molds kit #FJ-2 - 1/72 Curtiss R3c-0 Fighter Seaplane (Unauthorized Modification).
The first reaction on seeing this aircraft inevitably is "what is that?"

To paraphrase the box top:

"The Curtiss R3c is perhaps the finest American air racer of the 1920's. In 1925 it won both the Pulitzer Trophy and Schneider Cup and set a world speed record. Though it now resides in the National Air & Space Museum there are rumors that this "thoroughbred of the Skies" was used at one time for illicit activities. Evidence suggests that a R3c, converted to fighter configuration, was part of an aerial pirate group that scourged the Adriatic during the summer of 1929. This part of the R3c's history is shrouded in mystery."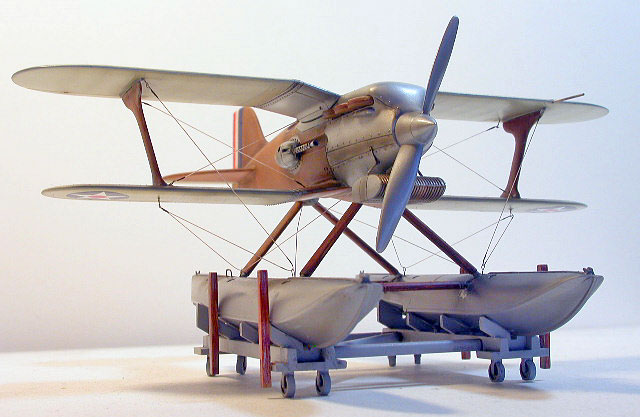 In the animated film "PORCO ROSSO", Japanese filmmaker Hayao Miyazaki has combined his love of "Golden Age" aircraft and fantasy, to create hypothetically modified seaplanes. Along with Model manufacturer FineMolds, Mr. Miyazaki has personally overseen production of some of the seaplanes from his movie into plastic replicas.

The beauty of these kits is two folds. Not only are they skillfully and lovingly modified, but they also provide the modeler the freedom to have fun and experiment with different paint schemes.
I choose to add small amounts of detail leaving the bulk of my attention to a modified livery for the Curtiss. I "borrowed" photo-etched pieces from different frets I had to detail the cockpit. P-47 rudder pedals, spitfire center instrument panel and a Reheat trim wheel. Eduard colored seatbelts graced the seat and I mounted a ring and bead gun site between the upper wing.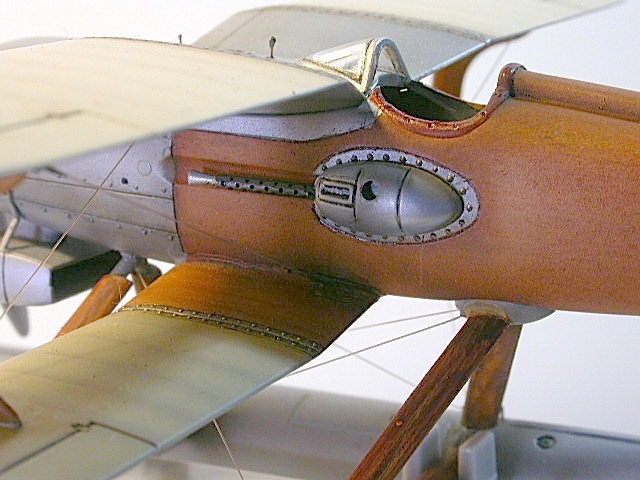 Rigging was preformed using .002" fishing monofilament line passed through turnbuckles made of .004" stainless steel surgical wire. Turnbuckles credit must go to Mr. Jiro Hashimoto, by way of Bucky Sheftall.
Here was an opportunity to deconstruct the markings without committing a sin against the religion of authenticity.

During construction a serendipitous post on Hyperscale's forum stated that there are competitions in Japan involving invented markings for these seaplanes. That was all the inspiration I needed to come up with my own livery for the R3c-0.

Going into this build I felt that I had two options. Retain the hypothetical fighter configuration or modify it back to a racer. Choosing the former sent me researching possible Army Air Corp schemes, but none were to my liking. During research I learned that the prototype R3c-2 had a laminated wood fuselage which got me thinking along the lines of stripping the trophy winning R3c-2 down as if it had just been modified to a fighter. So be it, wood fuselage and interplane struts, aluminum floats and engine cowling, clear doped wings.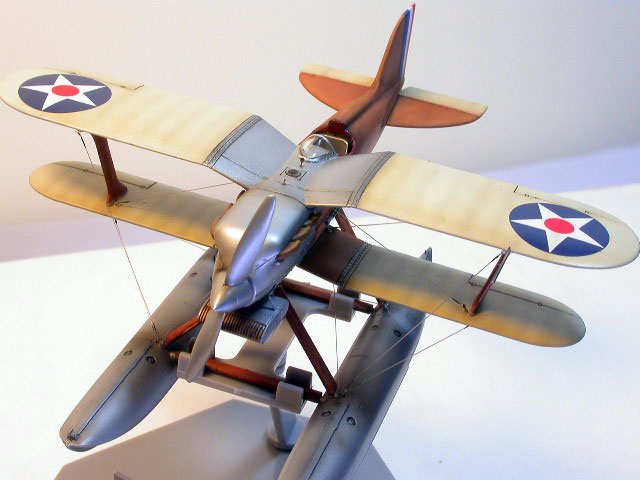 Nothing new here in way of application, just regurgitating techniques learned and used by others. Alclad II dull aluminum for the cowling and floats. Wood replicated with artist oils manipulated over a base of Floquil Lacquer foundation (wood color). the Clear dope linen was reproduced with the technique of pre/post shading using various shades in the Vallejo/Andrea acrylic ranges.
To add some color, i choose to use cockades and rudder stripes even though they probably would not have been added until after the aircraft had been painted.
A personal thanks to Mr. Hayao Miyazaki for starting me on a quest to model more Schneider Trophy seaplanes and for providing a pleasant diversion from my usual obsessive-compulsive pursuit of authenticity.

Any praise for this project should be loaded into a shotgun and unloaded at all HyperScale contributors, thank you all.
Click the thumbnails below to view larger images:
---
Model, Images and Text Copyright © 2004 by Roger Fabrocini
Page Created 22 November, 2004
Last Updated 15 December, 2004
Back to HyperScale Main Page