Classic Airframes' 1/48 scale
RF-5A Freedom Fighter
by Mick Evans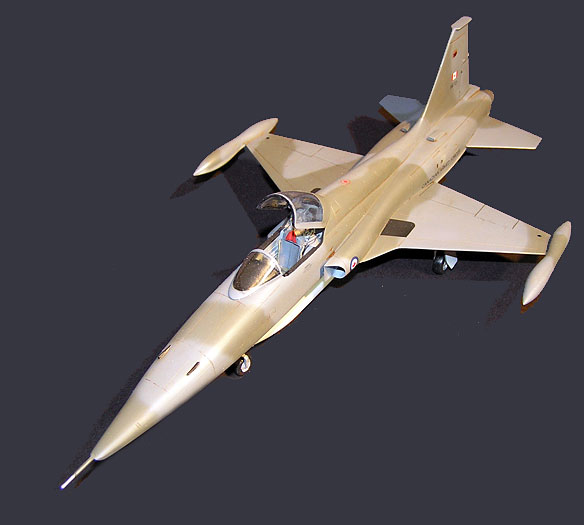 RF-5A Freedom Fighter


Classic Airframes' 1/48 scale RF-5A Freedom Fighter may be ordered online from Squadron

Classic Airframes' 1/48 scale RF-5A Freedom Fighter is quite nice to build. Very little preparation work is required before assembly.

Once the cockpit has been painted assembly of the fuselage was very straight forward, with no assembly hitches at all.

I elected to cut the radar nose off after the fuselage was assembled to ensure the alignment was correct. The clear nose parts were then assembled to the nose and the camera windows masked for protection.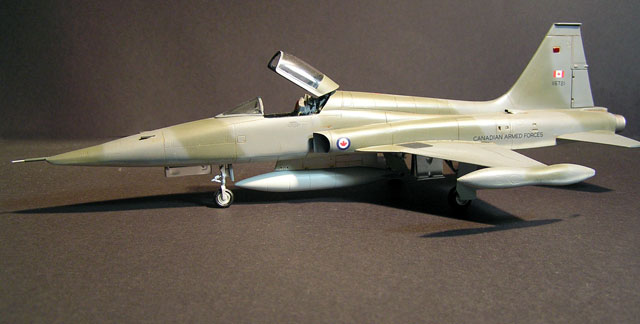 The resin insert for the main wheel bays required some cleanup work before they would just drop in. Once this was done the lower fuselage was fitted and this created my only major concern. Quite a large seam line was present and I think this is a result of the moulding process. Not to worry - a bit of filler some sanding and panel scribing and the ugly seam line disappeared. The intakes were assembled painted inside and fitted. These required a bit of trimming to achieve a good alignment with the front of the main wheel resin insert.

The wings were carefully and gradually trimmed and dry fitted. The time spent here meant that I used no filler on the wing to fuselage joint, just a quick brush of Mr Surfacer 500. The backend was a small problem. When the engine nozzles were fitted a gap appeared at the top. I referred to photographs and drawings and fashioned the brake chute door out of plastic card to fill the void. Ensure that when assembling the wing tip tanks to the wing that you refer to drawings and photographs to get the positioning correct.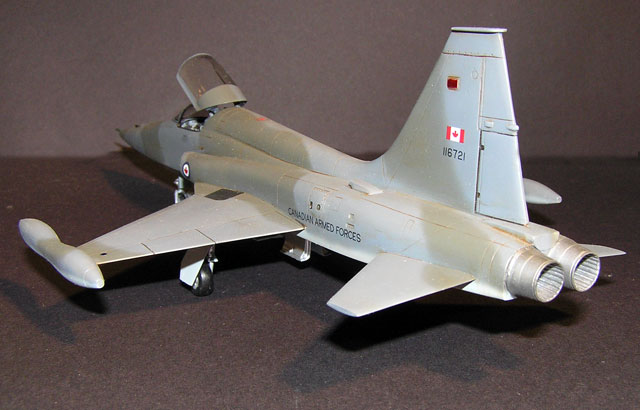 The rest of the assembly was very straightforward, except for the canopy fit, which was an exercise in patience which I eventually got right. This has nothing to do with the manufacturer but the way the canopy opens on the actual aircraft. All transparencies were dipped in Future which added to their clarity

The kit was finished in the colours of a Canadian CF-5A-R based at Elmendorf Air Force Base Alaska in 1968.

Classic Airframes' 1/48 scale RF-5A is a great looking when finished.

---
Model, Images and Text Copyright © 2005 by Mick Evans
Page Created 23 February, 2005
Last Updated 23 February, 2005
Back to HyperScale Main Page