HyperScale is proudly supported by Squadron
This figure is made by The Fusilier.
I particulary wanted to portray a member of the 24th Battalion AIF. A good description of the battalions movements and equipment at the Battle of Broondseinde. were given in that battalions official history. And that gave me an image to work toward.


My figure represents a private of a rifle company, 24th Battalion , Sixth Infantry Brigade, 2 Australain Division, east of Ypres in an area known as 'Gordon Area' during the late afternoon of 3 October. From there the battalion moved during the hours of darkness to an assembly area near Zonnebeke
The battalion then moved to their 'jumping off 'point in the front line around 0400hrs.4 October. The Battle of Broodseinde during the Third Battle of Ypres began at 0600hrs 4 October 1917.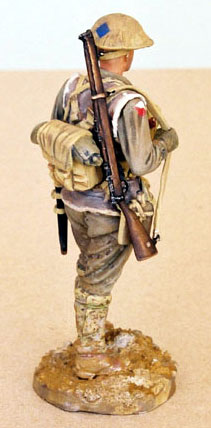 The Fusilier kit GWA4 is approx 1/24 (80mm) white metal and comprises many components, which is a big help when painting. The detail is excellent.
The kit supplies all the equipment as displayed on The Fusiliers' web site. Some of the pieces can be changed around if desired.
As The Fusilier produces a range of additional items I opted for a different head piece. The kit comes with a painting guide but even so I dug out what material I had to familiarise with colours and equipment.

To fit the figure into that time and place, I chose to reposition some parts, leave some out, reshape bits here and there and add a few details of my own.
The history recorded that two objectives were defined for the capture of Broodseinde Ridge – Red line and Blue line- with battalions attacking each wearing a diamond shape of that colour on their helmet.

Rifle companies leading the assault carried rations, an iron ration, extra water bottle two grenades and two hundred additional rounds in their back pack and four sand bags, two of which are wrapped around the figures lower legs.
Each rifle section received nine bandoliers of ammunition - quite a weight to carry.across broken, muddy ground and under fire.



---
Model, Images and Text Copyright © 2004 by Bruce Graham
Page Created 01 April, 2004
Last Updated 31 March, 2004
Back to HyperScale Main Page