Figure International Magazine
54mm Subscription Figure
Roman Auxiliary
by Glen Phillips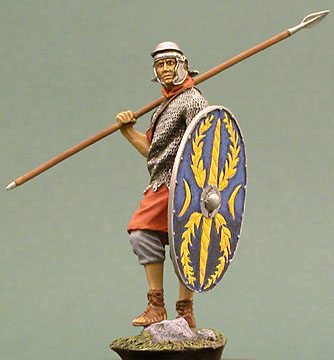 Roman Auxiliary

Figure International Magazine is available online from Squadron.com
Summary
Subject
Figure International Subscription Figure – Roman Auxiliary
Scale
54mm
Medium
Metal
Paint
Andrea Acrylics
Accessories
AEPR002 Andrea Round Base
Since its inception, Figure International Magazine has offered a free 54mm metal figure with a one-year subscription. Their latest figure – for those subscribing or renewing starting with issues 13, 14, 15, or 16 – is a Roman Auxiliary soldier.

This is a well-sculpted and cleanly cast figure in a casual pose, but with a posture that shows some 'movement' due to the raised leg, turned torso and head, and the spear resting over the shoulder. The figure is broken down into a torso, legs, left arm and shield, right arm and spear, head, sword, and base. The head is particularly well done; having a prominent brow, cheekbones, nose, and chin all neatly framed by the helmet and cheek guards. The shield is lightly engraved with the facing design. Although some areas were a bit ragged, the engraving provides an easy guide to painting the crescents, wreaths, and spirals.
Preparation, Painting and Assembly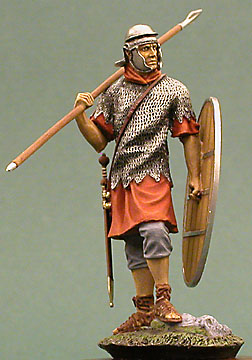 Clean-up took all of about 45 minutes.
Apart from some minor flash and a prominent seam around the toes of the left foot, most of the casting seams had to be looked for under strong light. Even then, I missed a few which didn't become visible until after I primed the parts. Since my plan involved pre-painting nearly everything before assembly, I spent some additional time making sure everything fit. I also pre-drilled the bottom of the kit's metal base to secure it to a wooden base later.

After priming, I buffed the helmet and the metal parts of the spear and shield using a motor-tool. I simply prefer using metal to depict metal rather than painting it. I then painted sandals, followed by the face, arms, and legs. I usually find it easier to paint raised detail first. Consequently, the sword strap was painted, shaded, and highlighted next. The chain mail was then painted Gun Metal followed by a wash of Flat Black. The wash was heavier in the shadowed areas. The lower tunic and sleeves were painted Reddish-Brown (AENAC018), then shadowed with Dark Leather (AENAC048) and highlighted with Golden Yellow (AENAC008) mixed into the Reddish-Brown.

On a side note, both the highlights and shadows were applied using a mix of water and isopropyl alcohol to thin the paint into a near wash consistency. Successive applications of the wash will make the color more intense and more opaque. This is also handy when painting the face. Following up with the base color and the water/alcohol mix allows you to soften any hard lines between the base color and highlights and shadows. After talking to a number of painters and doing some reading, I found this is a fairly widespread technique among acrylic users, so there's no points for originality here.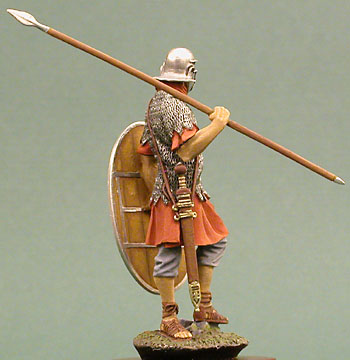 Golden Yellow, highlighted with White and shadowed with Purple (AENAC014) mixes, was also used on the shield design. The shield background was painted Prussian Blue (AENAC022) with mixes of White and Flat Black for the highlights and shadows.
I used the kit base with no additional groundwork. The rocks were painted dark gray, washed with black, then drybrushed with a lighter gray. The ground cover was painted a dark brown mix, given a black-brown wash, then drybrushed with various mixes light browns, tans, and green.