Sack As 6 V1
"Der Fliegende Bierdeckel"
(the flying beer tray)
by Larry Cherniak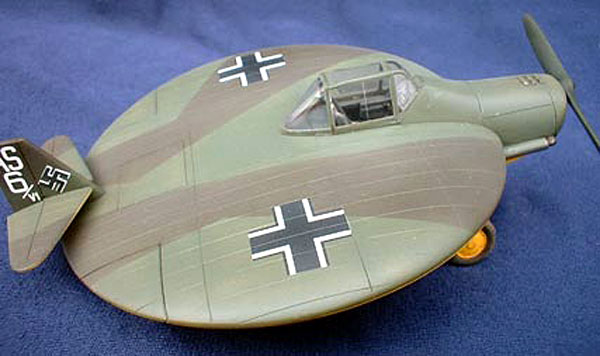 Sack AS6V1

Special Hobby's 1/48 scale Sack As 6 V1
is available online from Squadron.com
The first thing I had to do when I saw an ad for this kit was "Google it" to see if it was for real or another figment of someones fevered imagination.
Sure enough it existed and "flew"- if you consider an awkward out-of-control bounce or two flying. But the story sounds like such caricatured fiction that if it weren't for several pictures I would have written it off as a joke.

It seems that before the war there was a Bavarian farmer and airplane modeler by the name of Arthur Sack who got a bee in his bonnet to make disk-shaped flying models. Luftwaffe General Udet saw one exhibiting good flight characteristics at a flying meet (well, it flew for a bit after being tossed into the air, which was apparently better than most of the models there) and prompted Sack to continue development. This was all the encouragement he needed and the next several years (between milking the cows) were spent building larger and more sophisticated models culminating in the 1m span Sack AS5.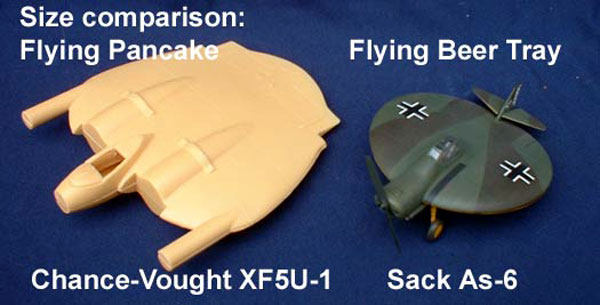 The next step was to get the help of: 1) a local engineer, 2) some local aircraft component manufacturers (MiMo) and 3) some Brandis airbase personnel to build a full-sized piloted model. The engine was an Argus As10C-3 taken from a Messerschmitt Bf108, the landing gear and canopy came from a '109B, and the wing was fabric-covered plywood.

To make a long story short, it was a terrible, unflyable design which careened down the runway veering from side to side before snapping off a landing gear leg, and on a second attempt (by a Messerschmitt Komet pilot, no stranger to danger) ruining the prop. It was abandoned in 1944 and pontedly NOT found by the Allies postwar.
Flashback time- I am old enough to remember when Monogram came out with their Do335 kit in 1/48th ("Das schnellste Propellerflugzeug mit Tandemtrieb..."), and how excited I was. A major manufacturer had actually produced a weird Luftwaffe subject, in 1/48th and with a Shep Paine diorama brochure to boot (inspiring me to try out my first drybrushing and washes)!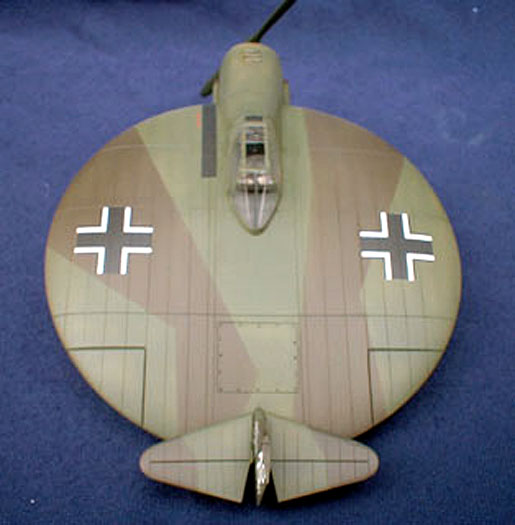 Nowadays it seems that if there was a swastika on its tail you have to search long and hard to find a subject which has NOT been kitted- certainly in 1/72nd, and most in 1/48th as well. This subject is a case in point. There was only one of them, it was a bad, bizarre, eccentric invention which hopped fitfully and dangerously a few times and was then mercifully used for firewood, yet we have both 1/72nd and 1/48th limited run injection kits to choose from (both from Special Hobby).
On the other hand, it was just so odd and such a conversation piece even to the uninitiated (like the neighborhood kids!) that I had to pick one up of the Special Hobby 1/48 scale kits when it went on sale.
It was a lot of work for the curiosity value received- parts fit is iffy and their locations are a guessing game, etc. The resin Argus engine front and exhausts were so nice, however, that I saved them for my ESCI Fieseler Storch kit and scratchbuilt crude substitutes.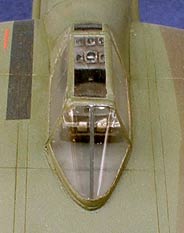 The resin cockpit is also nice- the seat, with integral belts, is beautiful. But forget about the sidewalls, there is no way they will fit- they are too high, must cant in at a 35 degree angle, plus they hit the seat! I blanked off the sides then cut small chunks of the sidewalls to wedge in after main assembly.
The vac canopy (which I had dented in a move due to the floppy box, and fixed as best I could) proved too short and needed shimming at the base.
Each problem could have been minimized had I glued the fuselage lower in relation to the wing, but this would probably have created other problems.
I studied the references online and concluded that this oddball probably sported a low contrast splinter scheme up top and may have had yellow undersides. OK, the evidence for the yellow is sketchy at best (rumored sightings of a yellow "flying disk" around Munich at the time, coupled with the Luftwaffe practice of using yellow undersides on certain experimental vehicles...) but I thought it would look cool and couldn't be disproved at any rate, since RLM04 yellow and RLM76 are often virtually indistinguishable in B/W depending on the camera filter and film used.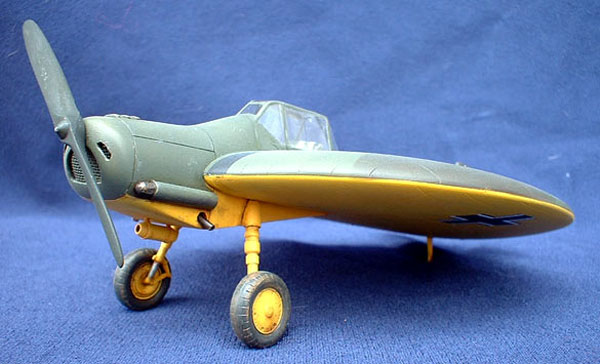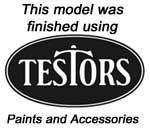 I primed the undersides with Modelmaster RLM22 white, followed by Testors Flat yellow. This was masked and the uppers were sprayed from my dwindling stock of Floquil Military Colors German Dark Green RLM 82 (sic- actually 83) dark green. This was later masked and sprayed with Floquil RLM81 Braunviolet- I wanted a dark, low contrast scheme. Because I was in a hurry now to get it done for the next days club meeting, I gloss-coated with quick drying Modelmaster Metallizer Sealer lacquer varnish.
One unfortunate side effect of this choice, perhaps, was that the very good (although the white was slightly misregistered) Propagteam decals stuck fast where first applied. I found saliva to be the only agent which worked to slide things around. Contrary to my usual practice, I found by this time that sipping a Michelob "Black and Tan" beer during decalling helped establish the proper saliva viscosity, authenticity, and mood.
It was a lot of time spent fiddling around for a goofball curiosity piece, but even so I really get a kick out of looking at it on the shelf now and telling the story of the never-flying flying disk, the hopping manned beer tray.
Now will someone please buy me a Sword 1/48th Chance-Vought V-173 flying flapjack so I can go through it all again?


---
Model, Images and Text Copyright © 2003 by Larry Cherniak
Page Created 11 March, 2004
Last Updated 10 March, 2004
Back to HyperScale Main Page