A British Pacific Fleet Seafire III
880 Squadron Closes Out the Pacific War

by Joe Lyons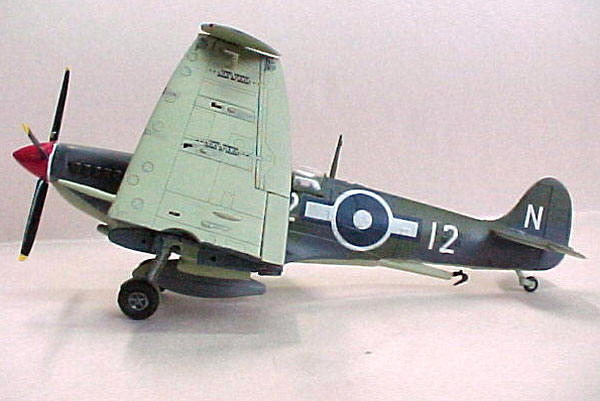 Airfix 1/48 scale Spitfire VC / Seafire Mk.III is available online from Squadron
The Fleet Air Arm was never quite able to operate an indigenous competitive single place fighter in WW II.
There are many and varied reasons for this; readers should consult the references, particularly (e) and (i). This article looks at the most widely produced and most competitive British-built FAA fighter, the Seafire. And specifically its late-war and most combat-ready version, the Seafire III.
The Royal Navy, against all its pre-war plans, finally had to accept the need for a fighter competitive with land-based contemporaries. There was not the time for protracted development, thus the adaptation of RAF designs to operate from carriers. The word "Sea" thus appeared in conjunction with "Gladiator," "Hurricane," and "Spitfire." The last of course ended up as "Seafire."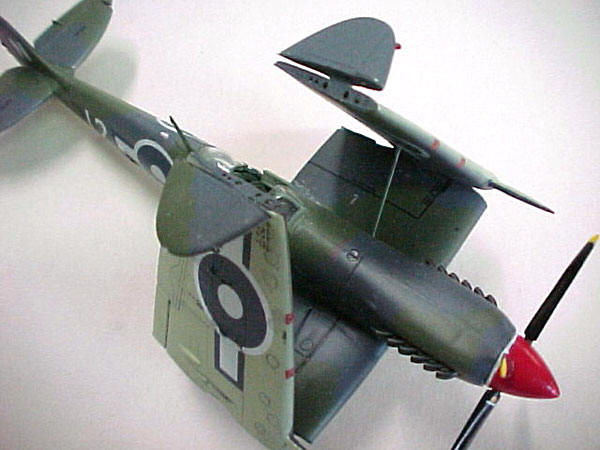 Several of the references address the Seafire in detail, but David Brown's "The Seafire: The Spitfire That Went To Sea" will probably be the definitive story of this fighter. Brown is a Seafire apologist, but the little fighter deserves one. The RN expected a lot from a design never intended for this usage. Perhaps past a lengthy exposition of the fighter's faults and exploits, this quote might suffice:
"…the Seafire saw a considerable amount of successful employment, notably in support of amphibious operations and with the Fleet carriers in the Pacific. The credit for these achievements must go to the Wing Leaders, Squadron Commanders, pilots, and ground crews, who operated in such a determined fashion with such a handicapped aircraft that one must wonder what they might have achieved with a first-rate fighter designed for embarked operations." (Reference d)
880 Squadron and the Seafire
During the War 880 operated every single seat fighter used by the FAA with the exception of the Hellcat and Corsair. Embarked on HMS Implacable in February 1945, it culminated a very busy operational career in the Pacific operating Seafire III and FR III. A member, along with 801 Squadron, of No. 38 Fighter Wing, 880 became a beneficiary of the informal "range extension" program adopted by the wing in June 1945. Acutely aware of the Seafire's range problem that was inhibiting operations, No. 38 found an informal solution in the form of US drop tanks that could be fitted to the Seafire's fuselage bomb rack, More reliable than RAF slipper tanks, the US tanks in a stroke doubled the Seafire's available fuel. Now the Seafire could compete with the US-built FAA fighters in escorting strikes and, with its unmatched rate of climb, provided the BPF with the best interceptor going. Arguably, a Seafire thus equipped became perhaps the most formidable of all Spitfire variants used in combat in the entire war, its deck-landing issues notwithstanding . Faster and higher flying versions were around to be sure, but to use the speed and altitude one needed first to be able to get to the fight.
In previous operations the average sortie length had been between two and two and a quarter hours but in this case, the average had been in the region of three and a half hours, thanks to the 80 and 90-gallon drop tanks.
The extended radius of action possible with the extra fuel led to outstanding offensive achievement. Flying out to as far as 195 miles from the ships, the 324 sorties against airfields and the 157 anti-shipping strikes…destroy[ed] or damage[d] 87 aircraft on the ground and 11 in the air. (Reference d)
Airfix 1/48 scale Spitfire VC
Not too long ago Airfix released a revised and updated kit of its 1:48 Spitfire. The kit offers just about every Mk V variant, at least the cannon armed versions and a Seafire tail hook and a four bladed prop as well. Plus a very nice Seafire BPF decal option. There is a bit of crudeness here and there, but no one else has done this in injected form and the price is certainly right. So I set out to "do" a folded wing 880 FAA Seafire, complete with drop tank.
Kit Options:
1. Four Blade prop
2. Six stack exhaust
3. Belt-fed cannon wing
4. Fuselage cut-out for arrester hook
5. Arrester hook, displayed partially deployed.
6. Normal wing tips
7. Part #76 main gear mounts
8. Late carb intake and filter
9. Part #50 lower engine cowl
---
Kit Modifications
1. Cut wing fold at outer edge of wheel well (folds done with .025 wire)
2. Cut wing fold at wing-tip
3. Replaced kit openable canopy with one from Hasegawa Mk V
4. Folded wing braces (.025 wire)
5. Scratch-built seat armor
6. Drop tank (from spares; not sure of the kit source)
7. Engraved the enlarged elevator horn balance for this variant; filled in the redundant hinge line. Cut out and drooped the entire assembly to reflect a Spitfire at rest. [I avoided the inclination not to do this after all minor mod, but demurred knowing Bruce Archer would come over and break up my lawn furniture if I did not]
---
After-Market
Airwaves photo-etched parts
1. Radiator grill
2. Gear doors
3. Catapult spools
4. Bomb rack
5. Wing fold inserts and hinges
6. Fuselage strengthening plates around radio access hatch, at arrester hook hinge point, and along longerons under cockpit.
7. Windscreen mirror
After Market Resin (True Detail)
1. Mk V cockpit
After Market Resin (Ultracast)
1. Seat
2. Cannon Barrels
As with all Spitfire models, the joint between the wing inner edge and the fuselage fillet can be a challenge. The Airfix kit provides a "step" that must be addressed with filler. Overall, the kit part joints are adequate but not perfect. The kit seat is crude after all this time, and wanting to use that Ultracast seat, I had to scratch the armor to which it was mounted. The TD seat would have been a reasonable usage as well. The cockpit sidewall were thinned to take the TD parts, and clamped into position as the CA set up, this to avoid 1' scale thick walls.
The fixed portion of the canopy was cut from the kit canopy (none of the after market stuff works here): Airfix may have been breaking new ground with the canopy. The Kit windscreen was used as well, the third part being a spare Hasegawa canopy.
All BPF aircraft were painted in the Temperate Sea Scheme of
Extra Dark Sea Grey (Polly Scale)

Dark Slate Grey (Humbrol)

Sky (Testor's MM enamel).
with:
Testor's MM British Interior Green in the cockpit

Floquil Marine Colors Anti-Fouling Red Oxide for the Bakelite seat back.

Exhaust stubs: Testor's Exhaust Color Metallizer.

Spinner: Red (Tamiya Red X-7 acrylic). I could find "indications" but no positive proof this aircraft had a spinner this color.
The basic exterior colors were applied using a Black Magic Spitfire mask, and then sealed with Future. Decals came next, almost all from the kit. The fin "N" and the aircraft 3-digit letters are from after-market sheets. MM Acryl Flat Clear went on last.
To read about RN and USN carrier ops at the end of the war is to read of high sortie rates and much wastage due to combat and accidents. The replacement pool in both navies via CVEs had matured to quickly make up the wastage, the point being aircraft did not have much time to "weather." 880's Seafire shows a bit of NM scuffing at the wing roots, and a bit of gun powder and exhaust deposits (pastel chalks). Some of the cowling Dzus fasteners have had the painted scratched off by tools. And, with the wings folded all of those inspection plate joins on the underside are emphasized with a black weathering wash.
I've built probably over 30 Spitfire models in three scales. This is the ONLY one where that famous stencil, "Location For Wingtip Steadying Trestle" can be read without using a mirror.
Bachelor, L.. (1971). PROFILE 221 Supermarine Seafires (Merlins). Windsor, Berkshire, England: Profile Publications, Limited.

Balance, T, Sturtivant, R.(1994). The Squadrons of the Fleet Air Arm. Tonbridge, Kent, England: Air-Britain (Historians) Ltd.

Brown, E. (1980). Wings of the Navy Flying Allied Carrier Aircraft of World War Two. Annapolis MD: Naval Institute Press.

Brown, D. (1974). Carrier Operations in World War II Volume I the Royal Navy. Annapolis MD: Naval Institute Press.

Brown, D. (1973). The Seafire The Spitfire That Went to Sea. Annapolis MD: Naval Institute Press.

Friedman, N., Hone, T.C., Mandeles, M. ((1999). American & British Aircraft Carrier Development 1919-1941. Annapolis MD: Naval Institute Press

Freeman, J. (2002). Seafire II and a Seafire III Using the Model Design Construction Conversion Sets. Scale Aircraft Modelling, 24, 24-25.

Glover, T. (2002, March 24). Folding Wing Seafires. Scale Aircraft Modelling, 24, 20-23

Hobbs, D. (1996). Aircraft Carriers of the Royal and Commonwealth Navies. Mechanicsburg PA: Stackpole Books.

Millett, A. R., Murray, W. (ed) (1996). Military Innovation in the Interwar Period. Cambridge: Cambridge University Press.

Morgan, E.B and Shacklady, E.(1987). Spitfire The History. Stamford, Lincolnshire, England: Key Publishing Ltd.
Click the thumbnails below to view the images full-sized.
Use your browser's Back Arrow to return to this page:
---
Text and Images Copyright © 2005 by Joe Lyons
Page Created 14 February, 2005
Last Updated 14 February, 2005

Back to Reference Library