Dynavector's 1/48 scale vacform
De Havilland
Sea Vixen FAW.2
by Ingo Degenhardt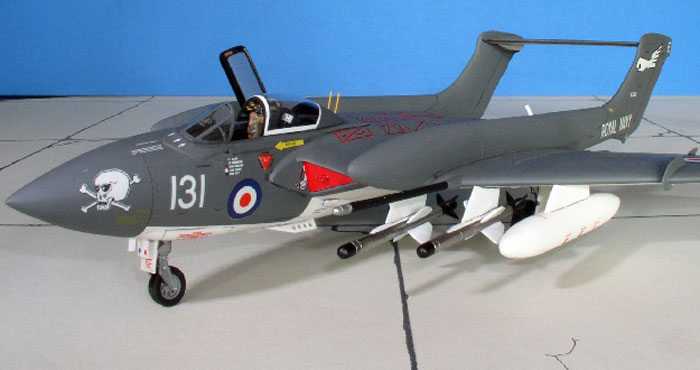 DeHavilland Sea Vixen FAW.2
images by Lutz Degenhardt


There are quite a number of bizarre-looking British aircraft from the 1950's and one of them is certainly the Sea Vixen by DeHavilland.

Developed from the D.H. 110 prototype it was DeHavilland's proposal for an all-weather fighter bomber demanded by RAF and RN.

When the RAF finally went for the Gloster Javelin, development work continued now focusing on the carrier-based version only.

Despite a catastrophic crash of one of the prototypes (WG 236) at the Farnborough Air Show in 1952 work on the Sea Vixen continued and finally it was accepted by the RN to replace the Sea Venom (also by D.H.). In 1959 the first squadrons were equipped with the Sea Vixen FAW.1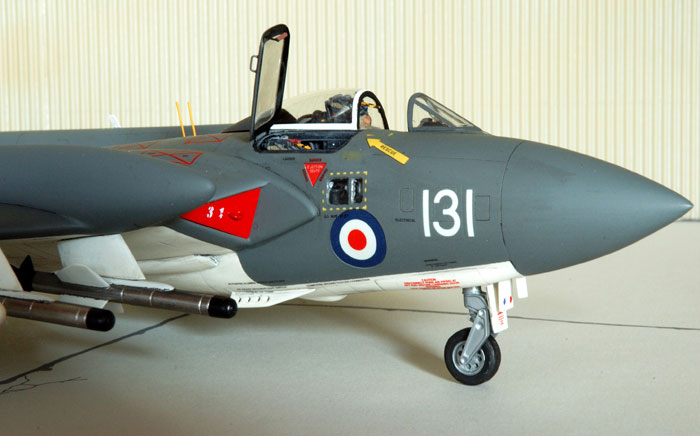 It soon became apparent that the FAW.1 suffered from insufficient range – a problem solved with the introduction of the FAW.2 with it's enlarged twin booms, now extending over the wing leading edges, carrying significantly more fuel. With this and some further improvements the FAW.2 became the final version of the Sea Vixen from 1962 on. Total production included 119 FAW.1, ob which 67 were converted to FAW.2 standard and 29 new produced FAW.2 aircraft.

Sea Vixens remained in service with the Royal Navy until 1972, when 899 squadron aboard HMS Eagle was disbanded as the last squadron equipped with Sea Vixens.

Many of the now surplus Sea Vixens still saw service at various test- and evaluation units for several years and 11 were converted into remotely controlled D3 drones.
I just had to have a Sea Vixen – in 1/48. So there was no other choice than Dynavector's vacuform model. I was a little bit concerned as this would be my first vacu and the twin-boomed Sea Vixen being not quite an ideal object for vacuform-beginners.

I finally decided to give it a try and read a lot about vacuform modelling and it's peculiarities. Good preparation always is useful and especially here, where the most important operations are due right at the beginning.

Opening the plain box I discovered two big white rectangular plastic sheets containing the outformed parts. A smaller variant for the clear parts and a heavy plastic bag with white metal parts. Furthermore a surprisingly rich decal sheet and the 6-page instructions.
Looked like a lot of work. And it was.

I started by removing the main parts (25 pcs) from their plastic environment. Accuracy is the most important thing during this stage, because the fate of the model is already decided here. With a permanent ink marker I drew a broad line around each part, carefully making sure no white spots are left on the marker's black line. Then a sharp hobby knife is drawn around the part, following exactly the shape of the part, held at a 45 degree angle. Only moderate pressure is applied. After repeating this operation several times I started to bend and twist the part carefully to break it from the sheet. With the cuts deep enough it should break exactly along that line. May be here there some additional knife work is necessary as the thickness of the plastic varies sometimes. The separated part now has a thin black line around it. This line indicates exactly how much surplus material now has to be sanded off – i.e. everything White below it. The black line has to be strictly obeyed.

Now it gets a little bit difficult – neither too much nor too less plastic must be removed. Both causes a lot of trouble later during assembly.

I used a sanding block and a sheet of sanding paper taped to the desk for the sanding operations, changing between the two whenever the one or the other seemed to work better for the task I was working on.

Permanently checking the progress is an absolute must as the sanding is easily overdone. Removing and sanding the parts is a lot of work and takes a while to finish, but finally I had my 25 parts in front of me.

Now the marked openings for cockpits and wheel wells had to be cut out. Some care is needed here too – the parts can easily be damaged in the process, and again, not to cut out too much as this is very hard to correct.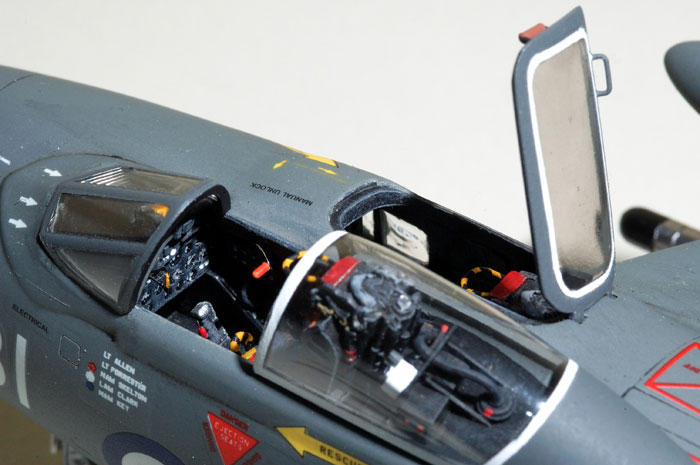 From now on everything is just like a normal injection moulded kit – almost.

In case of the Sea Vixen the engraved panel lines had to be partly rescribed as they are not always continuous. Some (vertical tail plane) are wrong and/or incomplete and had to be corrected. Assembly of the main components is mostly trouble-free as long as one pays heed to the recommendations from the instructions. Reinforcing some of the joints from the inside is no mistake either.

The numerous white metal parts require a good deal of preparation because they are rather rough and there is a lot of flash. Even though Dynavector is considered a top-manufacturer of vacu-formed kits, not all necessary parts are contained. I had to do some scratchbuilding. But first I had to find out what was missing – Dynavector does not tell. Good references are essential here.

Except for the tubs the cockpit parts are completely white metal and provide a good base for the extensive work that is inevitable if you want a detailed cockpit. It also serves as bow weight, but to be sure I added some lead to the front fuselage.

The seats were a disappointment – they do not even meet the detail of modern 1/72 standards, not even close. I immediately forgot about them as there are some excellent Martin-Baker Mk.2 ejection seats by Airwaves available.

Depending on personal preferences and/or skill limitations any amount of detail can be added to the cockpits, just make sure the seats will still fit in afterwards. In case of the observer's 'black hole' this only makes sense when the canopy is displayed in the open position.
Windscreen and canopy of the pilot have to be shortened considerably on their right lower edges because attached as they are, they will show a prominent angle to the left which is wrong. They are straight just like any other cockpit – only on the left half of the fuselage. This goes as well for the pilots instrument panel.

In addition to cockpit detailing other scratchbuilt items were:
Fuel dump (right wing)

Vortex generators on wing trailing edges

Trim rudders

Various antennas on fuselage top and bottom and left boom top

Brake hoses

Air intake/engine covers
A little bit of extra detailing I added to the wheel well covers and main gear actuators. The leading wing fences are white metal parts and much too thick. I used thems as a pattern to make new ones from thin plasticard.

So it's a lot of work, this Sea Vixen, but slowly it approached the next step – painting.




Painting
Now here everything is familiar business.

The standard Fleet Air Arm Sea Vixen had upper surfaces in Extra Dark Sea Gray and undersides in White.

I used Xtra-Color X5 for the EDSG and Humbrol White – both gloss colors that provide a perfect surface for the decals.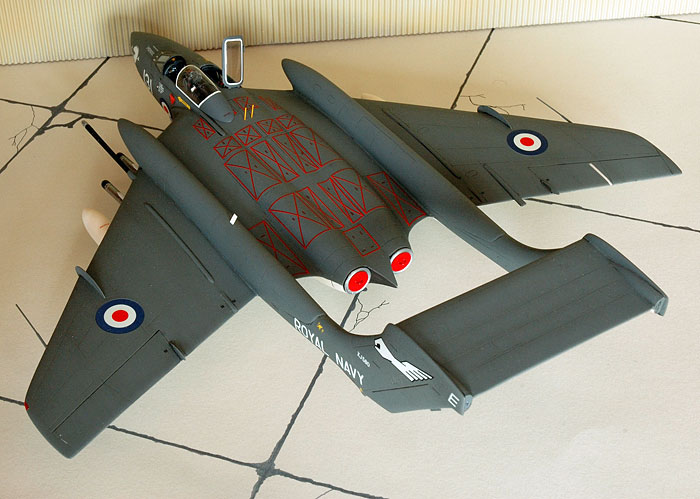 I did some weathering by lightening up the EDSG a bit for the initial paint job and then used the original paint to spray along engravings, shadowy areas and so on. A few random cloudy patterns were sprayed on too.

A wash with heavily diluted flat black enamel followed, during which the lower fuselage and wings received a rather heavy treatment of the wash as most in-service Sea Vixens showed a very dirty underside; at least this is my impression from several photographs.
---

Decals
The already mentioned rich decal sheet provides markings for three aircraft – two planes of 899 squadron/HMS Eagle; '131' with a skull and crossed bones as nose art and '137' with a sharkmouth and brightly colored flowers painted on the underside of the horizontal stabilizer. Both aircraft date from the early seventies. The third option is one the colorful D3 drones in cream yellow and red – 1980/81.

The decal sheet even had complete stencils but in general I was a little bit suspicious looking at the decals – they were flat and had a very thick carrier film. But there was no other choice at the time, so I started work and soon was surprised at the good behaviour they showed:
There was nearly not silvering (not even among the mass of red walkway lines on the fuselage top) and despite their thickness they reacted quite well to Microscale Set & Sol. So no serious problems on irregular surfaces. The only extra-treatment they needed were two coats of clear flat to make them blend into the surface.

I used Humbrol Matt Koat for the finish although Sea Vixens were initially painted glossy but this seemed to have faded rather fast during active service and on many photographs the paint look quite flat. To fit the weathering done beforehand, I went for a flat, used-looking clear coat.
All in all I am very satisfied with the result and will have no fear to make another vacuform model in the future. Of course there are some things I could have done better but I think I have learned a good deal and will avoid some mistakes next time.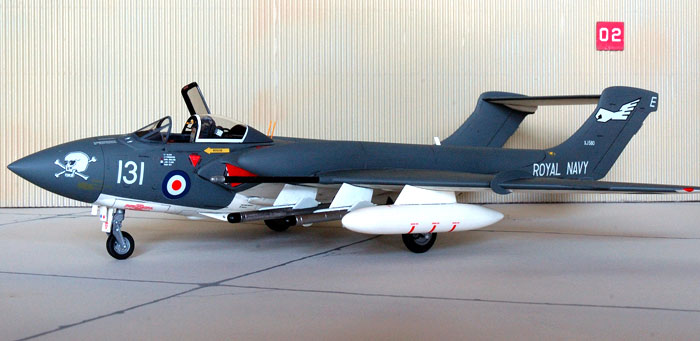 May be a Gloster Javelin or a Fairey Gannet…

---
Model and Text Copyright © 2005 by Ingo Degenhardt
Images Copyright © 2005 by Lutz Degenhardt
Page Created 18 August, 2005
Last Updated 17 August, 2005
Back to HyperScale Main Page