A Change of Pace...
Sexy Blond in 1/18 Scale
by Glen Phillips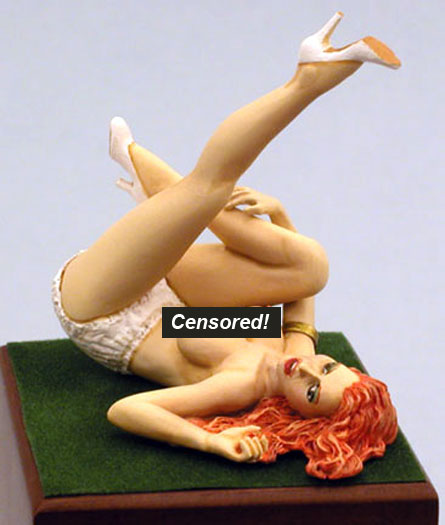 "Sexy Blond" with customised "Redhead" conversion
Coree 1/18 Scale

Coree's 1/18 scale Sexy Blond is available online from Squadron.com
The Challenges of Research...
I like painting knights and the occasional Napoleonic figure. Sometimes, however, I need a break. Something completely different. I had experimented with Coree's (ex-Dynasty) Hot Body I (DN3547), but I wanted something larger. Then I saw Coree's (also ex-Dynasty) nude Sexy Blond (DN1801) in 1/18 scale. The problem lay in the nude part; I still didn't feel comfortable putting that on the web. The trick then, was to cover her ventral area in order to make her less risqué. Panties? A thong bikini? Drop tank? Nah. Too common. Consequently, I went back to the Hot Body theme – a diaper. The larger figure, however, would require more detailed research. Modelers love research. There were so many questions regarding colors, shapes, sizes, material characteristics, and the… umm, optional weathering.

Trips to the local hobby shops revealed very little in the way of accessories or references covering diapered women. Well, none actually. As common as diapers are on this planet, you would think that there would be a plethora of aftermarket material on the subject. Not so much as a photo-etch diaper pin from Eduard or Verlinden – minor oversights I'm sure, and ones that will probably be corrected in due course.

I faced a similar situation with regards to books; a diapered women walk around would be best seller. Likewise, a Verlinden Lock-On or perhaps more appropriately a Pin-On. Basically, the definitive work on diapers and waterproof pants, including the wrinkling characteristics of plastic versus rubber pants or cloth diapers versus disposables, has yet to be written. Ok, any work as yet to be written. Consequently, some additional research and observation was necessary. Not to get on a soapbox here, but I simply don't understand why the modeling industry doesn't respond to modelers' obvious interests and needs. In any event, it was time to think outside of the hobby shop box. I went to Victoria's Secret.

Go to any military related museum and look for someone taking detailed photographs of a subject. There's a good chance that person is a modeler taking reference photos for their next project. This is a fairly routine occurrence and no one thinks anything of it. Hang around the local mall's Victoria's Secret, however, and ask a woman to model a diaper so you can take reference photos, and they look at you like you're nuts. Then they call security. Well, I hardly ever shop there anyway. The mall, not Victoria's Secret.

My last recourse was the Internet. I figured about five minutes worth of research would be all that was needed. I would be able to discern colors, patterns, shapes, and sizes.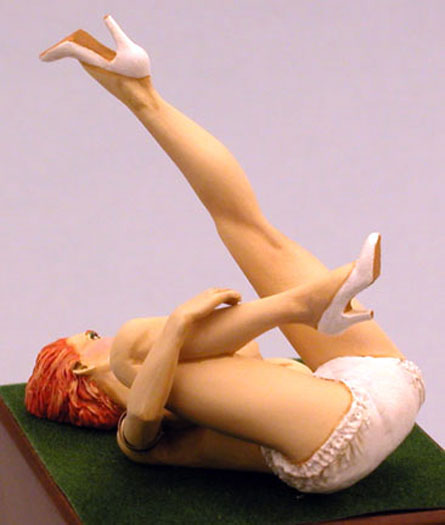 Six months later…

Well, I'm exhausted… I can't feel my mouse hand and I seem to have taken up smoking. There was certainly no shortage of available material. I was amazed at the sheer number of sites – the Internet is obviously a mecca for figure modelers. [Note to Brett: Brett, what do you think of this: DyperScale! No need to thank me buddy; I'm always looking out for ya.]

Despite my exhaustion and numb fingers, I was ready to begin the project. For the most part, Coree's Sexy Blond figure is exceptionally well cast. Minor pitting and flash were easily taken care of with Squadron white putty and a sanding stick. I also flat sanded her back on a piece of glass to reduce any tendency to rock on her base.

The bent right leg and integral hip is a separate piece, as are most of the left leg (split at mid-thigh) and the right arm (split at the bicep). All are a near perfect fit. I attached the left and right legs, but left the right arm off, and cleaned up the joints. Next, I sprayed a light gray primer over the figure. I then gave her a thorough examination in strong light; any remaining flaws were quickly removed.

The diaper and rubber pants were sculpted using Andrea Sculp two-part putty. The putty was kneaded together using wet fingers, then blotted dry and troweled onto the figure. The diaper is a bit fuller where it gathers between her legs. I used toothpicks and a knife blade to impress the wrinkles in the rubber pants and the puckering of the elastic leg and waistbands. The impressions were then smoothed out with a wet paintbrush.

The figure was reprimed in white, and then sprayed with Testors Model Master Shadow Skin Tone Tint enamel. This was followed by successive applications of Warm Skin Tone Tint and Light Skin Tone Tint Base, all thinly applied with a Paasche VL airbrush.

The basic facial tones were painted using the Testor's paints, then followed up with Andrea Acrylics. Painting the face and eyes represented a new set of problems – makeup. Knights don't wear make-up; ok maybe some did (and you English historians know who they were). I found a ready source of make-up colors and combinations in several women's magazines (again a failing of the hobby industry in what is obviously an untapped market). Despite some concerned stares at by a number of women (and some pleased stares from a couple of men whom I assume were also figure painters), I was able to gather enough information to go with red hair, green eye shadow, and a dark reddish brown eyeliner – all applied using Andrea Acrylic paints. The hair is a simple mix of Andrea Red and Yellow to create Orange. The hair was shadowed with Dark Reddish Brown mixed in the base hair color and highlighted with more Yellow.

The shoes, diaper, and rubber pants were painted Andrea White. The areas covered by the diaper are opaque, while areas covered by the translucent rubber pants have a bit of the skin tones showing through.

Once all the paint was dry, I coated the hair, rubber pants, and shoes with Humbrol Satin Cote and added the right arm. The right arm seam was covered with a gold painted band of Verlinden's metal foil. It was best way to hide the seam without having to match up the paint during the inevitable retouching. I mounted the figure on an Andrea Square base with Pedestal covered with a piece of dark green velvet paper.

I thoroughly enjoyed this diversion from my usual medieval figures. If you're looking for a change of… pace, then diapered women (a great name for a female rock band by the way; just think of the savings on stage costumes) might be something worth looking into.

Just don't go to the mall.

If nudity offends, do not click the thumbnails below:
---
Model and Images Copyright 2004 by Glen Phillips
Page Created 11 April, 2004
Last Updated 11 April, 2004
Back to HyperScale Main Page