Testor's SR-75 Penetrator & X-7 Thunder Dart
Blackest of the Black
by "Bondo" Phil Brandt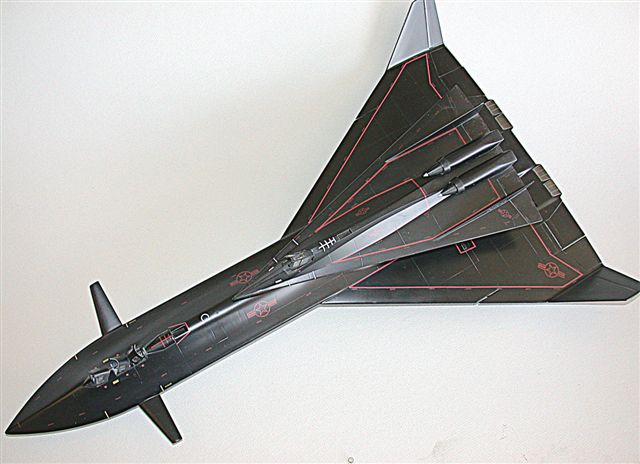 SR-75 Penetrator & X-7 Thunder Dart
HyperScale is proudly sponsored by Squadron
The very recent revelations by Aviation Week and Space Technology (AWST) that all those rumors and supposed sightings over the past decades of an SR-71 follow-on program, code-named "Aurora", may not have been that far removed from reality. AWST posits that the super "black" reconnaissance system may in fact be in seclusion, mothballed at Groom Lake or at a rumored, highly classified new test site in Colorado.

Employees of the Black Projects Division of Bondo Industries weren't surprised at the news because they, too, had always believed that there was no way the A-12/SR-71/Tagboard programs could be allowed to die with no air breathing progeny. Thus, these modeling stalwarts long ago availed themselves of the now hard-to-find Testor SR-75 mother ship and its separately available X-7 Thunder Dart air launched, high-Mach reconnaissance vehicle.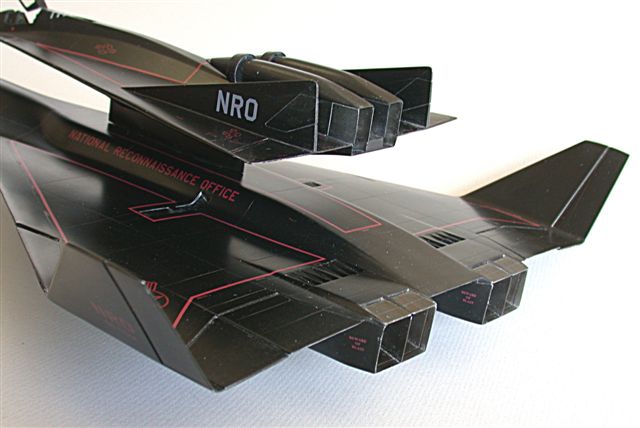 Highly respected John Andrews of Testor Corporation was a key proponent in that company's past titillation of the world modeling community through the release of more than one imagined development in the Black World of aviation. John didn't go into projects willy-nilly and was careful to lay reasonable foundations for his creations. It has been said that Testors early release of their F-117 impression put real world engineers at the famous Lockheed Skunk Works into a tizzy.
Both kits are of the tough black plastic so typical of the Testors YF-12A and SR-71 kits, and the so-so fit should not surprise any but the most recent aircraft plastic modeling enthusiast. Molding is very smooth, but parts are not as delicately done–some might term them "clunky"--as today's Tamiyagawa releases . Raised paneling is also typical, but rescribing the relatively simple lines was no big deal.
---

Detailing
The large expanse of black airframe in the SR-75–in 1/72 it's essentially as large as the 1/48 Testors Blackbirds–cried out for some detailing to break things up. Thus, it was decided to do an open canopies configuration, including that of the X-7.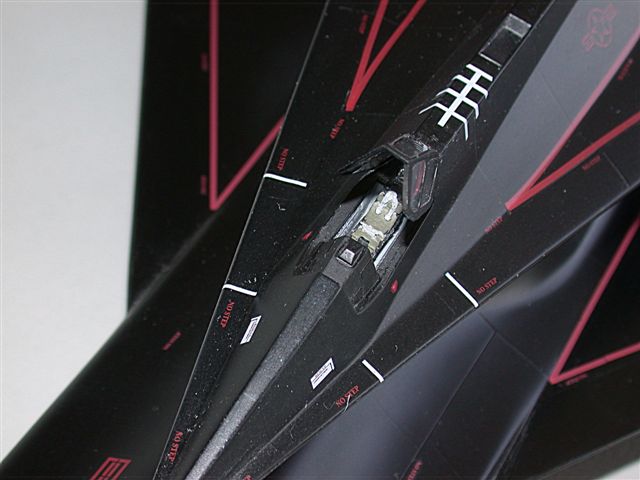 The Testor's interiors are very plain, so the Monogram SR-71 was "cannonballed" for mother ship consoles; four aftermarket ACES II seats are from True Details.
The SR-75's variegated gray scheme pictured on the box art seemed somewhat hokey, and it was thought that an all-black National Reconnaissance Office operational scheme would provide a much more menacing effect.

The industrial strength red walkway stripes on the decal sheet dictated a very glossy surface for proper decal adhesion, and this curmudgeon wasn't interested in shooting coat after coat of gloss clear acrylic or Future over a flat black undercoat to bring up the gloss appropriately. Thus, gloss black was laid on via Tamiya spraycan. Testor Metallizers were used in the exhaust area.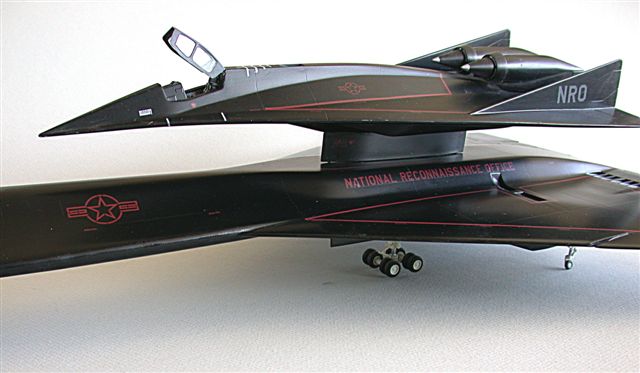 Once the decals were applied to a well-cured (days) surface, multiple coats of Testors flat clear water-based acrylic were airbrushed to build up a suitably thick layer above the decals so that the flat clear could be wetsanded to a desired smooth, semigloss sheen; MicroMesh up through 8000 grit worked very well.
Rarely, if ever, does Bondo Industries go the fantasy route, but it was felt that this project was not without some basis in fact, especially the inflight description offered by an offshore oil platform worker (a seasoned aircraft observer) near Macrihanish, Scotland. I certainly don't know what lurks up at Area 51, but I do know that my brother, after touring said facility in the mid-Seventies, replied to my joking inquiry as to what he saw, "You would be very proud of your country."


Aurora, The Pentagon's Secret Hypersonic Spyplane
Bill Sweetman, 1993. Motorbooks International, ISBN 0-87938-780-7


---
Model, Images and Text Copyright © 2006 by Phil Brandt
Page Created 24 April, 2006
Last Updated 24 April, 2006
Back to HyperScale Main Page