1/144 scale Minicraft TWA
Super G Constellation
by Bill 'C2C' Dye*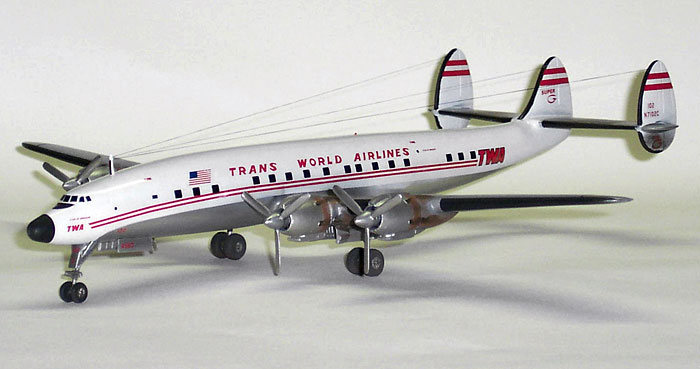 Super G Constellation

HyperScale is proudly supported by Squadron

I was 7 years old. It was 1956 near Pittsburgh, Pa. My Mom told me that my Aunt Toni (short for Anthea) was coming and that we were going to pick her up at the airport on Saturday. WOW! Aunt Toni's coming . . . and did someone say airport!!! A few days later we headed out to the Greater Pittsburgh Airport from our house in Aliquippa (Al-uh-quip-ah), just 17 miles down the Ohio River from Pittsburgh and only a few miles from the end of the Greater Pittsburgh Airport runway. In 15 minutes we were walking next to the huge airport fountain just outside the, then small, terminal building; which, by the way, was a fountain where the water 'turned colors' at night. Later, when I was in high school it was the place to go with a date . . really jumpin' town! But things were simpler then . . . .

We went directly to the gate but on the way I noticed the candy store advertising cotton candy. I wasn't interested. I kept walking. A month earlier my sister and I just 'had to have' a ball of cotton candy at the airport. The guy made it in this big stainless steel tub -- right there. It was a really cool machine! He fired up the machine and three huge cockroaches skittered into the tub from the hole on the top of the center spindle where he poured in the cotton candy goo. He swiped them out with his hand, built the cotton candy ball and handed it to us while our parents were across the way talking. We paid the 10¢, left and then threw it away. Never had cotton candy since!

We arrived at the gate waiting area. It was small, quiet and more formal than those of today. A scattering of ash trays on pedestals, men wearing hats and sitting on metal framed chairs equipped with green cushions. I ran directly to the window and looked at the airfield. No activity. I looked back into the waiting area and I saw a poster of a TWA Connie (white, three tails lots'o TWA red).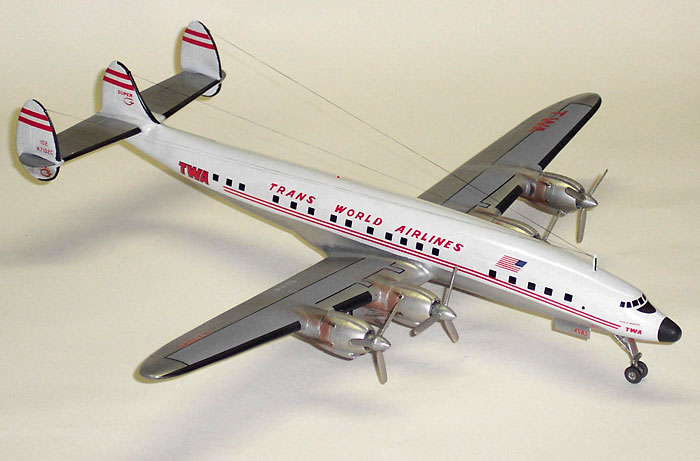 "Hey Mister, is the airplane from California a Connie?"
No answer. . Oh yea, I forgot, adult rule: ignore kid. I went back to the window and I saw lights 'on final'. I saw four engines and lots of dihedral (and I even knew that word then!). Then I saw the three tails.
"It's a Connie!!!" I said.
Nothing. No response from anyone. Some guy folded over the top corner of his newspaper and looked at me through the stream of smoke rising from the cigarette hanging from his lips. He looked at my Mom who wasn't noticing, looked back at me then resumed reading.

I saw the Connie getting closer and closer and finally it came in over the runway and touched down. I lost sight of it as it went out of my view from the window. A few minutes later it popped into view again very close to the gate. It was gleaming white and bright silver with TWA proudly displayed on the tail. (No tip tanks though - bummer.)

It stopped and rocked on the unmistakably tall nose gear. Activity began; announcements, little carts moved around the plane and people pushed stairways to the airplane doors. The props stopped and the doors opened. The people came out looking like they had just come from church. I saw ladies wearing hats, furs, and white gloves. All the men had hats and suits with handkerchiefs in their lapel pocket. Some fumbled for their cigarette packs as they came down the stairs getting ready to have a smoke once they got inside the gate area. Others waved to greeters in the gate area.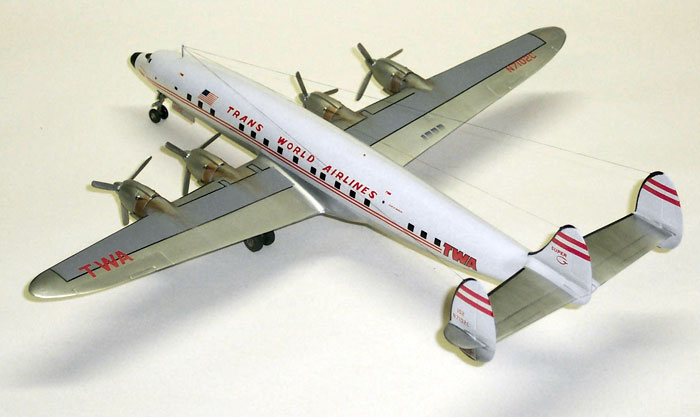 I spotted my Aunt. She came down the stairs, entered the gate area and then all the hellos began. I was excited to see her. Now I got to see who sent me those wonderfully wrapped Christmas presents from California! Finally the hellos started to die down and I finally got the attention of my Aunt (remember kid rule). She came towards me stooped down and I asked excitedly, "So how was it?"
"How was what?" she replied with a big smile.
"How was the Connie?"
"Why, who's she?"
"No, No, the airplane; what was it like to fly in it?" I asked.
"Well . . . it was just an airplane."
She exclaimed how much I looked like my Dad (I did).
I re-focused on the Connie. 'How cool it would be to fly in that,' I thought.
---
Never happened. My first airplane flight was in a DC-3 from Pittsburgh to Toledo (don't remember the airlines, Eastern, Allegheny, or Capital maybe). That was in 1957ish. Next was an Allegheny 727 to Philly from Pittsburgh in a snow storm in '68; but that's another story.

So, when I saw the Connie in the Hobby Shop with TWA markings . . . . "HTHI" (Had To Have It) set in big time.



Well it's Minicraft. I've heard and/or read lots of complaints. Me, I'm easy. If it looks like a duck, or rather a Connie it's fine. I've built far worse kits and far better.
I've only built a few 1/144th models and most have been Minicraft. This kit has very basic flight control surface details and that's it. Standard build up, but the three tails. . ...Hmmm . . . how to assemble and sand the outboard tail joint without breaking the horizontal stabilizer off of the fuselage every five minutes? I decided to attach the horizontal stabilizers to the outboard tails first to make right and left assemblies. I sanded and sanded, and sanded (you know the drill) . I then glued each tail/horizontal stabilizer assembly to the assembled fuselage. This seemed to work just fine.
Click the thumbnails below to view larger images:
---
I sanded the wing with 600, 1000, 1500, 2000 and then all over again . . and then all over again until it got to be quite smooth. Hosed on some Polly S white and then masked for the Model Master metalizer and polished with SnJ powder.

I added the gray walk areas (Polly S light gray) and cut some very narrow walkway boundaries from solid black decal sheet stock. Time to decal! (I like the smell of Micro Set/Sol in the evening!). The decals were nice. The model really comes alive when you put on the main TWA/cheat line and window decals.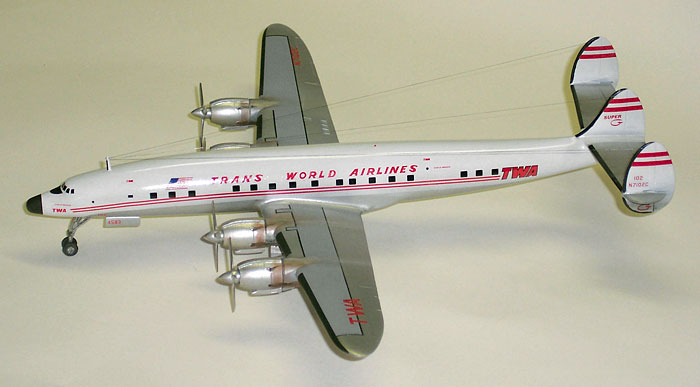 Propellers: Didn't like the kit propellers. Bought some Aeroclub replacements but when I looked at Connie photos, they missed the spinner assembly that went behind the props. So I cut some Aluminum tubing and made up 'aft spinners' behind the Aeroclub props. Lots of filing was required to get the pits out of the propeller blades and to get a better thickness – but they were actually nice to work with and I'd certainly do it again.

The nacelles were fairly shiny in the photos that I have so I tried for the first time Bare Metal Foil and I really like it. It takes a little bit of practice and trial and error (mostly errors) but I think it looks great . . . especially on airliners. I wish I would have used it for the silver on the whole aircraft . . . next model. That's the good news. The bad news is that they were way too shiny for the rest of the model. Frankly, I did only a fair job with the natural metal finish; it could have been shinier. So, I knocked down the shine with a very weak mixture of 'steel' plus clear flat.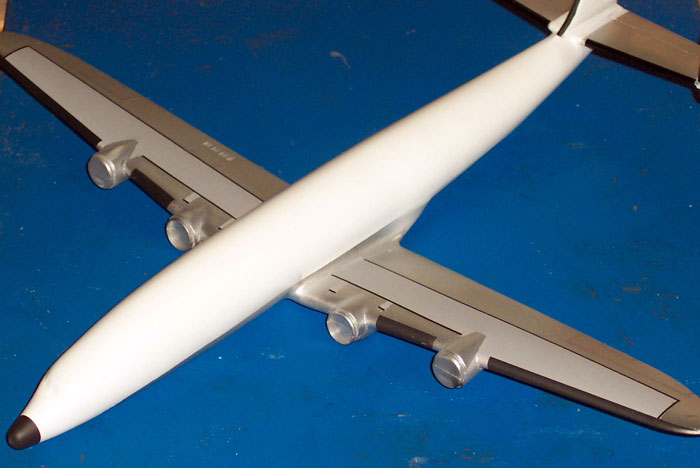 I tried and tried to have patience masking to get the curved anti icing boots on the tail leading edges. I gave up and did it free hand. It looks . . .freehand, but OK.

Landing gears and doors, antenna thingies, radio wires, add a dash of oil/black, brown, grey, white pastel chalks around nacelles, black wash on the gears and tires – done.

This one holds memories for me and I enjoy it now daily. I guess that's what it's all about – to enjoy the hobby and the fruits of your (and others) labors!

AND, get this, I found a post card of a TWA Connie at the Greater Pittsburgh Airport in the early fifties . . might have been my Aunt's plane!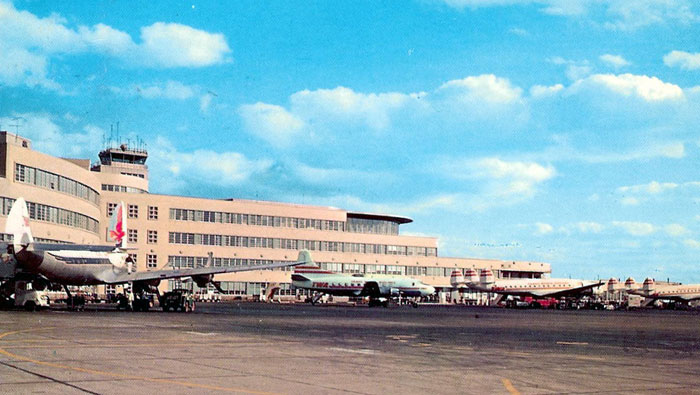 Did I tell you about when I saw a Boeing 707 for the first time? And that it was TWA?

That's also another story.

I wonder what airliner model I might start next!

*C2C: Crap To Cake, a la Roy Sutherland at a Fremont Hornets meeting several years ago: "Leave it to Bill to turn crap [bad kit] to cake." (Or words to that effect.)
---
Model, Images and Text by Copyright © 2005 by Bill Dye
Page Created 27 October, 2005
Last Updated 27 October, 2005
Back to HyperScale Main Page