Trumpeter's 1/16 scale T-34/85
Titanic T-34
by Jay Laverty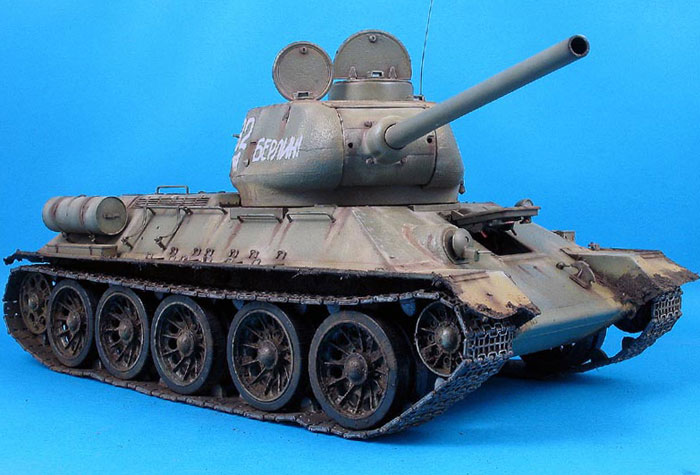 T-34/85 Soviet Medium Tank


Trumpeter's 1/16 scale T-34/85 is available online from Squadron.com
When I heard this kit was coming out I have to confess I was more than a bit excited. Even though I was a bit dubious about it being a Trumpeter kit, I couldn't help but salivate at the prospect of such a gargantuan model of this very important fighting vehicle.
I can say, unreservedly, that this kit fails to disappoint and in fact, exceeded all of my expectations.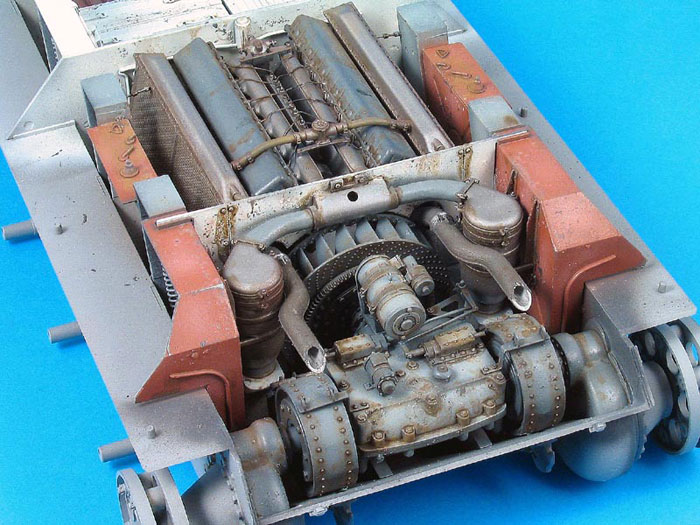 There is plentiful detail inside, and while not complete, is will be a great starting point for any level of modelling. I went somewhere inbetween a box and superdetail job with this one as I could easily have seen this project dragging on for a year. As it was I spent nearly three months building it ( alright, so there was a move into our new house about midway through!)
My commitment to research took me to some extraodinary lengths on this model and I found myself paying a visit to my friend Peter Plume, whom maintains the T-34/85 that lives in the RAF Duxford Land warfare halls workshop. I took my son John with me and my mate Sean Fahy, and Pete was kind enoughto let me climb all over it and get alot of pictures ( If you want to see more then you will have to wait for the Mil Mod article!) and then topped the whole day off, by taking us for a spin.
Of course, much to his dismay, my son John was too young to go for a spin.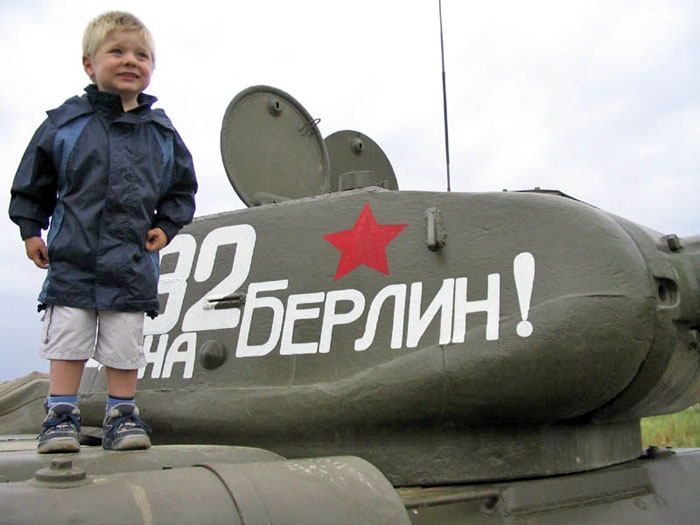 Click the thumbnails below to view larger images:
Fortunately I was able to squeeze my girth through the commanders hatch and Pete put the transmission to the test hauling me around the mud soaked running ground. Cheers Pete! It was the most fun I've had in a long time.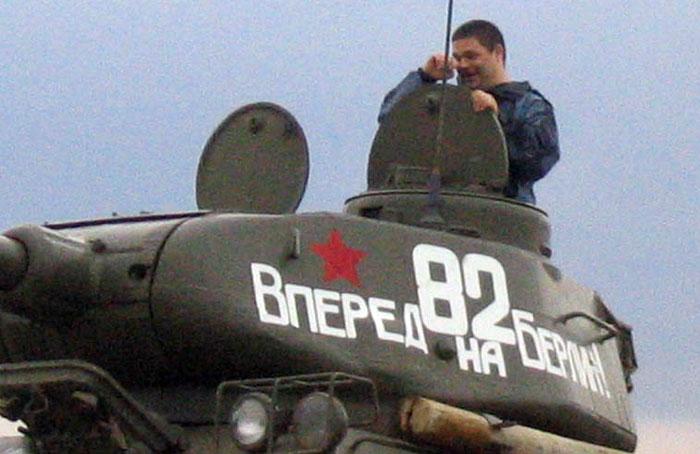 When I sent the finished pics of the model to Pete for inspection I got a reply saying that as I had added a saw to my model he was going to have to put one on Duxfords one to make mine correct!!
The build is great and the fit very good all round.
There are a couple of tricky parts but these will not be challenging for anyone of moderate modelling skills, like myself! The only parts on the model that did not originate in the box were the cables added to the engine and the chain holding the pistol port plug.
For more details on the build keep your eye out in Military Modelling as the full article will appear in great detail in a future issue.
As per usual the entire model is finished in Xtracolor ( X-811 Russian WWII tank green ) and has had alot of shading. I use white for lightening the coats.
Before weathering, the entire model was given a few coats of Gloss varnish in order to precipitate the wash. I use Winsor and Newton's Raw Umber oils for this and I find cutting them with Xtracolor quick drying thinners speeds up the drying time.
After hand painting the turret writing ( Forward to Berlin!) the model is matted down and the weathering pigments are applied. My favorite are CMK' s Stardust ( OK ,it sounds more like a Class "A" drug than a weathering tool, but it works!) as they have about the right amount of adhesive pre-mixed in. This was done in several stages over a period of a week and by the end I felt as though I was on Class A drugs!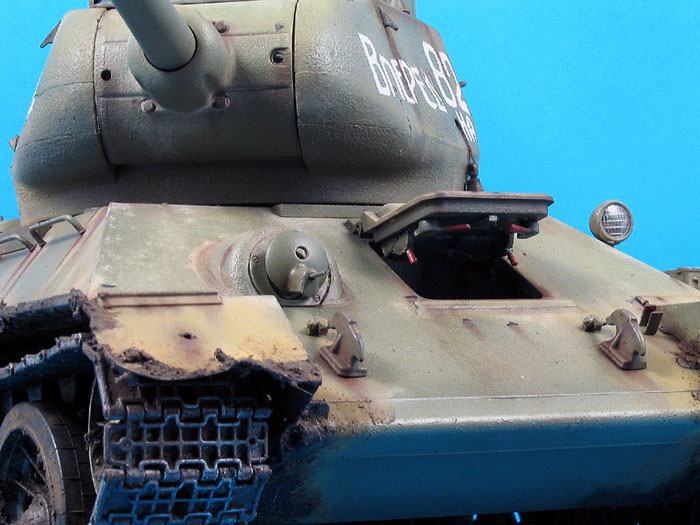 I've attached several photographs that hopefully illustrate the techniques I used to finish this model and have trown in some pics of the real thing, no extra charge!
Many thanks to Pete for all of his unselfish efforts with this article and I hope you all like it.
Click the thumbnails below to view larger images:
---
Model, Images and Text Copyright © 2004 by Jay Laverty
Page Created 03 December, 2004
Last Updated 02 December, 2004
Back to HyperScale Main Page