T-55LD "Operation Quartz"
by Luke Pitt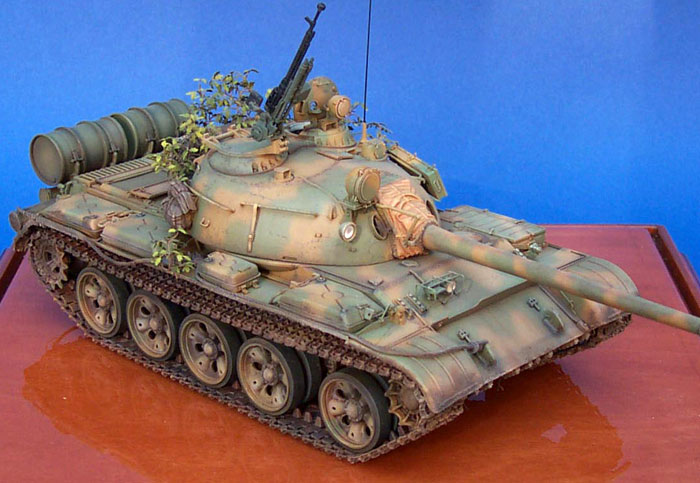 T-55LD


Tamiya's 1/35 scale T-55A is available online from Squadron.com
The Model represents a T-55LD operating in the Rhodesian Army one-month before the abortive "Operation Quartz". Follow this link to read an article about Operation Quartz.
It sports the South African "anti-infra red" scheme of earth and green. The model was weathered lightly as it had only just been re-painted
Hull Modifications
This model started out life as Tamiya's 1/35 scale T-55A. As I wanted my model to represent a Polish –Built LD a number of modifications to the hull were required. These included:
engine flaps fabricated from 10 thou plastic card

front hub of road wheel enlarged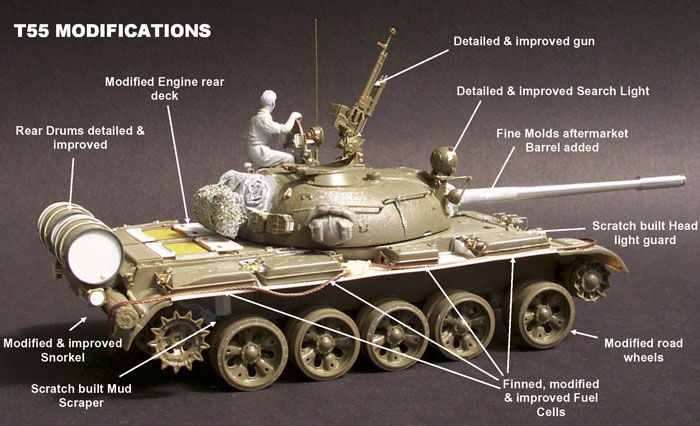 Other improvements to the hull include
New track fender from 10 thou plastic card (scale thickness)

Track fender "Stiffeners" added to underneath of fender 2 each side

Front track guards thinned to wafer thickness (scale thickness)

Scratched mud scraper added to rear of the hull

Road wheels filled (indented seems on kit incorrect)

Fuel cells on right fender improved (fins filed down to scale thickness and grab handles added from thin wire

Fuel cell plumbing added to cells and attachment points added

Rear Fuel cells modified and improved att points added and improved (note left hand one has the lid open)

Modified and improved Snorkel (many small scratch built and details added to improve detail

Log attached by chains as per Polish practice

Scratch built headlight guard fitted and light att to it (as opposed to the hull as per ref shots)

After market wire rope added

WW2 Productions resin after-market tracks added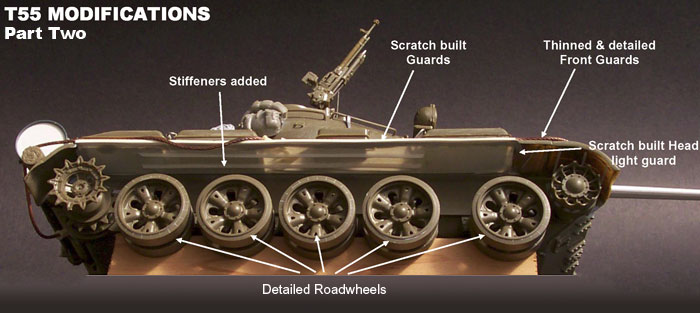 Turret Modifications and Improvements
Turret extractor added to right hand side of turret as per polish built examples

Detailed AA machine gun ( many parts improved and added )

Detailed and improved search light

Fine molds after market barrel added

Thinned and improved turret machine gun opening machine gun added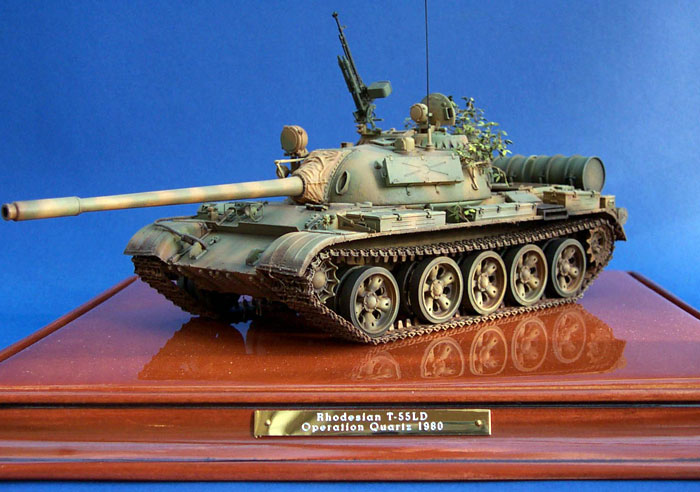 Thinned and reconfigured main gun viewing slot

Partial turret interior added

Commander's turret hatch detailed and improved ( note opened view port

Main gun mantlet cover made out of Milliput

Turret Grip handles thinned and improved

Camouflage cover and belts added to turret as per reef
The model was painted and weathered with Tamyia Acrylics.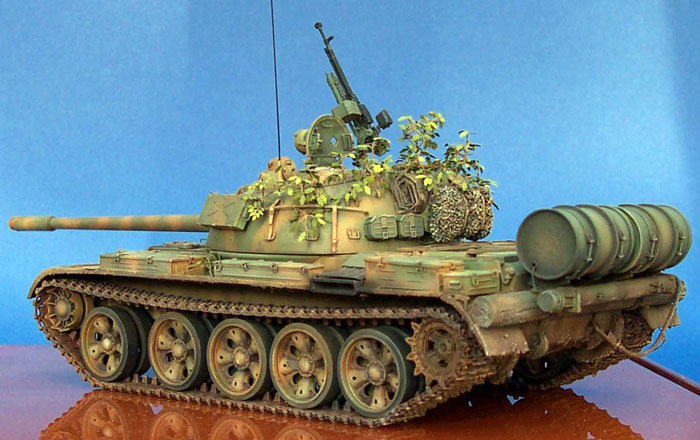 It was only weathered a little as it had only been painted again (in real life) some 4 months before I have chosen to depict as it appeared on exercise some weeks before operation Quartz.
Click on the thumbnails below to view larger images:
T-54 and T-55 Main Battle Tanks 1944–2004


New Vanguard 102


US Price: $14.95
UK Price: £8.99
Publisher: Osprey Publishing
Publish Date:

July 25, 2004


Details: 48 pages; ISBN: 1841767921
Model, Images and Text Copyright © 2004 by Luke Pitt
Page Created 17 May, 2004
Last Updated 17 May, 2004
Back to HyperScale Main Page