Hasegawa's 1/48 scale Bf 109s
Three Eagles
by Tim Both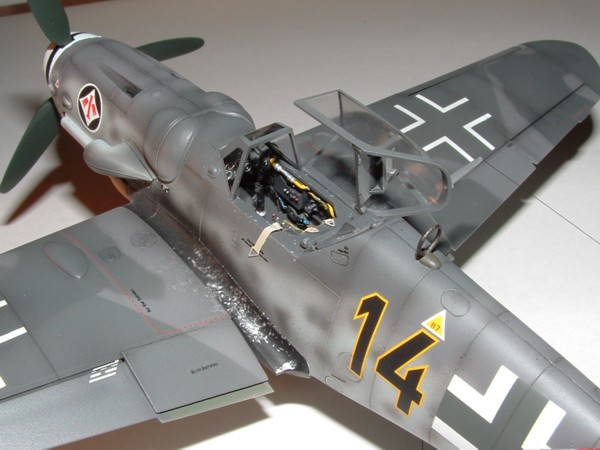 Messerschmitt Bf 109G-6

Here I present three 1/48 scale Hasegawa Messerschmitt Bf 109s which I started in an attempt to lower the stack of 109s that seem to inhabit my stash of unbuilt kits.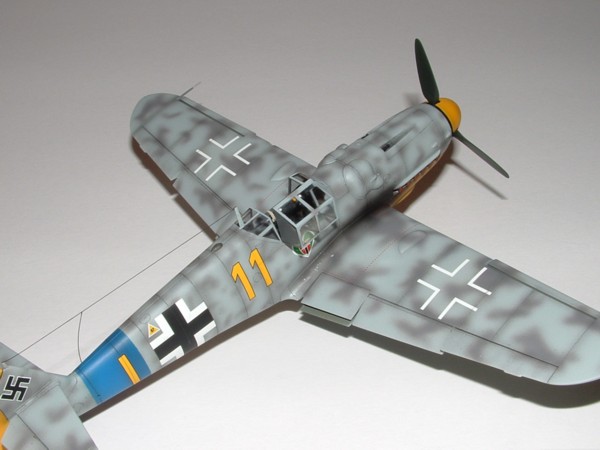 Over a period of time I had accumulated enough resin aftermarket cockpits, wheels and exhausts for all of these kits (and a few more) so now was a perfect time to get started.
There were no real dramas worth reporting during the construction process. It was interesting to note that even all three kits were very similar (the G-and G-5 are EXACTLY the same) I had differing wing root joins on all three.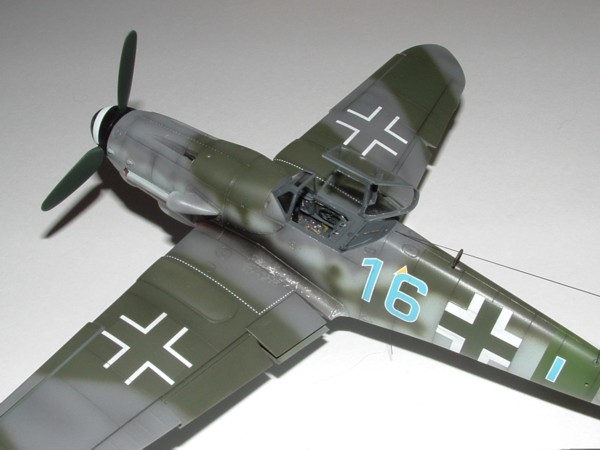 The K-4 had a perfect join on both sides, the G-6 was pretty good too but the G-5 needed to be taped up to close the gap and ended up with more dihedral than the other two.
Painting, Markings and Weathering
My painting sequence is pretty basic. Once all the main colours are on I post shade with thinned smoke then seal with a glosscoat. Decals are next followed by a sealing coat of gloss.
---

Weathering
I try to keep the weathering simple with wear and tear added with a silver pen, going over the panel lines with a sharp lead pencil and adding a black wash in areas that the pencil canít reach. Exhaust staining was added with thin matt black with some pastels added after the final matt coat.
---

Bf109 G-5 Yellow 11
I used True Details wheels, Ultracast exhausts and an Aries cockpit and Eagle Cals #38. The decal instructions showed what needed to be done to convert this to a G-5 by adding the correct gun blister with the extra bulge and removing some details from the windscreen. I added a gun camera port on the front of the port wing with a file and a short piece of drilled out plastic rod. The main canopy also required a different sort of headrest armour which I scratchbuilt from plastic sheet and I added the silica tablets with small slices from some Evergreen rod applied with white glue.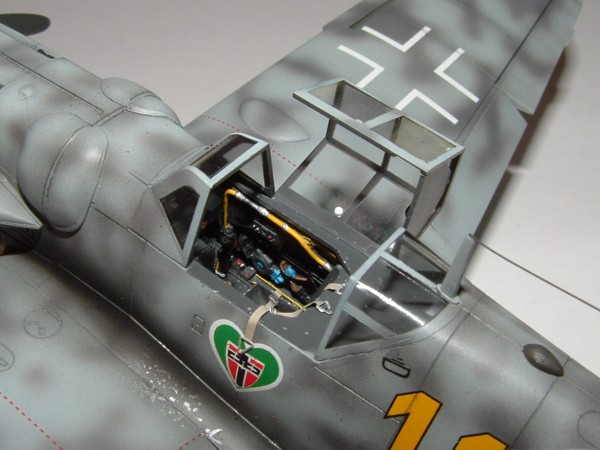 The Aries cockpit was very good although next time I would use the kitís instrument panel as I canít seem to get a convincing look with the film/etched version.
---

Bf 109G-6 Black 14
I used True Details wheels, Ulracast exhausts and a MDC cockpit as well as Eagle Cals #40 and the MW50 box from Eagle Editions.

Iíve always liked this scheme with the combination of the short tail and later style of canopy.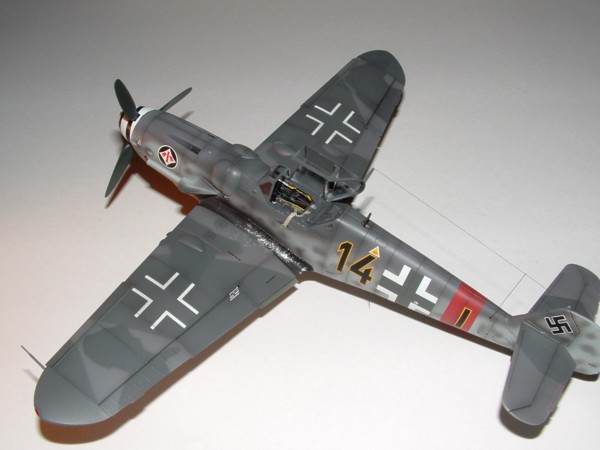 MDC produce what I think is the best 109 cockpit sets in this scale. The casting of these is exquisite and when compared to both the CMK and Aries sets the level of detail and crispness is quite clearly higher. Fit was also not an issue and there are very comprehensive painting instructions.
---

Bf 109K-4 Blue 14
Again I used True Details wheels, Ultracast exhausts and propeller blades, a CMK cockpit and Eagle Cals #62.

I was really attracted by the unique shade of blue of the codes to liven up the late war colours on this plane.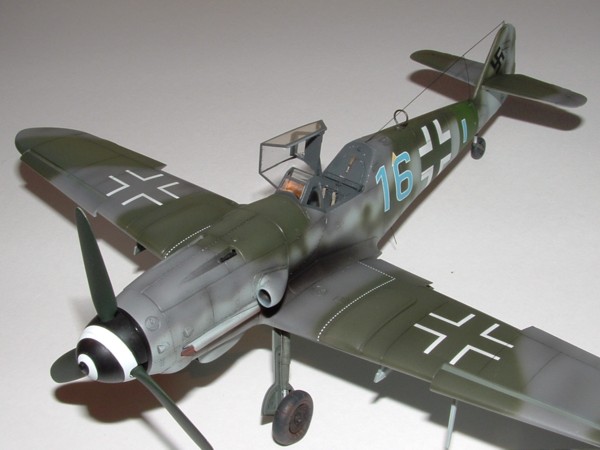 The CMK cockpit was excellent. I had to cut a notch into each sidewall to allow the instrument panel to fit as I used the kit panel in preference to the etched one provided by CMK.
I hope you enjoyed my 109 triplets as I had a great time adding all the aftermarket items and found they all were of a very high quality. I was very happy with the end results. Over 8 weeks I spent about an hour a day followed by an intense finishing off period of 5 days straight during my holidays to complete these three. I started and completed a 109F up to the painting stage during this time as well but didnít have the stamina to complete that one together with his three brothers so he remains bare and incomplete at this stage.


Click the thumbnails below to view larger images:
Bf 109 F/G/K Aces of the Western Front


Aircraft of the Aces 29

Author: John Weal
Illustrator: John Weal
US Price: $19.95
UK Price: £12.99
Publisher: Osprey Publishing
Publish Date:

December 1, 1999


Details: 96 pages; ISBN: 1855329050
Model, Images and Text Copyright © 2004 by Tim Both
Page Created 01 September, 2004
Last Updated 02 September, 2004
Back to HyperScale Main Page