Dragon's 1/72 scale
Tiger I with Zimmerit
by Glen Porter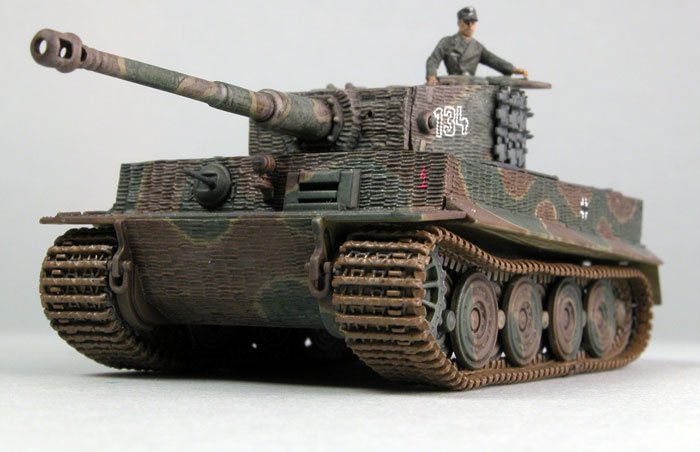 Tiger I
images by Brett Green

Dragon's 1/72 scale Tiger I with Zimmerit is available online from
This is my interpretation of the 1/72 Dragon Tiger I (late) with Zimmerit. It has the incorrect symmetrical turret like the Revell kits but then it has rather nice Zimmerit moulded on in all the right places. However, that's about the end of the good news.
The tracks are the older Dragon rubber bands which are nicely detailed but won't take enamel paint (it won't dry) and they are about a half inch too short. I had the option of borrowing some link and length from one of my Revell Tiger I kits but I decided to stick with the Dragon items because I eventually want to build both the Revell kits. So, as I also have the incorrectly named Dragon Bergertiger, which has the same tracks, I cut about a half inch out of each of them and butt joined them with super glue onto the tracks from this kit. I'm still not happy with the way they sit on the model but then I try and learn from my mistakes.
Dragon don't supply a cupola mounted A/A machine gun but then many photos I have show late model Tigers with out it. However, they also don't supply extra track links for the turret sides so they had to come from the Revell Tiger I Ausf. H (they're not needed on the Ausf. H) but unfortunately I mounted them upside-down. Another lesson learned.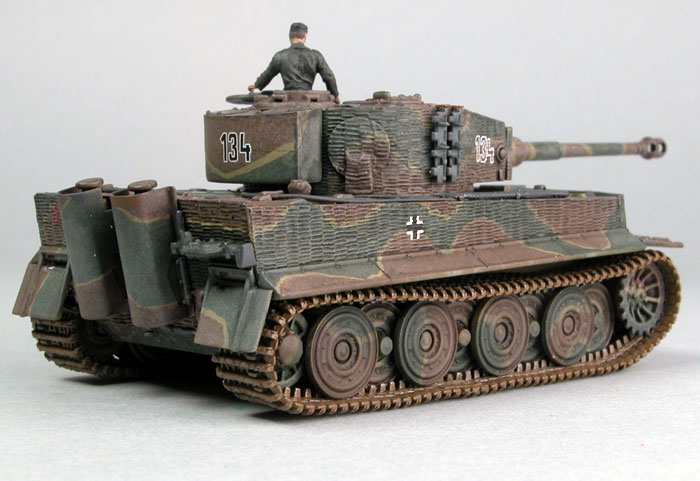 The other major problem I had was the return rollers. If you follow the Dragon instructions, they are so wide you can't fit the last out-side road wheel on each side. After checking out other kits and refferances I used the out-side half of the roller only and pared it down until it would fit between the guide teeth of the tracks. If you look at the auful photo instructions, you will see that they've had the same problem.
The pressed metal exhaust guards are a bit of a gimmick I think as the Revell plastic ones look just as good and the metal parts are hard to glue on. Similarly, the wound wire supplied for the tow cables is not wound tightly enough and was replaced.
The decals are one of the better aspects of this kit, printed by Cartograf, with perfect register and they go on with no problems at all. I chose the Tiger from 1. Kompanie, sPzAbt 102, on the Normandy front in June 1944 because I liked the colour scheme although I have no conformation of it's accuracy. Unfortunately, the colours I chose, Tamiya enamels straight from the jar, turned out too dark after I applied a black wash, a problem I seem to suffer quite regularly.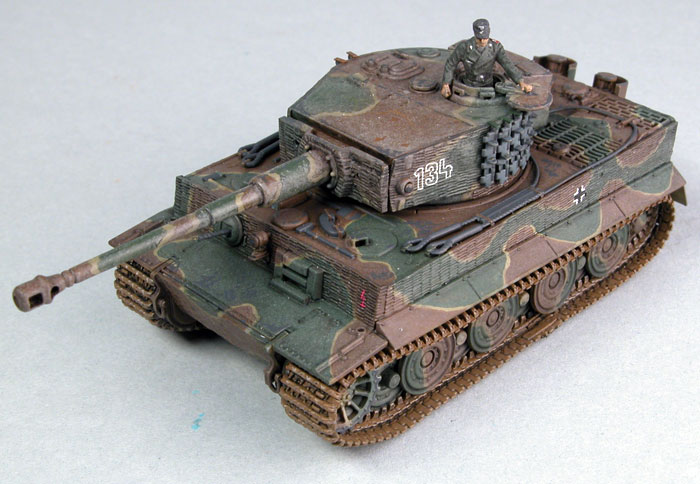 Building this kit has been more of a problem solving exercise for me rather than a successful build but overall, I'm happy with the lessons I've learned.
Click the thumbnails below to view larger images:
---
Model and Text Copyright © 2005 by Glen Porter
Images Copyright © 2005 by Brett Green
Page Created 18 August, 2005
Last Updated 17 August, 2005
Back to HyperScale Main Page