Focke-Wulf Fw 190D-9
by Doowan Lee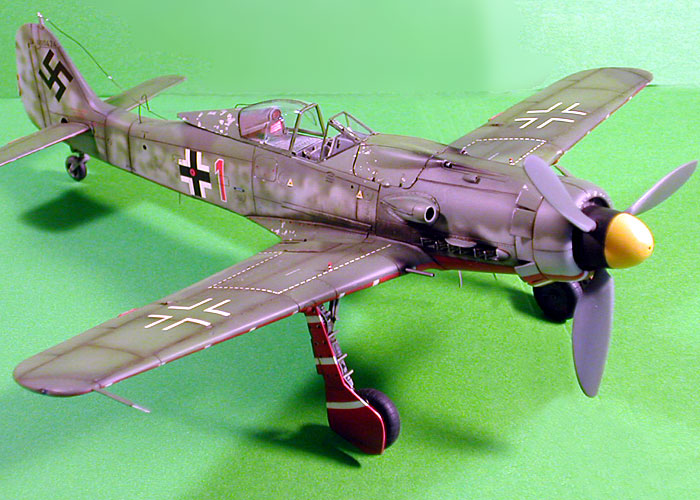 Focke-Wulf Fw 190D-9

HyperScale is proudly supported by Squadron
This is "Red 1" , a Focke-Wulf Fw 190D-9 of JV-44. This is perhaps one of the most widely known and well-documented Doras.
Having said that, I will jump right to the construction of the model

This is the 1/48 Fw 190D-9 kit is from Italeri. As is probably well known, this is a repackaging of the legendary Trimater Fw 190D-9. My copy had numerous blemishes, injection marks, and warpage. Just getting the kit ready for assembly took a few days of sanding the surface and rescribing panel lines.
Compared to the other Italeri's Doras I had, I realized this copy was particularly bad. I guess it was just bad luck.
I think Italeri's Fw 190D-9 has a better profile than Tamiya's counterpart.
For one thing, it has the right wing span whereas Tamiya's wing span is almost 1mm shorter. It may seem marginal in 1/48. However, if you multiply it by 48, that's almost 5 cm! Plus, Trimaster/Dragon/Italeri Doras somehow look "more like it" when completed. It's a very intangible aspect of models.
I think models are like an interpretation. It takes certain simplification and exaggeration which combine to either lead to the 'right' look of the subject or a 'toy-like' look. I can kind of see why so many Dora lovers still build Trimaster/Dragon/Italeri versions.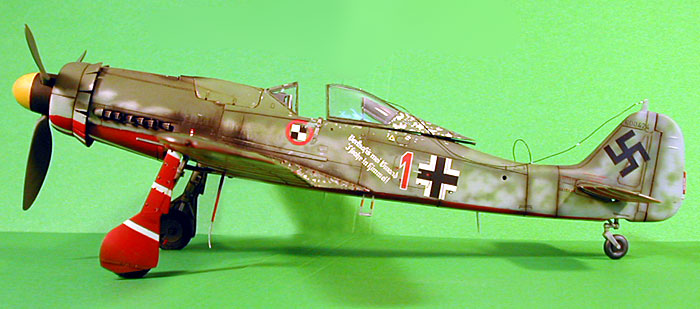 However, despite its more accurate profile, Trimaster/Dragon/Italeri's Doras suffer from the same incorrect wheel well as the Tamiya kits.
I used MDC's wheel well set to correct this inaccuracy. MDC's replacement wheel well set is a thing of beauty. It is originally designed for the Tamiya Dora but with a little bit of sanding and dry-fitting, it can be easily used for Trimaster/Dragon/Italeri Doras. When properly washed and dry-brushed, the details of the wheel well are really eye-pleasing.

Next, I increased the length of the retraction arms to the main landing-gear struts. I think this correction gives the landing struts the correct angle.
I added brake lines and used Eagle Edition's wheels and tires. Eagle Editions' wheels and tires looked better to me than most other aftermarket parts. The cast and details are absolutely first class.

The cockpit also received a few modifications. The instrument panels are from MDC. Unfortunately, they don't come with decals for instrument dials. I carefully cut out the dials from the Tamiya Fw 190d-9 JV-44's decal sheet and put them on the MDC instrument panels. Using the combination of MDC's instrument panels, Tamiya's decals, and Future drops on the dials looked much better and more three-dimensional than using printed film and PE instrument panels from FM details or Aires.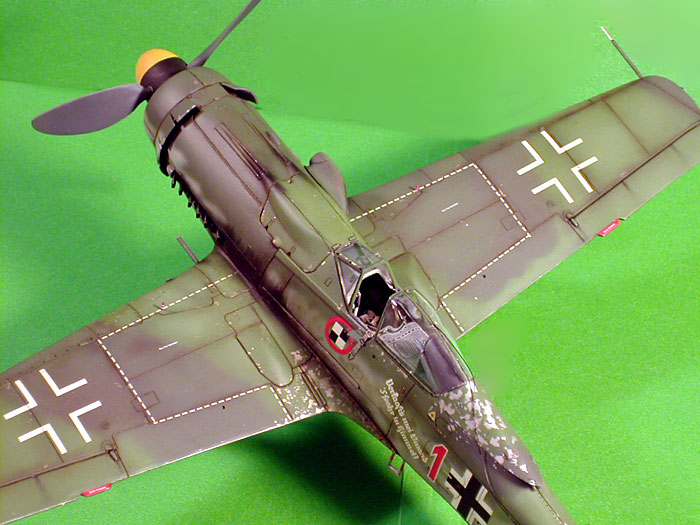 The canopy was dipped in Future to remove irregularities on the surface. Given the bad shape of my copy and lack of transparency in the canopy, this proved to be more than just cosmetic.

The cockpit tub and control panels were from the kit. Frankly, I think they look pretty good despite their inaccuracies. I just added a scratch-built throttle control and Eduard Accessories' painted Luftwaffe seatbelts.
Normally, I don't like PE seatbelts that much because they are often too two-dimensional. However, Eduard's seatbelts are great. They have enough volume for the scale and a great deal of detail. With a little bit of weathering, they looked great on the stock seat.
The exhaust pipes are from Ultracast. They are designed for the Tamiya Fw 190D-9, but they can be used for Trimaster/Dragon/Italeri Doras with a bit of trimming and sanding.
One interesting I noticed was that Tamiya's slots for exhaust pipes were a little longer than those of Trimaster/Dragon/Italeri Doras. At the point of construction, I couldn't find out which one was really more correct.
I experimented with several techniques to simulate chipped paint looks for this project.
First, I spayed the Dora with natural metal and a coat of Future. Once everything was dry, I used water to stick salt grains on the areas that were supposed to show chipped paints. The idea was to remove these grains once the actual painting was completely dry. Alas, nothing remained 'stuck' to the Future coat, and removing the grains resulted in a lot more chipping than I hoped for. Moreover, it was really difficult to control the chipping especially when I had to mask the Dora for the camouflage patterns. The result was not quite disastrous, but I really didn't like the effects. I just didn't look right. I ended up repainting almost the entire airplane. I think I will just 'stick' to my trusty silver pencil for future chipping effects.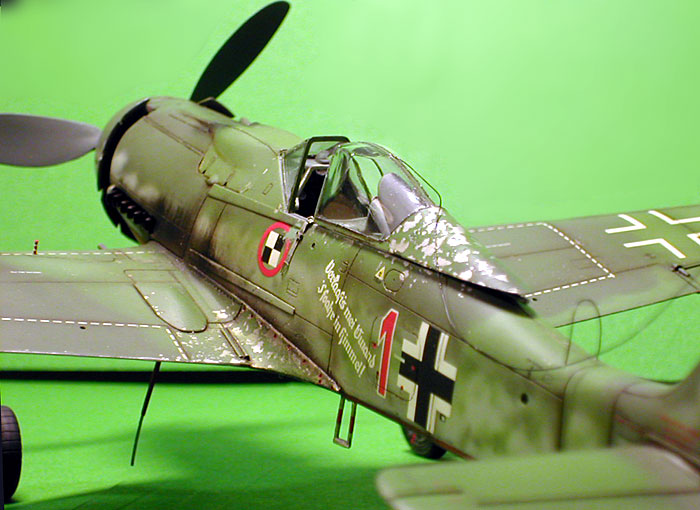 The fuselage and upper wings were painted in a scheme of RLM 76, RLM 82, and RLM 83. The spinner was first painted with black, and a white spiral was hand-painted to simulate the 'overpaint' looks. Then I carefully applied black and yellow gradually to make sure the white spiral was barely visible.
The underside was first preshaded with flat black. Then I airbrushed white strips. After masking, it was again preshaded to darken the areas that became brighter with the white strips. Lastly, I sprayed red. I was trying to keep panel lines quite visible under this high-contrast color scheme. The end result was quite satisfying. I used the decal sheet from the Tamiya Fw 190D-9 JV-44 kit. Although they tend to be a little thick, I like their opacity and sharpness. I had a copy of Eagle Cal's Doras of JV-44, but decided to save it for another Dora later. The thickness of the Tamiya decals was almost diminished after a several coats of Future and dull lacquer. I washed the Dora with oil paint and pastel, which was followed by a couple of additional flat coats.


Overall, this was a good training ground for the chipping effects. Other than that near disaster, it was an enjoyable project mostly due to the replacement wheel well set and update parts.
Click the thumbnails below to view larger images:
---
Model, Images and Text Copyright © 2003 by Doowan Lee
Page Created 11 October, 2003
Last Updated 17 March, 2004
Back to HyperScale Main Page